Page 2 of 3
SCREAMING MATCH
But there is a huge fly in the Canyon Centre's ointment: The land has neither frontage on Fort Union—which is currently occupied by a 7-Eleven, Canyon Inn, ski-rental company The Lifthouse, Porcupine Grill and an office building—nor easy access to its property. Cullimore says the frontage of the development overlooking Wasatch Boulevard will "provide more than adequate visibility." Porcupine Grill co-owner Bryan O'Meara scratches his head. "Ultimately, their project does not have a storefront. How can you spend $60 million without a storefront?"
O'Meara shares Stojack's concerns that without a storefront or a dramatic entrance from Fort Union, the developers and the city, both gung-ho for their vision of a high-end mix of hotels and offices, see the Canyon Inn and Porcupine Grill as literally being in the way of their ambitions. O'Meara says the developers told him and his partner, Byron Loveall, that an uncooperative Canyon Inn might well be dealt with by Cottonwood Heights, implying, O'Meara believes, the use of eminent domain. He also cites the developers' bullying tactics as the reason his group decided to buy the building housing their popular restaurant to ensure their future.
Gates bought the 11-acre Canyon Racquet Club property behind Stojack's 63-year-old bar in May 2006 for an undisclosed sum from Snowbird resort. Gates' longtime business allies are the affable and politically savvy Sandy City Councilman Chris McCandless and Utah senator and majority whip Wayne Niederhauser, who jointly own CW Management Corporation.
On December 31, 2010, Gates sold the property to McCandless and Niederhauser, although he will still be a key player in the development. One of the office buildings will probably house his iFreedom mortgage business, which is currently located on Foothill Boulevard. "Hopefully, I will be a major tenant and a major part of this development," Gates says. He is bemused by the accusations that froth around the edges of a property for which building permits have yet to be filed. "It's just too early for people to be screaming," he says.
Not if you're Stojack, who recently made the news by commissioning for a wall on his property a well-publicized lurid mural that jabs at the Catholic and LDS churches, while also making a veiled allusion to his belief that local officers are working for the developer to close him down. Inevitably, the mural only escalated police interest in him, Stojack says. "Jim accomplished his goal of more free publicity," Cullimore says wearily.

Cullimore says Stojack is paranoid. "He shoots from the hip and talks in shades of anecdotes." But, as Canyon Inn bartender Brian Bicknell quips, "Just because you're paranoid doesn't mean they're not out to get you."
FIGHTIN' TALK
After Stojack came to Utah for a ski vacation, the former operations manager for multinational United Technologies Corporation bought the Canyon Inn in 1991 for $800,000 from its former owner, an airline pilot. Stojack's work at UTC, an important defense contractor, "wasn't for the greater good of man," says the 58-year-old, quick-speaking, abrasive Chicagoan. The Canyon Inn featured country music "and the best steaks in the valley," Stojack recalls. When a policeman told him "wherever there's country music, there's fights," he brought in a rock band called Under the Gun for six weeks, stocked the bar with the "cheapest drinks in the valley," and never looked back. Until, that is, May 2006, when Gates purchased the Canyon Racquet club and demolished the swimming pool and sports complex, leaving only a few trees in its wake.
Despite the lack of a wide entrance for traffic and an exit directly into a residential street, Gates says, "I felt like I was buying the property at a good-enough price that I could put a car lot or apartments in there," and that lack of ingress and egress would not be an issue. Gates and an architect explored different scenarios for developing the old Canyon Racquet property, including doing a "Main Street," Park City-style, he says, "but the fault lines" that run through the property "limited us."
In early 2007, Stojack says, he fielded several interested buyers for his bar. One tire kicker, he says, was Kevin Gates. The Stojacks say Gates offered $1.2 million for the property, which they viewed as a paltry sum. Gates says no terms were discussed.
As they sat out on the Canyon Inn's front patio, Gates promised to build the couple a nice, high-end restaurant. After Stojack declined, Kim recalls Gates telling her to have her husband reconsider, "or else I'll have Cottonwood Heights do the dirty work."
GOOD NEIGHBORS
"Jim operates on an emotional level," says Porcupine's O'Meara. After O'Meara and Loveall in 2006 bought the ailing Chinese restaurant that they subsequently turned into The Porcupine, tensions between the highly successful restaurant's owners and the Canyon Inn led to a "fractious" relationship, O'Meara says, over, among other things, shared parking. But when Gates arrived on the scene, O'Meara says, "there was a new bad guy in town [and] our relationship improved dramatically."
O'Meara was willing to talk to the developers on the basis of a "win-win" for the developers and Porcupine Grill. The possibility that Gates and McCandless came back with, O'Meara says, was an architectural drawing that showed their restaurant replaced by a grand entrance into the development from Fort Union, with the Porcupine placed on top of a three-story office building fronting the boulevard. "It was basically like closing us down," O'Meara says. What he sees as the developers' intimidation tactics allegedly worsened when, O'Meara recalls McCandless saying, "if there was nothing going on with the Canyon Inn [in way of negotiations], they could have the city take care of the bar. We understood that to mean eminent domain." McCandless says if he did make such a remark, it was taken out of context and he apologizes.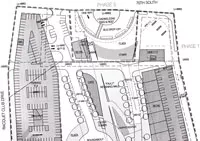 pick-up zone has replaced Canyon Inn, Porcupine Grill and The Lifthouse
The Porcupine owners decided to buy the building housing their restaurant and, O'Meara says, paid "a substantial price to make that deal happen," to ensure their survival. Shortly after the deal was concluded, the developers came back with even more disturbing architectural plans that replaced Porcupine Grill, Canyon Inn and the Lifthouse with a "Kiss" & Ride drop-off lot and a bus loading zone. A UTA spokesman said there were no plans for a bus drop-off at that location, nor had there been any discussions.
Mayor Cullimore dismisses concern over the plans "as a bunch of speculation. Nobody talked to us." O'Meara says the plans "scared us. We thought the power was pointing toward us." Now it wasn't just Cottonwood Heights municipal authorities who were possibly facing them, but also the Utah Transit Authority, which has eminent domain among its arsenal of development weapons. "We felt threatened, that we were being run over," O'Meara says. But when the developers learned, he says, they had purchased their building, their tactics "toned down." All along, O'Meara says, he and his partner have sought to keep communication lines open with the developer, to be "a good neighbor." He doesn't feel that good will has been reciprocated. "The mentality here is, 'what's good for them, they're the important ones.' "
McCandless says the sketches "were exploration, normal sketch stuff," reflecting years of developed and discarded ideas about the property. Gates denies any attempt at intimidation. "I don't have time to intimidate people, I really don't," he says. "I never meant to leave them out or have them feel insecure." He feels the Porcupine Grill's owners "wanted to buy a restaurant site [on the development] but did not want to pay the money it was worth."
DUI, CRIMES AND VIDEOTAPE
While the Porcupine Grill's concerns over the developers' plans eased to some degree, Canyon Inn—which, Stojack recalls, was ironically in the 1990s a favorite hang-out bar for off-duty cops—found itself the focus of increasing attention from several officers in the Salt Lake County Sheriff's Office in 2007. Stojack says in the run up to the transition to Cottonwood Heights Police Department, which opened its doors in September 2008, attention from authorities, such as going through the bar in uniform and kicking open bathroom stalls, only got worse.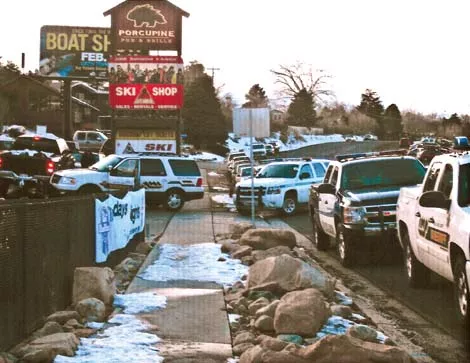 According to the Canyon Inn's incident log, from September 2007 on, there were escalating visits from Sheriff officers, the Stojacks complaining of officers repeatedly entering their parking lots and their establishment, often for flimsy reasons, scaring away customers and even blocking the entrance/exit to the bar's parking lot simply to make a social call or, more justifiably, while having a DUI suspect perform field-sobriety tests.
Stojack fought back, videotaping police trucks and cars when they appeared near his bar. Kim Stojack manages the bar at night. She says one officer, on May 29, 2010, complained to her about her husband's videotaping of officers and asking for their business cards. She says the officer told her, "It was no one's business what we are doing here." The officers felt unsafe when Stojack was filming them. Kim rolled her eyes. "Give me a break. Your guys have guns and Tasers. I'm in flip-flops and a sundress." The officer told her, she recalls, "He cannot help where people pull over, and sometimes it just happens to be in the Canyon Inn parking lot."
Cottonwood Heights' Police Chief Robbie Russo declined to be interviewed for this story, citing previous newspaper and TV attention to Stojack's complaints that the police were driving away his business by aggressively targeting his customers as they left the bar. Cullimore says City Weekly printing Stojack's anecdotal evidence of his police harassment would be "irresponsible."
O'Meara feels "there's a natural tendency for the police to look at [the Canyon Inn] as the nemesis of the community." He sees "a larger degree of Jim's patrons being pulled over. Our employees, leaving after midnight, have been randomly pulled over for very small infractions."