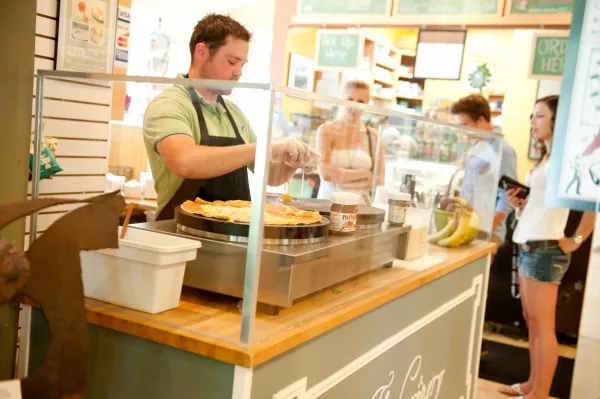 On a cobblestone road 5,000 miles from home, Gabriel Anderson found solace in very thin pancakes. The Utah State University student was studying abroad in Paris and, lo, across from his dorm was a street-side crepe stand, much like the taco carts found stateside.

This nightly haunt, as he remembers it, was nameless. "The same guy was always there. He hardly spoke English, and I don't speak French. We had a relationship only through crepes," Anderson says with a laugh. "Before that, I had only eaten Village Inn crepes, and, of course, these were fantastic by comparison." He loved how the crepe maker would spin out the dough in front of him—"It was so quaint"—and fill it with all manner of savory or sweet ingredients.

After a few years, Anderson finally ate another crepe in Logan at an outdoor festival, but it was overpriced and sub-par, he says. That was the catalyst for him opening The Crepery, located inside the charming Sage & Citrus coffee shop.

Each crepe is made on two 15-inch griddles, which is key. "When you use a griddle, you can make a thin crepe, [using] a thick batter; otherwise, if you use a pan, you have to use a thin batter, and it tastes rubbery," Anderson says.
The dough is ladled onto the first, much hotter griddle and moved from the center outward with a squeegee-like paddle. It is flipped and cooked, then moved to the second, less hot griddle, where it is stuffed.
There are about 30 options to choose from; many are true to French street-side crepery classics and even similarly served folded in wax paper. Try Pepe la pesto (pesto, Parmesan cheese, smoked turkey, roasted red peppers) and seventh habit (housemade custard, chocolate sauce, strawberry or banana).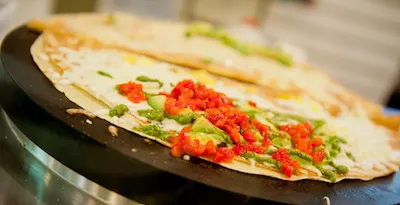 THE CREPERY
130 N. 100 East, Logan
435-787-4080