Little Black Dress
Little Red Corvette
Little Richard
Little Women
The Datsuns, Headstunt (Cooking Vinyl)
Something about Scandinavia recently seems to make it the progenitor of old-style garage rock & roll. The Datsuns aren't from that region, like Swedish rockers the Hives or Ken Stringfellow's gang of Norwegians the Disciplines, but the New Zealanders recorded their latest album in Sweden, and something must have rubbed off on them from the fjordfoundlings. The Datsuns are more bluesy and grungy. They're not always built for speed, but are gutsy on "MF From Hell," and in the lyrics, lead vocalist Dolf de Borst enunciates the actual word rather than the abbreviation. The song could be a lost sidetrack of musical history where Blue Oyster Cult meets Motorhead. They've been praised by Metallica's Lars Ulrich, and had a previous album produced by John Paul Jones of Led Zeppelin.
This is a band who has played freakin' Ozzfest, mind you, and has been voted the top band in New Zealand, for what it's worth, so whatever business anyone has telling them to abbreviate anything is beyond me. Headstunts is an anagram of their name, and also a fitting descriptor of their sound, driving and forceful, yet as playful as any "stunt" can be, done for sheer "look at me" value, and once you do it's hard to look away. This musical vehicle may not be the smoothest ride, but gets great MPG. Okay that's stretching the metaphor way too far.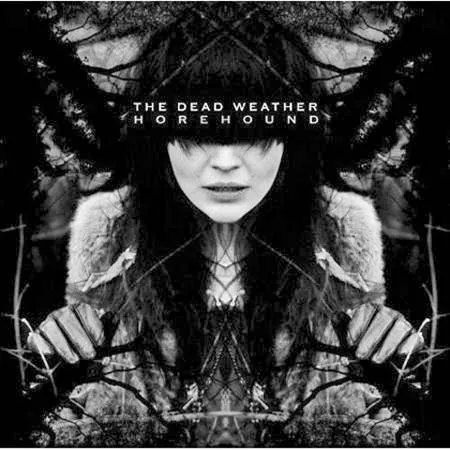 Dead Weather, Horehound (Warner Bros)

"Dead-" is the new "Black-" or "Wolf-" as the hip modifier for bands to affix to their monikers. What with indie-psych rockers Dead Meadow, punk band Dead Moon and DJ extraordinaire Deadmau5, the lifeless prefix was almost dead to me as a musical modifier. But Dead Weather has the personnel to lend their nominator cred, with Jack White on "skins" in this lineup, Jack Lawrence from the Greenhorns and the Raconteurs (also featuring White) on bass, Dean Fertita (Queens of the Stone Age) on guitar and keyboards and Alison Mosshart of the Kills and Discount on vocals.

Their sound matches the album's cover art—eerie yellowed photographs, portraits of those who died premature deaths, violence hinted at by reverberations, shadows in the corners. "I want to grab you by the hair/and hang you up from the heavens," exclaims Mosshart in "Hang You From the Heavens," evoking, as the best blues songs do, heaven, hell, and the expanse in between in which we struggle through our existences. The rest of the album pulls some Led Zeppelin-ish tricks with reverb and distortion to add heaviness, so like that band, you don't mind if their version of retro blues-influenced rock is manufactured, the sepia tone of the photos a digitally-produced effect.