THURSDAY 4/18
Ririe-Woodbury Dance Co.: Bloom
It's an auspicious occasion whenever an artist is given an opportunity to reflect on their achievements. For retiring professor Stephen Koester of the University of Utah, it's particularly poignant. His new work "Departure—A Last Song, Perhaps a Final Dance Before a Rest" finds him reflecting on his long and distinguished creative career prior to beginning the next phase of his artistry. The piece is one of several works presented as part of Ririe-Woodbury's program Bloom, and it ponders the expanse of time and how it provides a backdrop for the creative journey. Koester has always seen the stage as a canvas, one that defines and nurtures the way art unfolds at its own pace. His piece intertwines movement and meditation, allowing contemplation to take command.
The artist took his first dance classes with the company's founders, Joan Woodbury and Shirley Ririe, and continued his association as a student, teacher and, later, a choreographer. His piece is part of the final offering of Ririe-Woodbury's 2018-19 season.
An evening of contemporary dance, Bloom marks other milestones as well. It features the world premiere of "Dance for a Liminal Space," a work by Artistic Director Daniel Charon. It also offers a series of both farewells and returns, as dancers Yebel Gallegos and Breeanne Saxton take their final bows with the company, and Bulgarian-born choreographer Tzveta Kassabova's critically acclaimed work, "The Opposite of Killing," is revived once again.
Time and transition work in synergy. Both are fleeting. Yet as Bloom demonstrates, each creates opportunities for new beginnings. (Lee Zimmerman)
Ririe-Woodbury Dance Co.: Bloom @ Rose Wagner Center Black Box, 138 W. 300 South, 801-355-2787, April 18-19, 7:30 p.m.; April 20, 1 & 7:30 p.m., 10-$35, artsaltlake.org
THURSDAY 4/18
Utah Valley Symphony: Out of This World
When Utah Valley Symphony hosted its first performance in 1959 as a small volunteer community orchestra, 11 people were in the audience. Sixty years later, it has grown from a 30-member group to a full-sized orchestra with 76 volunteer musicians, regularly hosting two performances of each concert to meet demand. The symphony offers a place for musicians to keep their skills from getting rusty, under the direction of conductor Bryce Rytting.
In Thursday's performance, the symphony performs music that recalls the celestial symphony of the stars and planets. "I think we're all intrigued by space exploration," Lance Jensen, the symphony's general manager and a trombonist, says of the evening's theme. The showpiece of Out of This World is The Planets, a nearly hour-long orchestral suite by Gustav Holst that has one movement for each of the seven planets. "We'll be projecting images captured by the European Space Agency and NASA as we play," Jensen says. The imagery, shown on a screen above the musicians, includes a digital re-creation of the Mars rover landing.
The evening also features Helios Overture, Op. 17, by Carl Nielsen (Helios is the ancient Greek sun god), and the introduction to Also Sprach Zarathustra, by Richard Strauss, familiar from its iconic use in 2001: A Space Odyssey. And for all the Star Trek nerds out there, the evening includes music from Star Trek Into Darkness. You don't have to be a classical-music aficionado to enjoy this performance—you just have to sit back and dream of outer space. (Naomi Clegg)
Utah Valley Symphony: Out of This World @ Covey Center for the Arts, 425 W. Center St., Provo, April 18, 7:30 p.m., $15, utahvalleysymphony.org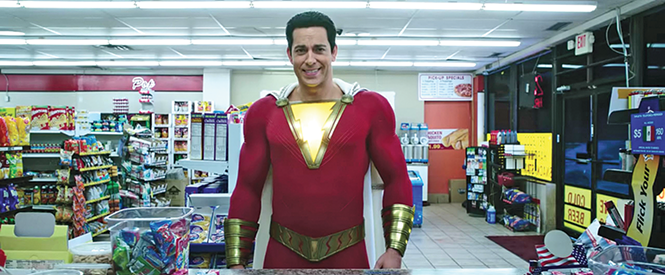 FRIDAY 4/19
FanX Salt Lake Comic Convention
Comics. Cosplay. Creative expression. The tradition of dressing up in costumes and attending conventions dedicated to pop culture dates back to 1939 but became a phenomenon locally when Dan Farr Productions hosted Salt Lake's first FanX Comic Convention—known then as Salt Lake Comic Con—in 2013. Guest star appearances by William Shatner, Adam West and Stan Lee helped draw the largest convention crowd in state history, with attendance reaching a high of 127,000 in 2015.
This spring, the convention features a new set of celebrity appearances, artwork, merchandise and cosplay. Activities include discussion panels, games, contests, workshops, classes and book signings. Notable appearances include Shazam! stars Zachary Levi (pictured) and Asher Angel, original Wonder Woman Lynda Carter, Disney voice actors Linda Larkin and Scott Weinger (Aladdin), and professional cosplayer Ren Fisher.
While celebrity appearances tend to draw crowds, the now widely popular cosplay phenomenon turns the experience into more of a social gathering. Local FanX enthusiast Alisa Patience recalls seeing Game of Thrones characters that she didn't recognize. This time around, she spent "a few months" creating her Daenerys Stormborn getup, complete with a 6-foot-tall dragon.
The convention scene's recent explosion in popularity allows fans to embrace their inner-child love of playing dress-up. FanX creates a judgement-free zone for "adults to completely submerge themselves in the fictional worlds and stories they love without receiving criticism or feeling embarrassment," Patience says. "In a perfect world, we would always be able to do that." (Colby Russo)
FanX Salt Lake Comic Convention @ Salt Palace Convention Center, 100 S. West Temple, April 19, 10 a.m.-8 p.m.; April 20, 9:30 a.m.-7 p.m., $40-$200, fanxsaltlake.com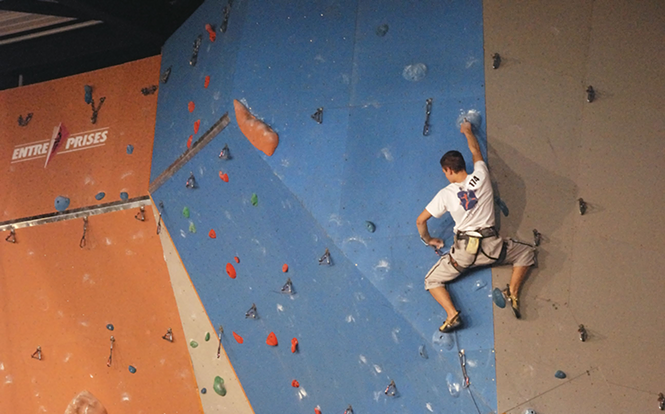 SATURDAY 4/20
Maverik Presents: Rendezvous
Utah's hiking, biking and climbing are some of the best in the country. However, if you're not particularly outdoorsy, all of these fun activities can seem downright intimidating.
Rendezvous—the inaugural event of what is planned to be a biannual outdoors expo hosted by City Weekly sister publication Vamoose Utah—is looking to relieve some of this anxiety around the outdoors and create a new class of burgeoning enthusiasts. Through a combination of live music, booths for nonprofits like the Salt Lake City Bicycle Collective, vendors and a wide variety of activities from a climbing wall to film screenings, the day promises to be a fun one and a great entry point into Utah's outdoors.
Kyle Kennedy, one of the event's organizers, says Rendezvous offers a nontraditional format that's accessible to outdoor enthusiasts at all levels and their families. "Rendezvous means what it is: Let's meet up and get engaged," Kennedy says. "There's so much to do here that you don't know where to start. It's all about getting out and going and just doing it. We're creating an accessible platform for the enthusiasts and their families, but also the first-timers looking to go outdoors."
The expo also features a variety of food truck options, such as Cupbop and Mama Lau, as well as samplings from local breweries like Uinta Brewing. Parking is available at and around The Gateway, but Kennedy strongly recommends taking public transportation or riding your bike if you can. Entry is free and open to the public. (Kylee Ehmann)
Maverik Presents: Rendezvous @ The Gateway, 18 N. Rio Grande St., 801-456-0000, April 20, 2-8 p.m., free, shopthegateway.com