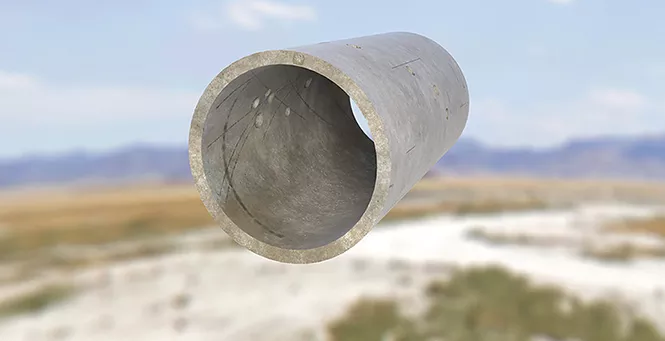 FRIDAY 4/28
Kelly O'Neill: rend/er
Kelly O'Neill—a recent recipient of a BFA in studio art emphasizing in photography/digital imaging from the University of Utah—likes to tinker with digital production. He's fascinated with how the digital image is created, and then how we react to it. Thus far, he's focused on cultural arenas like courtroom hearings and social media. But for a new exhibit, he's gone further afield. For rend/er, he's created 3-D prints and computer-generated scenes built up from photographic images gathered at the Sun Tunnels, Nancy Holt's 1976 Earth art piece constructed of long concrete tunnels in the remote west desert near Wendover.
As the current artist-in-residence in the Utah Museum of Contemporary Art's A.I.R. Space, O'Neill takes the most extreme presence of nature in art—the genre of Earth art—and "renders" it, in both the literal and figurative senses, into the most virtual, artificial and unnatural state imaginable. In O'Neill's interpretation, the Sun Tunnels are depicted as appearing to float in space, or distorted by other effects of digital media, like pixilation.
In an email interview, O'Neill says he hopes viewers can take from his work "a more subtle, complicated understanding of the interplay between artificial and natural realms," which can often be seen as in opposition, rather than as complementary.
"I hope the audience has time to think of where their own lives balance at the uneasy intersection of these fascinating landscapes," O'Neill adds. That conversation has a lot to say about how we live our lives. (Brian Staker)
Kelly O'Neill: rend/er @ Utah Museum of Contemporary Art, 20 S. West Temple, 801-328-4201, April 28-June 3, free, utahmoca.org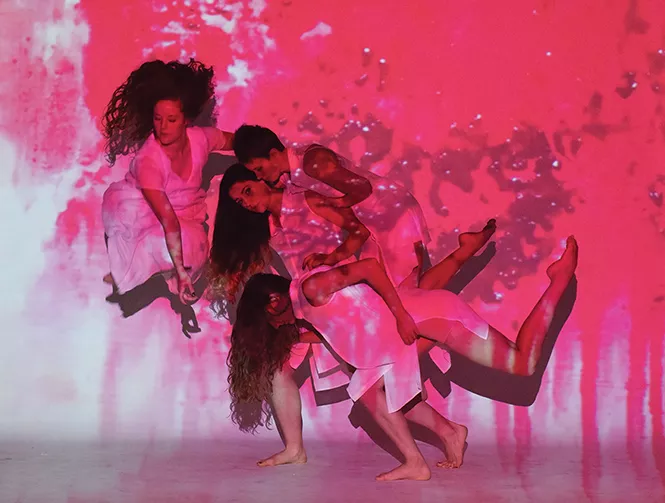 SATURDAY 4/28
SALT Spring Concert
At the end of every spring, outdoor activities start capturing Utahns' attention, but that doesn't mean there's nothing to see in theater spaces. Since 2013, SALT Contemporary Dance has been showcasing emerging voices in contemporary dance by working with professional choreographers from all around the world, creating fresh and original content with their collective of classically trained, versatile dancers. They also celebrate progression and upward evolution in dance. For their fourth year, the group introduces a new concert of world-premiere works.
The artistically bold company has mounted many sold-out shows since their debut four years ago. "SALT is trying to find venues large enough to hold the audiences of the rising generation," co-founder and Artistic Director Michelle Nielsen says. Thankfully, their spring concert offers another chance to see their energetic performances.
The program features new works choreographed by major dancers such as Peter Chu, Jermaine Spivey and Lindsey Matheis. Chu, a Juilliard graduate who has choreographed for So You Think You Can Dance, opens the concert with Paper Cuts. It features an original score produced by Djeff Houle, who has been a part of big productions such as Cirque Du Soleil. Paper Cuts, Chu says, "exposes the fragility of character as waving emotions groove through fragmented sounds."
SALT's innovative work elevates the cultural vibrancy and diversity of our community. Get ready to get your groove on because their energy will make you want to get up and dance along. (Sulaiman Alfadhli)
SALT Spring Concert @ Infinity Event Center, 26 E. 600 South, 385-240-4554, April 28-29, 8 p.m., $15-$50, saltdance.com
SATURDAY 4/29
Jenna Kim Jones
Life has taken a few different turns for Jenna Kim Jones in recent years, but it's given her brand-new material as she returns to Utah this weekend. The first turn came after she left the staff of The Daily Show to move to Los Angeles and focus on stand-up comedy. During this time, she also created the #SorryNotSorry podcast—one of the top 200 comedy podcasts on iTunes—with her producer and husband, Allan Moss.
"It's such a great way to stay in touch with fans and listeners," Jones said in an email interview. "Not to mention, I feel like I'm producing content regularly, so people don't have to wait around until I come perform wherever they are."
The next turn was when she started touring on a regular basis as a "clean comedian," including recording the 2016 special Jenna Kim Jones Live in Hollywood for Sirus XM's Laugh USA channel. "I think there is a need for clean comedy. I like to think I can be funny with being too cheesy or corny," Jones said at the time. "Bring your parents, bring your kids; it's one size fits all. Even my podcast is clean compared to most. In fact, many of our listeners love us because they can listen to our show in the car with their kids."
Most exciting for Jones, she became a mother in late 2015—a topic she's incorporating into her set. "Being a mom is weird," she says. "It's fun and exhausting and overwhelming, and also you worry about poop far more than I realized. I'm enjoying it and, in fact, I'm actually pregnant again. Surprise! So come out and see me tell jokes as a pregnant woman." (Gavin Sheehan)
Jenna Kim Jones @ Wiseguys, 269 25th Street, Ogden, 801-622-5588, April 28-29, 8 p.m., $12, wiseguyscomedy.com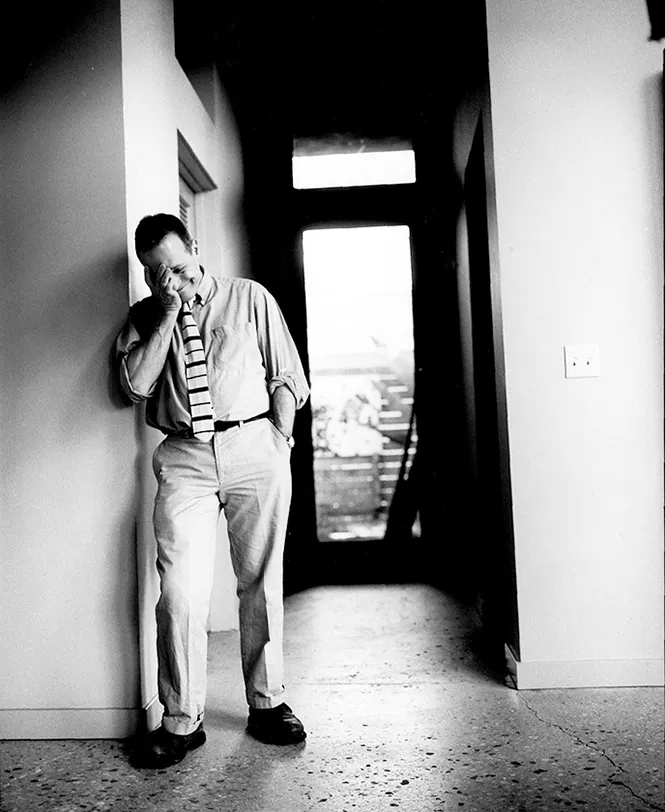 TUESDAY 5/2
David Sedaris
America is known for its great humorists and satirists—astute observers who have documented the nation's progress with unflinching commentary and a wry sense of irreverence. Mark Twain, James Thurber and Will Rogers set the standard. But author, essayist and playwright David Sedaris certainly follows in their footsteps, thanks to a series of best-selling books that gleefully tackle today's social mores with an incisive wit that tosses political correctness aside and leaves no subject spared.
The titles of his works reflect his barbed humor. Best-sellers like Naked, Dress Your Family in Corduroy and Denim, When You Are Engulfed in Flames and Let's Explore Diabetes with Owls have delighted readers by providing a squint-eyed, unblemished view of our current culture and the absurdities that find a disproportionate place in our world. Sedaris' insights have resulted in sales of 7 million copies of his books—the latest of which, Theft By Finding, is due this June.
One need only sample some of his memorable quotes to understand his particular perspective. Here's one on relationships: "Real love amounts to withholding the truth, even when you're offered the perfect opportunity to hurt someone's feelings" (from Dress Your Family in Corduroy and Denim). Or this, from Naked, regarding religion: "There seems to be some correlation between devotion to God and a misguided zeal for marshmallows."
OK, we're not sure about that last one, but the fact that Sedaris' work has been translated into 25 languages indicates that his ideas have found universal appeal. (Lee Zimmerman)
David Sedaris @ Eccles Theatre, 131 S. Main, 801-355-2787, May 2, 7:30 p.m., $25-$49.50, live-at-the-eccles.com