THURSDAY 4/06
Pioneer Theatre Co.: King Charles III

It's been 65 years since the United Kingdom has witnessed a coronation ceremony. It's morbid to think about, but one person's death is required before another's ascension to the throne. In King Charles III, presented by Pioneer Theatre Co., playwright Mike Bartlett explores the volatile what-ifs following Queen Elizabeth II's death.
The power struggle is felt immediately after the queen dies, and Prince Charles (John Hutton) becomes head of state as King Charles III. The prime minister (Larry Bull) insists Charles sign several bills that will soon become law—including one limiting the free press. Charles fundamentally disagrees with the bill and refuses to sign, setting off a series of events that pit the monarchy against British Parliament.
Stuck in the middle are Prince William (Grant Goodman) and wife Katherine (Samantha Eggers), who want Charles to continue with tradition, while Prince Harry (John Ford-Dunker) finds love in Jess (Jess Nahikian), an anti-monarch "commoner" who's haunted by her past. The clash of traditionalists and progressives comes to a head prior to the king's coronation.
As a distant observer from the other side of the pond, it's easy to understand both points of view of the monarchy and Parliament. Being stuck in the middle, however, is a different story. Given the current political climate in the U.K., and the queen's age (she turns 91 on April 21), we might not have to wait long to see if King Charles III gets it right. (Missy Bird)
Pioneer Theatre Co.: King Charles III @ Simmons Pioneer Memorial Theatre, 300 S. 1400 East, 801-581-6961, through April 8, Thursday, 7 p.m.; Friday-Saturday, 7:30 p.m.; Saturday matinee, 2 p.m., $38-$44, pioneertheatre.org



THURSDAY 4/06
Repertory Dance Theatre: Dabke

Both contemporary and historical, a personal story and universal narrative, Repertory Dance Theatre's production of Zvi Gotheiner's Dabke invites audiences to become immersed in a journey that can't be replicated anywhere else.
The title of this nearly hour-long, no-intermision piece comes from a Levantine folk dance, originating in a Middle Eastern region that includes Jordan, Lebanon, Palestine and Syria. Gotheiner was inspired to create his take on the dance following 2011's Arab Spring, where democratic uprisings took place throughout the Middle East and northern Africa, and because he personally is connected to these Arab countries. A northern Israeli by birth, Gotheiner feels the traditions in those regions deeply influenced his own culture.
"He really wanted to loan whatever artistic voice he had to document that feeling of optimism, and also wanted to do what he could to initiate some sort of healing," says Linda Smith, executive and artistic director of Repertory Dance Theatre.
Though the piece is inspired by the popular dance—with research through Gotheiner's company ZviDance, working mainly off YouTube videos—Dabke is not an exact replica. Instead, it acts as a mix of elements, utilizing both traditional and pop Arab music in addition to contemporary styles to create a unique work of art. As a result, the show is accessible to a wide variety of people. "It's about conflict in the Middle East, but it's also a symbol of conflict that we feel throughout the world," Smith says. (Casey Koldewyn)
Repertory Dance Theatre: Dabke @ Rose Wagner Center, 138 W. 300 South, 801-534-1000, April 6-8, 7:30 p.m., $15-$35, rdtutah.org



FRIDAY 4/07
Utah Symphony: Pictures at an Exhibition

For those of a certain generation, Russian composer Modest Mussorgsky's most famous piano composition, Pictures at an Exhibition, is better known as an early live recording by the British supergroup Emerson Lake and Palmer. That said, classical aficionados are likely familiar with the interpretation by composer Maurice Ravel, who made the 10-part suite a favorite among discriminating audiences in the early part of the 20th century. Indeed, portions of Mussorgsky's work were among the first compositions chosen for recording by the budding Columbia Records label nearly 100 years ago—predating ELP by half a century.
It could also be claimed that the work prefigured the concept of combining sights and sounds, an innovation generally credited to MTV. Of course, video hadn't been invented back then, so Mussorgsky took his inspiration from the paintings and drawings of a friend: artist and architect Viktor Hartmann. However, despite that initial impetus, Mussorgsky's music wasn't published until a dozen years after it was completed, and a full five years after his death. It took another five years before the work received its first public performance.
Despite its eratic trajectory, Ravel's arrangement of Pictures at an Exhibition remains a riveting musical experience. Combined with three other pieces on the program—Elgar's graduation-ceremony standard Pomp and Circumstance March No. 1, Elgar's Violin Concerto and Ravel/Boulez' Frontispice—it allows the Utah Symphony to offer audiences a spectacular evening of auditory exposition. (Lee Zimmerman)
Utah Symphony: Pictures at an Exhibition @ Abravanel Hall, 123 W. South Temple, 801-355-2787, April 7-8, 7:30 p.m., $15-$82, utahsymphony.org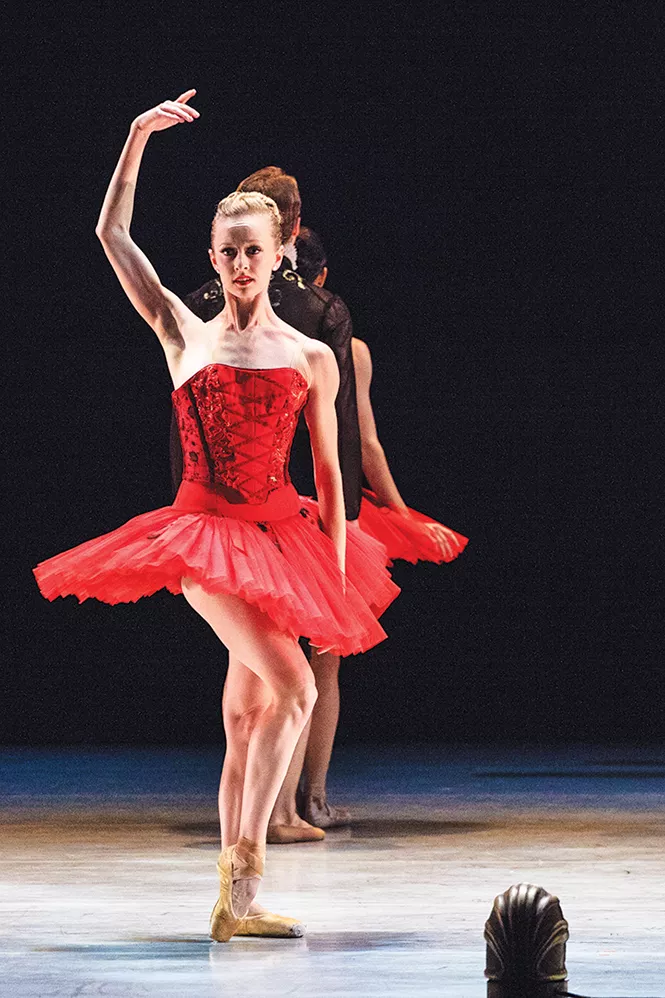 FRIDAY 4/07
Ballet West: Journeys and Reflections

There are few topics artists have explored as thoroughly as humanity's complicated contemplation of its own existence.
It's a topic that has no single answer, but exploring it has the satisfying result of pushing people to reflect on themselves and their lives. With their upcoming Journeys and Reflections, Ballet West joins this centuries-long tradition. CEO and Artistic Director Adam Sklute says the three 30-minute performances explore both how humanity sees itself in the world, and ballet as a diverse art form. "The three works together created this through-line about humanity," he says, "and all of the different realms of humanity, from the Elysian Fields of Heaven to a very earthy and elegant way of people interacting to the ravages of war."
The night begins with "Chaconne," an upbeat and joyful piece that uses the imagery of the Elysian Fields—the ancient Greek equivalent of heaven—to invite the audience to contemplate paradise. Next is "Facades," created by Utah native Garret Smith that focuses on self-reflection. The final piece delves into the German Expressionist movement with Kurt Jooss' "The Green Table." Created in 1932 Germany, just one year before Hitler rose to power, the piece looks at the futility of war and the products of failed diplomacy.
"It's important for us as an artistic organization to be able to show that diversity of styles and to be able to produce them at the highest caliber," Sklute says. "That's what keeps us relevant." (Kylee Ehmann)
Ballet West: Journeys and Reflections @ Janet Quinney Lawson Capitol Theatre, 50 W. 200 South, 801-355-2787, April 7-15, 7:30 p.m., $44-$87, artsaltlake.org