FRIDAY 8/11
Municipal Ballet Co.: Wilder
Audiences who associate the idea of ballet with classical music face a challenge to their expectations in Salt Lake City's Municipal Ballet Co. Their previous productions have included a spin on The Nutcracker accompanied by Pixie and the Partygrass Boys, and Metatransit in collaboration with Conquer Monster. For company founder Sarah Longoria, such team-ups with Utah bands are part of the unique identity Municipal Ballet is carving out for itself.
"By collaborating with local musicians, I believe we're able to make something that's truly by and for the people of Salt Lake City," Longoria says via email. "Using different genres of music, composed and played by locals, allows us to present ballet that is of our time and place, even though it is a centuries-old art form."
The company's new production, Wilder, continues that notion with a world-premiere work set to the music of "pianobike" player Eric Rich (pictured) and bassist Parker Childs. Continuing another Municipal Ballet tradition—playing in non-traditional venues—the performances are in the picturesque outdoor locations of Storm Mountain Amphitheater and the Jordan River Trail, with 50 percent of donations taken at the free shows going to Save our Canyons and the Utah Rivers Council.
Though Longoria is reluctant to discuss too much what she believes the choreography indicates, "I'll probably put this quote by Walt Whitman on our programs: 'These immense meadows—these interminable rivers—you are immense and interminable as they' ... It's just an appreciation for our open lands, and that we are a part of them." (Scott Renshaw)
Municipal Ballet Co.: Wilder @ Storm Mountain Amphitheater, Big Cottonwood Canyon, Aug. 11, 7 p.m.; Bend in the River, Jordan River Trail, Aug. 12, 7 p.m., free, donations accepted, municipalballet.com
FRIDAY 8/11
Craft Lake City DIY Festival
If it's the second weekend in August, it must be time for Salt Lakers to get crafty. In its ninth year, the Craft Lake City DIY Festival runs the gamut from vendors of vintage items to DIY engineers creating sometimes quite futuristic devices. STEM (Science, Technology, Engineering and Math) has become the buzzword in education, and the Google Fiber STEM Building houses examples of just about everything you could imagine under that roof, from robots to video games to recycling.
New wrinkles at this year's fest include workshops sponsored by home goods store West Elm on DIY décor, including brush lettering, gold leafing and macramé. Demonstrations include chainsaw carving, and a lesson from Skyler Chubak on chalkboard calligraphy. On Saturday from noon-4 p.m., Kid Row showcases a mini maker's market for children under 14. The kids area is space-themed this year, and the parenting lounge is a new space for those tending to infants, young children or children with special needs.
Live performers on two stages evidence the musical expertise of the event's sister organization, SLUG Magazine, and its history of supporting the local music scene. DIY was originally a big part of the punk-rock scene, so it makes sense that the festival spun out of the publication. DIY—and Craft Lake City itself—have grown far beyond that, and with the wide range of people united by their passion for making things, the festival has become a celebration of local community. (Brian Staker)
Craft Lake City DIY Festival @ Gallivan Center, 239 S. Main, Aug. 11, 5-10 p.m.; Aug. 12, noon-10 p.m.; Aug. 13, noon-7 p.m., $5, craftlakecity.com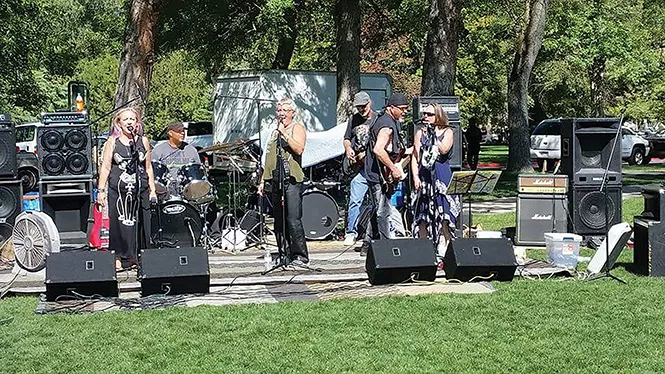 SATURDAY 8/12
Pagan Pride Festival
Debra Hurst, director of the Salt Lake City Pagan Pride Festival, knows what you probably think when you hear the word "pagan"—and that's a huge part of why she thinks the festival is important. "We get a lot of people who think we're devil-worshippers or we do things in the nude," Hurst says. "I just kind of have to laugh at that. We're kind, loving, everyday people."
Educating the community is a huge part of this event's mission, even as it provides a gathering opportunity for those who have already embraced a pagan identity—a term which can incorporate a wide range of earth- or nature-centered spiritualities. Having outgrown its original Murray Park home and moved to Liberty Park last year, Pagan Pride features vendors, workshops, rituals and demonstrations, representing that wide spectrum of practices that can fall under the umbrella of paganism. That includes ways to inform the curious, like the 1 p.m. discussion "What is a pagan anyways?" presentation. For those who might be questioning their spiritual direction, it's a chance to explore a new path.
Hurst herself identifies with that journey. Raised in the LDS church, she remembers having many questions about religion before exploring pagan beliefs. "When I found this community, it opened not just a door, but the whole shebang," she says. "It was a struggle in the beginning, as far as people accepting me. You hear, 'Why would you want to do that?' My answer is, 'Don't you want to know more? Don't you want to understand everything around you?' Those who don't understand that are the ones still in the closet." (SR)
Pagan Pride Festival @ Liberty Park, 600 E. 900 South, Aug. 12, 9 a.m.-6 p.m., free, saltlakecitypaganpride.org
MONDAY 8/14
Lisa Lampanelli
Trying to establish a career in the male-dominated world of stand-up comedy isn't easy for any woman. It might be even harder when the stage persona you adopt is aggressive, abrasive and potentially offensive—an identity you can tell Lampanelli doesn't shy away from, when the domain name for her official website is insultcomic.com.
That includes her take on playing in a red state like Utah, as she says via email: "Since most conservatives are secretly repressed homosexuals, they end up loving my show. Just kidding, kind of. Seriously, I find that all audiences in my shows are alike in the fact that they can take a joke, they don't take themselves seriously and they like a good belly laugh. And that's all I need from them. Other than that, they can shut their freaking mouths."
Lampanelli has given audiences plenty to belly-laugh about in a 20-plus-year career that has seen her become a fixture on the stand-up circuit, plying her unique talent for barbs on televised celebrity roasts and even creating the play Stuffed, a semi-autobiographical take on food and body image. She even did a season of Celebrity Apprentice, which gives her at least one personal insight into our current president. "I learned that I am not the president's type," Lampanelli says. "I am deeply offended that he did not hit on me once during my entire time on Celebrity Apprentice. And back then, I had enormous boobs. Oh, well—his loss! I hope he's very happy with his current wife, Insert Name Here." (SR)
Lisa Lampanelli @ Wiseguys SLC, 194 S. 400 West, 801-532-5233, Aug. 14, 7 & 9:30 p.m., $35, 21+, wiseguyscomedy.com