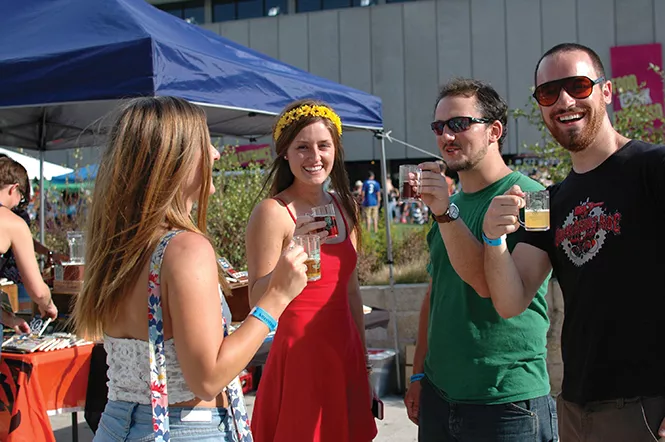 SATURDAY 8/19
Utah Beer Festival

Last week,
City Weekly
whetted your appetite with a full issue of brew-tiful content to make sure the Utah Beer Festival was on your radar. This week, it's time to make your plans to attend.
There's even less excuse not to attend now, as the event expands to two days, taking over the Utah State Fairpark for the full weekend just on the off-chance that your Saturday is already booked. Whether you come Saturday or Sunday—or preferably both—just to make sure you don't miss out on any of the fun, as you'll get a chance to enjoy more than 200 beers by local, regional and national brewers.
Sampling is easier than ever, thanks to an RFID wristband that you can tap to get beers on tap, and reload with additional credit as needed. All those wonderful lagers, pilsners, IPAs, ales, stouts, double bocks and more can wash down the treats available from food vendors like Even Stevens, Pat's BBQ, Lucky Slice Pizza and Jamaica's Kitchen. VIP attendees even get a chance to enjoy special food-and-beer pairing events hosted by The Beer Professor.
What if you're teetotalling, or perhaps serving as designated driver for friends? Discount tickets are available for those who won't be drinking beer, and you can still enjoy the full slate of performances by local bands including Folk Hogan and Natural Roots. You'll also get the satisfaction of knowing that a portion of the proceeds goes to support the Humane Society of Utah. We can all drink the beverage of our choice to that. (Scott Renshaw)
City Weekly's Utah Beer Festival @ Utah State Fairpark, 155 N. 1000 West, Aug. 19, 2-8 p.m.; Aug. 20, 1-7 p.m., $15-$75, utahbeerfestival.com
SATURDAY 8/19
Ogden Balloon & Arts Festival

It isn't hard to see why hot air balloons are so appealing. They conjure images of a bygone era when air travel didn't require increasingly intimate encounters with TSA agents. Or maybe we never stop loving brightly colored balloons.
Whatever the reason, you'll have plenty of time to admire these colorful behemoths at the Ogden Valley Balloon Festival. Marking the end of the Ogden festival summer season, this three-day event typically draws more than 13,000 people.
Terry Murphy, chairperson for the festival, says the event is so popular because of the favorable wind currents in the valley, and because of the spectacular views. "You see the balloons hovering over the lake, or you see the balloons' reflections over the water," Murphy says. "It's just a beautiful space."
The weekend offers more than balloons; it stands as a showcase for the best of Ogden Valley. In addition to providing a platform for the Ogden Rescue Mission—a homeless shelter and rehab program—to promote its cause, there are live performances, an array of food vendors and a revamped children's section that includes attractions like a giant walk-through heart and a reptile-inspired obstacle course.
Organizers recommend bringing cash, as most vendors do not accept credit cards. Balloon rides average $500 per couple.
Parking is located at Snowcrest Junior High (2755 N. Highway 162), the Powder Mountain shuttle stop and Valley Elementary (5821 E. 1900 North). Attendees can purchase a $10 half-day pass to park near the venue. (Kylee Ehmann)
Ogden Valley Balloon Festival @ Eden Park, 5522 E. 2200 North, Eden, Aug. 18, 7 a.m.-10 p.m.; Aug. 19, 7 a.m.-10 p.m.; Aug 20, 7 a.m.-noon, free, ogdenvalleyballoonfestival.com
Wikimedia Creative Commons
MONDAY 8/21
Solar Eclipse Viewing

Bright-eyed star-gazers from far and wide have been planning for months to catch the 70-mile-wide shadow of the moon that cuts across America on Monday. Although Salt Lake City won't get the full eclipse, we can still expect 91-92 percent solar coverage, and venues including Clark Planetarium, Wheeler Historic Farm, Discovery Gateway and libraries across the Salt Lake Valley plan on helping folks make the best of it.
The solar eclipse begins at 10:13 a.m., peaks in coverage at 11:33 and ends at 12:59 p.m. Throughout that time, Clark Planetarium offers easy access to eye protection as well as activities for "citizen scientists," ranging from simple smartphone photography of eclipse phases to testing general relativity with the help of starlight deflection.
Especially for kids, Discovery Gateway staff will be inside and outside at Gateway Plaza fountains providing activities like hopscotching across a chalk-drawn solar system, recreating lunar phases with Oreos and taking photos with space-themed backgrounds and props.
As an alternative, Salt Lake County Library Services hosts several viewing parties at branches from Millcreek to Riverton. The Salt Lake City Main Library also hosts a rooftop viewing party for the first 200 people, including a limited number of free viewing glasses. Outside of planetarium-sponsored events, the King's English Bookshop hosts a reading of space-themed stories, and guides on making pinhole cameras.
If you're seeking a setting to match the view, Snowbasin has you covered; Needles Gondola runs from 10 a.m.-2 p.m. Visit cityweekly.net listings for several other viewing locations. (Rex Magana)
Solar Eclipse @ Clark Planetarium, 110 S. 400 West, Aug. 21, 10 a.m., slco.org; Discovery Gateway, 444 W. 100 South, discoverygateway.org; Main Library, 210 E. 400 South, slcpl.org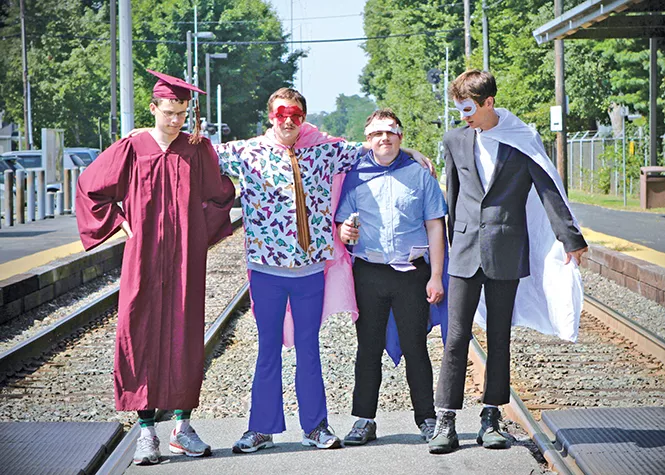 Duplass Brothers Productions
WEDNESDAY 8/23
Asperger's Are Us

In the 2016 documentary
Asperger's Are Us
—a profile of a Massachusetts-based comedy troupe whose four members have all been diagnosed with Asperger's syndrome—group member Jack Hanke says of his childhood, "The only way I could be liked was being funny. ... It's how I learned to cross the bridge between myself and the rest of the world, by telling jokes."
The Asperger's Are Us members—Hanke, New Michael Ingemi, Ethan Finlan and Noah Britton—met in 2010 at a summer camp for kids on the autism spectrum, but the troupe wasn't launched as a feel-good public service announcement. "We still get a lot of people who come to our shows expecting education or pity or anything relating to autism," Britton says via email, "so we always emphasize that our shows are just absurdist comedy performed by Aspies with Aspie senses of humor: Wordplay, occasional satire and dark absurdism." The unique brand of comedy that percolates through these unique brains—influenced, according to Britton, by The Kids in the Hall, Steven Wright and the Zucker-Abrahams-Zucker movie parodies like Airplane!—might feature the president of the United States holding a press conference explaining why he married a train, or the most literal manifestation of an "observational comic."
Though the documentary revolves around planning for the troupe's farewell performance ahead of Hanke studying for a year at Oxford—spoiler alert!—the quartet reunited and is touring with all-new material. Let them introduce themselves to you, as they often do in their performances, with what they want done with their corpses when they die. (SR)
Asperger's Are Us @ Sugar Space Arts Warehouse, 132 S. 800 West, Aug. 23, 7 p.m., $10 general admission, thesugarspace.com