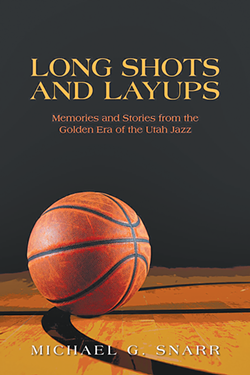 THURSDAY 8/23
Michael G. Snarr: Long Shots and Layups
You might be the most die-hard of Utah Jazz fans and still not know Michael Snarr's name. That's because while John Stockton, Karl Malone and Jeff Hornacek were fighting for NBA championships on the court, Snarr was in the team's front office, beginning with sponsorship sales and eventually becoming vice president for strategic partnerships. Those roles gave him a unique perspective, not just on the behind-the-scenes stories of the team's most successful seasons in the 1990s, but the overlap between lessons for a successful sports team and lessons for a successful business.
Snarr's book Long Shots and Layups is part memoir, part team history and part management manual. Interspersed with the nearly 40-year history of the Utah Jazz, Snarr includes his own professional journey from advertising to the ill-fated Triad America to the Jazz. Along the way, he features "takeaways" that offer tips for finding success in whatever field of endeavor you're working in, whether you're wearing a jersey or a suit and tie.
Rather than providing a tell-all filled with locker-room dustups and behind-the-scenes gossip, Snarr mostly crafts a reminder of the long, hard road to building a championship-caliber team, and the efforts off the court—from preparing for a draft to finding the perfect coach—that contribute to that success. Striking the deal for naming rights to the team's arena becomes part of the bigger picture of a team growing from struggling transplant to title contender. (Scott Renshaw)
Michael G. Snarr: Long Shots and Layups: Memories and Stories from the Golden Era of the Utah Jazz @ The King's English Bookshop, 1511 S. 1500 East, 801-484-9100, Aug. 23, 7 p.m., kingsenglish.com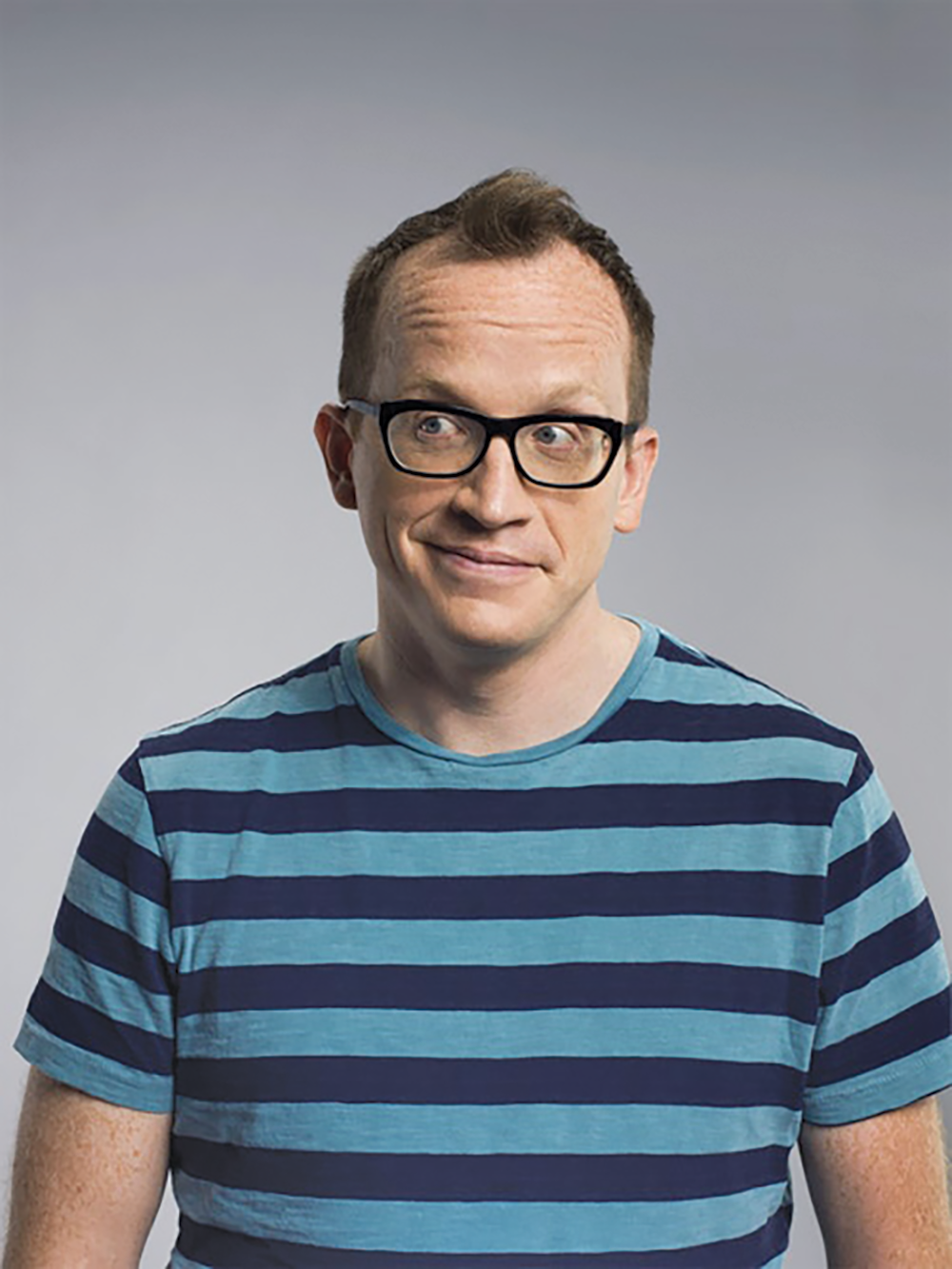 Celeste Sloman
Chris Gethard
FRIDAY 8/24
Chris Gethard
We should be permitted a moment to mourn: On Aug. 6, comedian Chris Gethard announced via social media that The Chris Gethard Show—which journeyed over the course of a decade from live performance to public access to Fusion to truTV—had been canceled, and would not be continued. "We were, after all, the lowest rated show on the network," Gethard wrote with typical self-deprecation, "something that I take no small amount of pride in."
The weird, ever-changing and entirely distinctive show—the kind where Paul Rudd could show up on the series finale not to promote Ant-Man and the Wasp, but to give an expectant mother a pep talk, or Gethard might attempt to host the show after being awake for 36 consecutive hours—is only part of the singular talents of Chris Gethard. His experience as a member of the legendary Upright Citizens Brigade comedy troupe schooled him in the finer points of improvisation, and made him a perfect choice for the ensemble of Mike Birbiglia's film Don't Think Twice, set in the world of improv comedy. It only makes sense that he would allow his show to end rather than have it be anything other than the strange beast it was at its best.
Yet, he's also the kind of versatile performer who can open up about his struggles with depression in his one-man show Career Suicide, turning that pain into comedic stories. "I think people are still scared to talk about this stuff," Gethard noted on The Late Show with Stephen Colbert in 2016, "and I want to laugh about it, and see if that can help a little bit." (SR)
Chris Gethard @ Wiseguys SLC, 194 S. 400 West, 801-532-5233, Aug. 24-25, 7 & 9:30 p.m., $15, wiseguyscomedy.com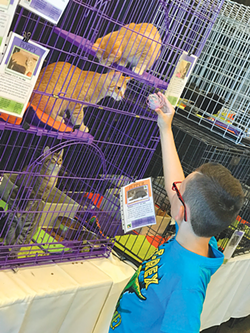 Salt Lake County Animal
Petapalooza
SATURDAY 8/25
Petapalooza
They say that a dog is man's best friend. We would add that cats make great pet pals, too. If you're one of a growing legion of individuals who tend to favor animals over people—especially given the lack of civility we humans are responsible for lately—then that old adage takes on a deeper meaning.
Of course, there's another reason to introduce a furry creature to your family: It's the humane thing to do. Giving an animal a loving home is not only an act of charity, but it pays you back with dividends for many years to come.
Salt Lake County Animal Services annual adoption event, Petapalooza, offers an ideal opportunity to find an animal friend. Sponsored by Realtor Tracy Thomas (Your Dog's Friendly Agent) and pet food supplier Pet Wants in Sandy, this fifth annual extravaganza also features food trucks, vendors, live music, pet psychics, a pet photo booth and a beer garden.
"This event keeps growing every year," Callista Pearson, communications manager for Salt Lake County Animal Services, says. "It connects people in the community with other pet lovers looking to adopt a new pet or just wanting to bring their current dog out to a fun event."
Indeed, the effort has paid off. The 2017, Petapalooza resulted in the adoption of 100 pets. "Salt Lake has an amazing pet community," Pearson adds. "They love all pets—dogs, cats, rabbits, reptiles, etc. Their passion for animals is what makes this a memorable event every year." (Lee Zimmerman)
Petapapalooza @ Viridian Event Center, 8030 S. 1830 West, West Jordan, Aug. 25, 9 a.m.-4 p.m., free, slco.org/animal-services
Adam Welker
Jacksepticeye
TUESDAY 8/28
Jacksepticeye: How Did We Get Here?
Show business insiders once touted "overnight sensations"—performers who would appear out of the blue and win public acclaim. Of course, most didn't show up suddenly at all, but gained celebrity only after years of honing their craft.
Not so in today's world. A single posting on YouTube can garner millions of hits and turn an anonymous nobody into an instant star. Take Jacksepticeye, for example. The 28-year-old Irishman—born Seán William McLoughlin—initiated his career simply by uploading daily videos to YouTube, including Let's Play videos focused on his fascination for gaming. He now claims some 9 billion views and more than 19 million subscribers. In past interviews, he's described his antics as "an attempt to keep people together," an "assault on the senses" that people "either love or hate."
He's been so successful that he inked a contract with Polaris, a Walt Disney company, and became a playable character in the video game The Escapist 2. However, his career hasn't been without controversy. A YouTube program he participated in called "Scare PewDieDie" was canceled before its second season, and he's frequently feuded with YouTube about sudden shifts in policy. "This is people's careers," he railed earlier this year. "To completely switch how you do things and not tell anybody is a shitty thing to do."
Jack's upcoming local appearance finds him sharing his success and playing favorite clips. And, since he's a remarkable example of a true overnight sensation, hearing him share how he got there should make this an insightful encounter. (LZ)
Jacksepticeye: How Did We Get Here? @ Capitol Theatre, 50 W. 200 South, Aug. 28, 8 p.m., $20-$100, artsaltlake.org