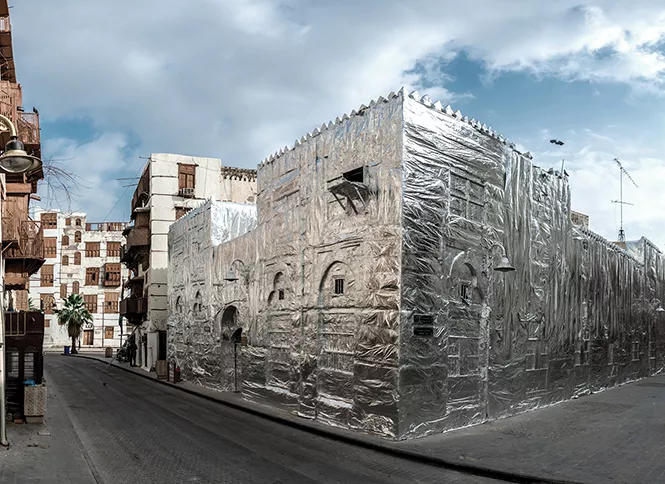 FRIDAY 8/25
Cities of Conviction
We often turn to art to see things we've never seen before, but sometimes it's because they are things we turn a blind eye to in the course of our daily lives. Middle Eastern immigrant communities are talked about constantly on the news and in public policy, but their cultures are rarely represented in local art establishments.
Cities of Conviction collects works by 19 Saudi artists ("Suspended" by Abdullah Al-Othman is pictured) in a variety of media. These artistic creations muse about the Mideast nation's culture and how it fits into the bigger picture of life in the modern world—especially in Utah. According to Utah Museum of Contemporary Art's curator of exhibitions Jared Steffensen, one particular image from Ahmed Mater's book Desert of Pharan brought the cultural connection into focus. "It looked a lot like if you drove from Wendover to Salt Lake—desert, a city in the distance," he says. "In that case, the city was Mecca. It pulled everything together for me, the similarities in the landscape, energy concerns, development springing up around a religious center."
While Steffensen was specifically looking to address the subject of Islamophobia, he saw an opportunity to draw parallels between the religious culture of Saudi Arabia and the Mormon culture of Utah. "I started thinking, is there similar language, or phrases, in Islamic texts?" he explains. "It allowed me to think about how the religious community here could understand or connect with the religious community there." (Brian Staker)
Cities of Conviction @ Utah Museum of Contemporary Art, 20 S. West Temple, 801-328-4201, Aug. 25-Jan. 6; opening reception, Aug. 25, 7-9 p.m., free, utahmoca.org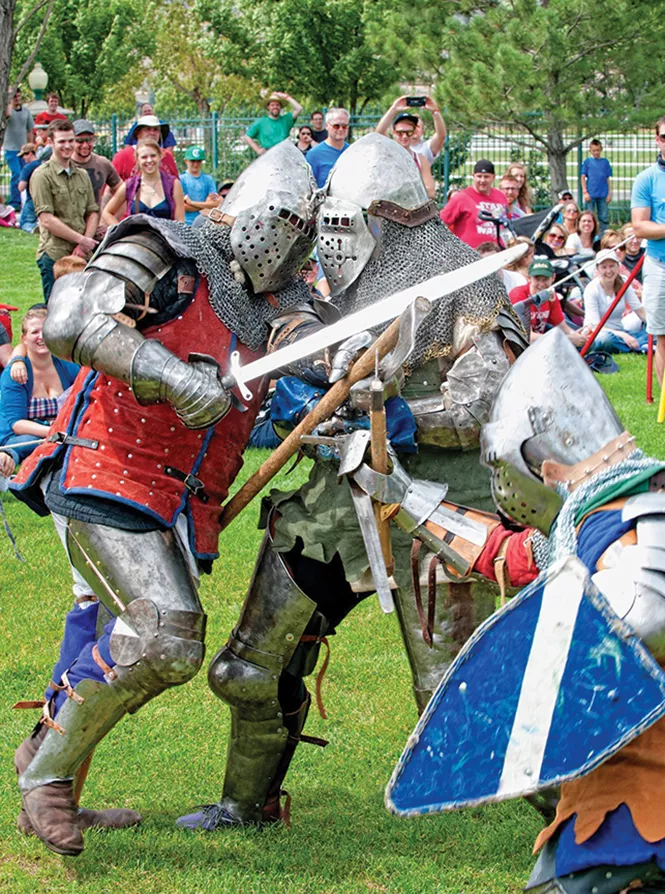 FRIDAY 8/25
Utah Renaissance Faire
If you have a grim, dirty and raunchy idea of what life was like in 16th-century Europe, Spencer Shattuck—assistant administrator of the Utah Renaissance Faire—wants to assure you that such a perspective isn't what their event is all about. "We want a family-friendly fair, where our goal is to help people see that these times weren't all dark and dreary," he says. "There can be good fun in it as well."
That fun takes many fascinating forms at the two-day Thanksgiving Point festival. Real full-contact combat includes horseback jousting from Knights of Mayhem, and earthbound pummeling by the Armored Combat League (pictured) in what Shattuck describes as "close to 100 pounds of armor, swinging weapons as fast and hard as they can." Performances by Minnesota's Harp Twins and Belarus-based musicians Stary Olsa provide atmospheric music, while the food options include a VIP feast with suckling pig or turkey leg.
But most important to Shattuck is the festival's sense of community—one that is welcoming whether or not a visitor chooses to come in full costume (which is not required, but grants an admission discount). He mentions a group of 30 people who are setting up an authentic Viking village, complete with a goat farm. "They're so enthusiastic about historical reenactment," Shattuck says. "That's the kind of community I love housing at my event. Come do what you enjoy; I just want you to be there because it's so cool that we're going to have this Viking village." (Scott Renshaw)
Utah Renaissance Faire @ Thanksgiving Point Electric Park, 3003 N. Thanksgiving Way, Lehi, Aug. 25-26, 10 a.m.-8 p.m., $8-$15 general admission; children under 6 free; $30 family passes, utahrenfaire.org
SATURDAY 8/26
The Rose Exposed: The Sky Is Falling!
The Rose Exposed, the annual theatrical performance presented at the Rose Wagner Performing Arts Center, arrives at a crucial moment in history. For The Sky Is Falling! the six resident performing art companies at the Rose—Gina Bachauer International Piano Foundation, Plan-B Theatre Co., Pygmalion Theatre Co., Repertory Dance Theatre, Ririe-Woodbury Dance Co. and SB Dance—join forces to create an artistic and comedic relief surrounding the infamous idea of "fake news."
"The theme responds to how many Americans are feeling now," Pygmalion's Artistic Director Fran Pruyn says. "We don't know what is happening with our country and our world, but it is certainly not like what has gone before and it is hard not to overreact." Distinct media and forms of art, embodying the same significant theme, give audiences a wide range of perspectives on the undeniable effect of unreliable information.
Performances range from Stephen Beus of Bachauer filling the theater with live music, to Pygmalion catching glimpses of Chicken Little. The evening closes with Plan-B Theatre's cathartic dark comedy (actors Christy Summerhays and Darryl Stamp are pictured) written by Matthew Ivan Bennett. The Sky Is Falling! raises awareness on the issue of "fake news" while simultaneously lifting audiences' spirits through an easily relatable platform. Pruyn remains "hopeful that the audience sees these different artistic expressions as interesting and viable and fun, and emotionally and intellectually stimulating." (Julia Villar)
The Rose Exposed: The Sky Is Falling! @ Rose Wagner Performing Arts Center, 138 W. 300 South, 801-355-2787, Aug. 26, 8 p.m., $10-$15, artsaltlake.org
SUNDAY 8/27
Steve Martin & Martin Short
After a combined time in show business of nearly a century, you could forgive Steve Martin and Martin Short if they chose to slow down and stick close to home rather than put together a full touring production. Instead, they've decided to have fun and continue entertaining live audiences—even if, during performances, Short self-deprecatingly refers to the show as, "If We'd Saved, We Wouldn't Be Here."
The longtime friends (and two-thirds of the Three Amigos) bring all of their talents to bear in the two-hour show—including their willingness to make jokes at the expense of one another, or themselves. Short digs at Martin's seemingly forever-gray hair, saying he looks great but "I guess that's the charm of looking 70 when you were 30"; "'Martin Short' is the name I use when I check into a hotel and want to be anonymous," retorts Martin. Then they'll title a video montage of their classic moments "See Them Before They're Dead."
But beyond the jabs and humility, there are the genuine gifts of these two men in both comedy and music. Martin performs on the banjo with Steep Canyon Rangers, while Short parodies Broadway musicals in the production number "Step-Brother to Jesus" from his one-man show Fame Becomes Me. Whether inviting audience participation into a salute to ¡Three Amigos! or offering the return of Short's Hollywood insider character Jiminy Glick, it's a virtual certainty that you won't agree with the way they've titled their collaborative performance: "An Evening You Will Forget for the Rest of Your Lives." (SR)
Steve Martin & Martin Short @ Eccles Theater, 131 S. Main, 801-355-2787, Aug. 27, 7:30 p.m., $85-$195, artsaltlake.org