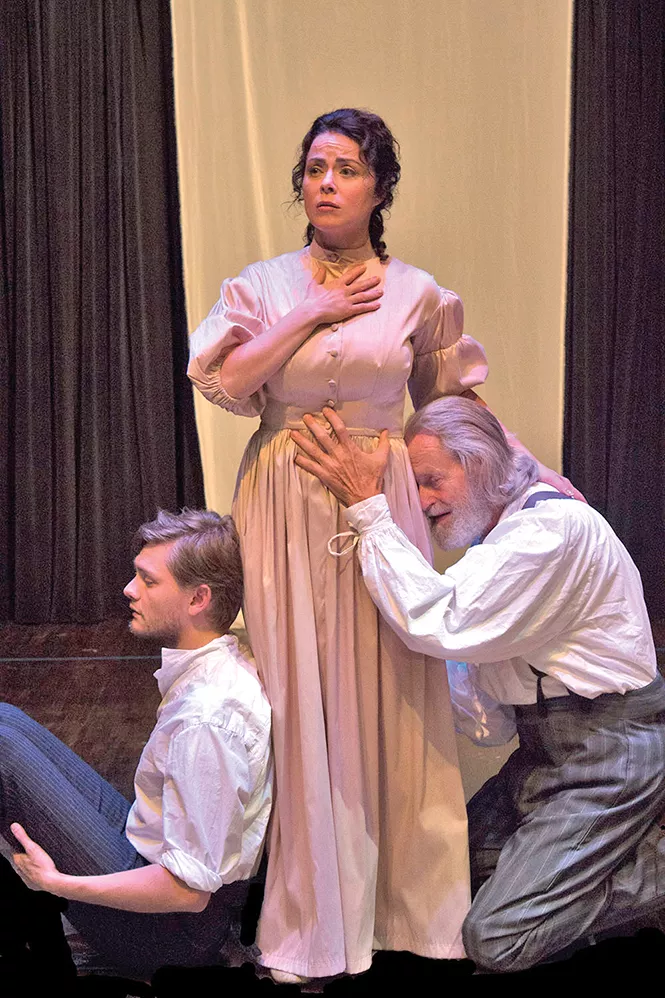 FRIDAY 9/1
The Sting & Honey Co.: Desire Under the Elms
When interpreting a classic piece of theater like Eugene O'Neill's Desire Under the Elms, it might be tempting to think in a modernist, avant-garde direction. Or, when the work in question is itself an adaptation of a work from classical Greek theater, you can go back to the source.
That's the approach director Javen Tanner takes with The Sting & Honey Co.'s production of O'Neill's drama—set in rural New England circa 1850, where a farm family faces upheaval after the widowed patriarch remarries—based on the Phaedra myth from Euripides' Hippolytus. "I've really tried to draw out the Greek mythological ideas in the play," Tanner says. "Even stylistically, we've experimented with certain monologues being delivered the way they would in Greek theater, when someone comes out to tell about the horrible thing that happens, and the actor is both telling and experiencing what happened at the same time."
As Tanner and his cast wrestle with Oedipal subtext, there's some interesting complexity at play in the casting of roles. The father character, Ephraim, is played by veteran actor and University of Utah theater instructor Robert Nelson, with whom Tanner studied. "He's taught so many of us in the local theater community," Tanner says, "in classes and as a director. It's the first time I've ever directed a former professor of mine, so that was a little nerve-rattling at first, but it's turned out to be really great." Sounds like one way this show certainly won't resemble a Greek tragedy. (Scott Renshaw)
The Sting & Honey Co.: Desire Under the Elms @ Regent Street Black Box, 131 S. Main, 801-355-2787, Sept. 1-16, Thursday-Saturday, 7:30 p.m.; Saturday matinees, 2 p.m., $18, stingandhoney.org
FRIDAY 9/1
Empress Theatre: Sister Act: The Musical
Segueing from stage to screen and from Broadway to Main Street, musicals like Camelot, Cabaret and South Pacific furthered their popular appeal in bygone days. However, in recent years, the trend has reversed, with films like Dirty Dancing transformed into lavish theatrical productions that contributed additional illumination to the Great White Way.
Sister Act achieved similar success in its creative crossover, and for good reason. It's based on the 1992 hit film starring Whoopi Goldberg as a hapless lounge singer forced into protective custody disguised as a nun after landing on the mob's hit list when she witnesses a murder. Goldberg's character, Deloris, became a disco diva when the musical landed on Broadway in 2011, but the basic plot remains the same. A tale of transformation and lessons learned, it finds Deloris learning to survive—and thrive.
"This show can relate to everyone," says Ty Whiting, marketing director for Magna's Empress Theatre, which stages the show this month. "Its message is about finding yourself and discovering the strength you never knew you had ... We've taken the show and made it more about the story than the spectacle."
With music by Tony- and Oscar-winning composer Alan Menken—best known for Disney classics like The Little Mermaid and Beauty and the Beast—it's also clear that the entertainment element remains intact. Indeed, humor, heart, song and circumspect make Sister Act a hard habit to break. (Lee Zimmerman)
Sister Act: The Musical @ Empress Theatre, 9104 S. 2700 West, Magna, 801-347-7373, Sept. 1-16, Friday-Saturday (and Monday, Sept. 11), 7:30 p.m.; Saturday matinees, 2 p.m., $10-$12, empresstheatre.com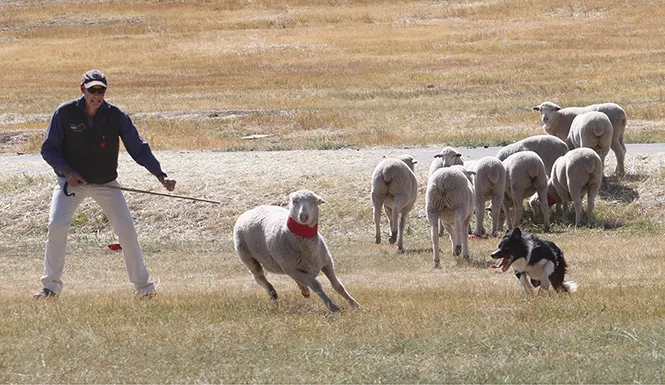 SATURDAY 9/2
Soldier Hollow Classic Sheepdog Championship
When faced with their big floppy ears and desires for belly-rubs, it's easy to forget border collies were bred to be much more than big, snuggly pets. But this Labor Day weekend, the 15th annual Classic Sheepdog Championship in Soldier Hollow is here to remind everyone what a herding dog can really do on the job.
Mark Petersen, event director and founder, says he knows going to observe dogs chase sheep around is a bit strange, and an odd way to spend a weekend. But he thinks people will be just as drawn to the event as he was when he first saw it in Scotland in the 1990s.
"It's one step beyond what people have seen people do with dogs before," Petersen says. "And it's not a competition based on pedigree or on looks. It's a measure of what they can do. There's nothing more American than that."
The sheep used for the competition are unaccustomed to the presence of dogs, which makes the dogs' work of steering them around objects and controlling them even more remarkable. Additionally, the weekend offers a host of family-friendly events. Some, like dog agility demos, keep with the canine theme; but others, like beginning beekeeping and the bagpipe performance, offer plenty for the less-passionate dog lovers. While attendees can bring their own food, the weekend also offers a slew of vendors from around the state. (Kylee Ehmann)
Soldier Hollow Classic Sheepdog Championship @ Soldier Hollow, 2002 Olympic Drive, Midway, 801-668-8016, Sept. 1-4, 7:45 a.m.-6 p.m., $12.99-$49; $5 parking, soldierhollowclassic.com
TUESDAY 9/5
Get Into the River Festival
The Wasatch Mountains might be the spine of the Salt Lake Valley, but the Jordan River could easily be considered its main artery, as the 51-mile waterway runs from Utah Lake to the Great Salt Lake. Considering its significance, it seems appropriate that the events celebrating it have expanded.
Revived three years ago after an eight-year hiatus, the Get Into the River Festival was conceived, according to spokesperson Tish Buroker, "as a way for people to get more involved with, and more connected to, the Jordan River. We would have clean-up events, then a big festival. This year, we decided we'd move it to a month-long event, allowing everyone who lives along the river more opportunities to be involved."
Over the course of September, several cities are sponsoring their own events, beginning with Riverton City's educational walk for families on Sept. 5. Several additional educational, recreational and clean-up events culminate in the Riverfest on Saturday, Sept. 23.
Buroker emphasizes that, with the creation of the River Trail and conservation efforts, the Jordan River is a uniquely versatile connecting element in a way it might not always have been. "I grew up with the river in my backyard," she says, "but for so many years, it was a place you did not go. It was a dump. Now it's being cleaned up, and people love it. You can get really familiar with the trail, and then hopefully learn something about the value of the river to the pioneers, and how it can still be an important resource now." (SR)
Get Into the River Festival @ various locations, Sept. 5-29; Riverfest @ Fairpark Trailhead, 1220 W. North Temple, Sept. 23, 3-7 p.m.; free, getintotheriver.org