SATURDAY 12/29
A Magical Cirque Christmas
It's often said that Christmas is a magical time of year. It's sung in song, emblazoned in TV commercials and used as a means of sharing its spirit.
Still, it takes a circus to help make that metaphor more literal, and the producers of A Magical Cirque Christmas have the skills and savvy to do just that. Granted, flying reindeer and a fat guy stuffing himself down a chimney seem extraordinary to begin with, but it's also the perfect premise for a theatrical setup complete with illusionists, acrobats, jugglers, trapeze acts and stunning sets, choreographed to a soundtrack of holiday favorites.
The extravaganza is hosted with class and comedy by superstar magician Paul Debak, a veteran of Las Vegas and London's West End once named "Young Magician of the Year" by the International Brotherhood of Magicians. "Combining breathtaking circus with music that is already dear to people's hearts has made this show a real hit," Debak says via email. "There's an intimacy that's rarely present in shows of this magnitude, which allows audiences to feel part of the Christmas ambiance while still enjoying the full shot of adrenaline that the circus is so famous for."
Associate Director Richard Peakman adds, "A Magical Cirque Christmas is like the ultimate Christmas gift. There is truly something to be enjoyed by all ... a feast for the eyes and ears, a true celebration of the holidays for the entire family." With Christmas shopping over, we're ready to focus on dazzle rather than debt. (Lee Zimmerman)
A Magical Cirque Christmas @ Eccles Theater, 131 S. Main, 801-355-2787, Dec. 29, 4 and 8 p.m., $25-$60, artsaltlake.org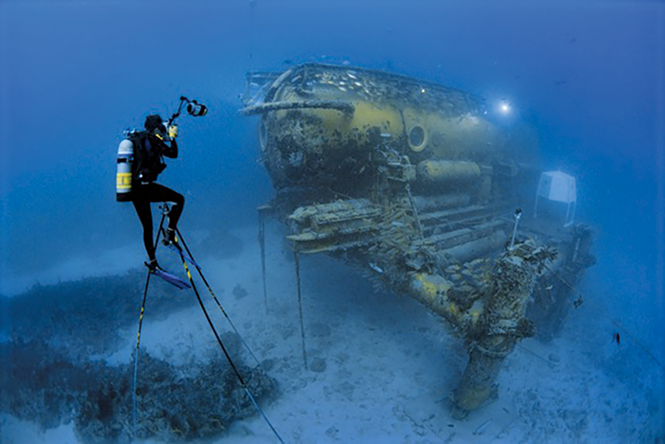 SATURDAY 12/29
National Geographic Live
Underneath the ocean waves lies an utterly alien world. While nature documentaries offer a glimpse into this watery otherworld, few ever get to experience its beauty directly.
Brian Skerry, contract photographer for National Geographic, is one of those lucky few to experience marine life head on. For roughly two hours, Skerry will describe his work and the stories behind his world-renowned marine life photos in National Geographic Live—Ocean Soul.
For more than 30 years, Skerry's work has celebrated the magic of the ocean and highlighted environmental and conservation issues. The resulting images can be heartbreaking and horrifying. It's hard not to feel distress at the sight of a beautiful thresher shark tangled and strangled to death in a fishing net as commercial fisheries begin to decimate more and more of the earth's seas in search of profit.
But even as his photography highlights human threats to marine life, his work is also beautiful and showcases critically endangered species like the leatherback sea turtle and the right whale in their full glory. Skerry's photographs have earned him 11 awards in the Wildlife Photographer of the Year Competition, a spot as the 2014 National Geographic Fellow and the title of 2017 National Geographic Explorer of the Year.
Twenty-seven percent of proceeds from the event goes toward funding the National Geographic Society, a nonprofit organization that invests in research, exploration and conservation on a global level. Some of the current projects include "Plastics: Source to Sea" and "Pristine Seas," which both look to explore ways to reduce humanity's impact on the world's oceans. (Kylee Ehmann)
National Geographic Live @ Eccles Center Theatre, 1750 Kearns Blvd., Park City, 435-655-3114, Dec. 29, 7:30 p.m., $29, parkcityinstitute.org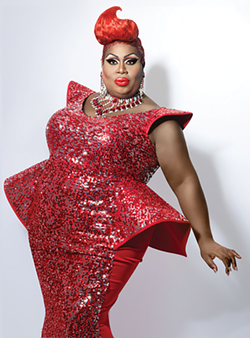 MONDAY 12/31
New Year's Eve with Latrice Royale
Her baritone voice and laugh are enough to light up any room, and when she's not on stage stealing the show via her mesmerizing performance as Aretha Franklin in RuPaul's Drag Race, Latrice Royale (Timothy Wilcots) has reigned as a fan favorite in the herstory of drag. Royale is a queen of many characters, most recently in the 2017 flick Cherry Pop, where Wilcots plays Terry, a married man obsessed with the local queens, which causes him to be banned many a time from the Cherry Pop venue.
For those unacquainted with drag show customs, bewitched fanatics of queens might sound absurd—but it happens. Point being, there's a Terry at every drag show (so don't be a Terry). As the great Mama Ru (RuPaul) once said, "Drag is not a contact sport."
But there's nothing stopping Royale. She'll be spending New Year's Eve in the saltiest place on earth. Crowned Miss Congeniality of RPDR season four, Royale has continued to prove her drag is as artistic as it is entertaining. Although Royale is flamboyantly open and welcoming on stage, off stage in 2015, Timothy Wilcots took part in a documentary that shed light on what American prisons are like for LGBTQ people. Gays In Prison showcased Royale on deeper topics, from lack of care for inmates diagnosed with HIV/AIDS, to drug use and state-sponsored discrimination in the LGBTQ community.
"From prison to pristine," as her saying goes, the epic resurgence of Timothy Wilcots aka Latrice Royale is the American Dream incarnate. (Rachelle Fernandez)
Latrice Royale @ Metro Music Hall, 615 W. 100 South, 385-528-0952, Dec. 31, 9 p.m. $20, 21+, metromusichall.com
MONDAY 12/31
Last Hurrah
With any transition, the opportunity for creativity is accompanied by the anxiety of uncertainty. But while 2017 marked just the first year for the Last Hurrah at The Gateway—a free downtown New Year's Eve celebration that took the place of the departed multi-evening EVESLC event—the organizers proved it isn't always necessary to worry about doing something new.
"We didn't know how many people would come; [we thought] if 5,000 came, that will be great," says The Gateway marketing director Jacklyn Briggs. "But 20,000 people came. Going into this year, we knew we had to do the whole bigger-and-better thing."
That bigger-and-better approach in part involves the actual footprint of the venue, which has expanded to include more area around The Gateway. More tenants are also remaining open after-hours—including Clark Planetarium, for a discounted $5 admission—offering more places for people to go if they want to head indoors for a spell. Meanwhile, the entertainment offerings include both a live music/DJ outdoor stage at the Olympic Legacy Plaza (including headliner Band of Annuals) and a stage with cultural performances sponsored by The Blocks, plus an all-ages karaoke lounge, pop-up indoor bar with expanded capacity from last year and plenty of food options from food trucks and on-site Gateway restaurants. Then attendees can ring in 2019 with an after-midnight fireworks show.
"There needs to be a downtown celebration that's free and accessible," Briggs says. Last Hurrah provides that place for saying farewell to 2018 in a concentrated dose of party euphoria. (Scott Renshaw)
The Gateway & Downtown SLC: Last Hurrah @ The Gateway, 400 W. 100 South, Dec. 31, 8 p.m.–midnight, free, lasthurrahslc.com