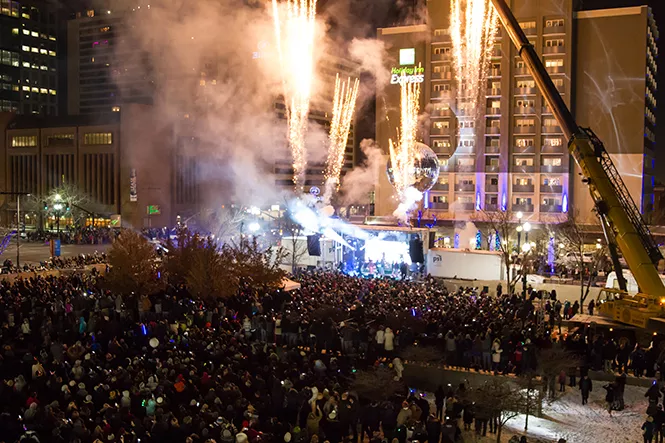 THURSDAY 12.29
Eve WinterFest

Just when you think Salt Lake City's annual Eve WinterFest can't get any bigger and better, organizers prove you wrong. Now, you can spend pretty much the entire final week of 2016 preparing to bid it farewell.


Many of the already-familiar components of the celebration return in this eighth annual incarnation. The family-friendly "Bounce Town" at Salt Palace is full of inflatables. Venues around the downtown area—including Clark Planetarium, Discovery Gateway, The Leonardo, Broadway Centre Cinemas and Off Broadway Theatre—include admission for one with the Eve festival pass. Free activities like the Utah Museum of Contemporary Art's Iron Chef Artist competition and crafts at the Main Library add to the fun. A Utah Jazz game—against the Philadelphia 76ers on Dec. 29—is also part of the package (with special ticket redemption pick-up required). And the countdown to midnight on Dec. 31 will again feature the giant MirrorBall drop.
This year, however, there are more days to take advantage of many of these options, as well as expanded hours for the full range of activities for kids and adults at Salt Palace Dec. 30-31. Come for main-stage entertainment from Kenshin Taiko drumming, Vicious Beat, Samba Fogo, The Inevitables, Lo-Fi Riot, DJ SL Steez and much more, as the entire downtown Salt Lake City area is turned into one big New Year's Eve celebration. (Scott Renshaw)
Eve WinterFest @ Salt Palace Convention Center, 100 S. West Temple, Dec. 30, 6-10 p.m.; Dec. 31, 3-11:50 p.m.; events at various other downtown venues, see website for details, $15-$25; single-day $10-$20. EveSLC.com


FRIDAY 12.30
Dwayne Perkins
Dwayne Perkins is the kind of comedian you've most likely seen on your way to bed, or staying up to catch late-night talk shows. With a 20-plus year career performing around the country, as well as on radio and television, he might be known best to comedy fans from his appearances on
The Tonight Show
with Jay Leno, where he presented segments like "Great White Moments in Black History."
Along with appearances on
Conan
and Comedy Central specials, the Brooklyn comic has kept busy being a part of the Bob & Tom Comedy Tour, appearing in the HBO film
The Gristle
and the independent film
Target Audience 9.1
. This year, he released an hour-long comedy special on Netflix called
Take Note
, which touches on several hilarious topics, like America's disinterest with soccer; his experience going from a "creep" to merely a "dirty old man," and the race-specific nature of certain first names.
Perkins drops by SLC to close out the year with five shows that mix old and new material about complex issues, such as abuse, geekery, race and relationships. He presents them in a calm manner that feels like the cool kid in class teaching you a thing or two about life. If you're looking for something fun to do at the end of the year, but want to avoid long blowout parties, check this show out. (Gavin Sheehan)
Dwayne Perkins @ Wiseguys SLC, 194 S. 400 West, 801-532-5233, Dec. 29, 7:30 p.m.; Dec. 30-31, 7:30 p.m. & 9 p.m., $15. WiseguysComedy.com


SATURDAY 12.31
Alan Cumming
Years after appearances in Bond films and starring as a baddie in
Spy Kids
, Alan Cumming isn't taking a stealthy approach to the spotlight. And that's not just onscreen, where he played a shady spin doctor on CBS's recently wrapped
The Good Wife
. The Scottish-American actor boasts a Tony award-winning role on Broadway's
Cabaret
, and this year sold out Carnegie Hall for his self-admitted
Alan Cumming Sings Sappy Songs
.
That maudlin mash-up is the focus this Saturday, when the Park City Institute continues its tradition of New Year's Eve events so personal, "you get more of an experience than a performance," PCI publicist Bari Nan Rothchild says.
"One of the things that keeps people coming back to the Eccles year after year is that you are part of a community," she adds.
In recent years, the Park City Institute has hosted New Year's Eve functions with stage stars Kristin Chenoweth and Bernadette Peters. As for this week's performer, Rothchild says he's "the kind of guy ... you instantly connect with." She assures, "This will deliver."
Cumming premiered the show last year at Café Carlyle in New York before taking it into Canada, Australia and the U.K. He has repeatedly described it as "an emotional rollercoaster."
The
New York Times
called him "a formidable all-around entertainer on the level of Hugh Jackman. ... He is completely at home onstage." (Rhett Wilkinson)
Alan Cumming
@ Eccles Center, 1750 Kearns Blvd., Park City, 435-655-3114, Dec. 31, 8 p.m., $49-$189. EcclesCenter.org


TUESDAY 1.3
Utah Symphony: Harry Potter and the Sorcerer's Stone in Concert
That boy-who-lived Harry Potter is some wiz kid; a lad of many guises. He first appeared as a super successful series of books; then he morphed into a super successful film franchise. Most recently, he transformed into a symphony performance that accompanies a screening of director Chris Columbus's 2001 film version of
Harry Potter and the Sorcerer's Stone
for symphony audiences. John Williams' score, performed in its entirety by the Utah Symphony, makes this music and movie combination an entirely new experience.
Still, Harry apparently has one more trick up his sleeve. He sold out the two previously announced performances on Dec. 23 and Dec. 24, and, as if by magic, has conjured up an additional presentation on Jan. 3. "I'm thrilled that we have the chance to present to Utah audiences the iconic Harry Potter film
Harry Potter and the Sorcerer's Stone
with live orchestral music," Utah Symphony/Utah Opera President and CEO Paul Meecham said in a press release. "This is a fantastic opportunity for the Utah Symphony to expand its range of offerings and attract new audiences of all ages."
The Harry Potter Concert Series initiated its international tour in June of this year, so it's fortuitous that we get another opportunity to witness it here. Given the combination of a 40-foot screen, the musicians involved and author J.K. Rowling's inextinguishable imagination, Harry promises to provide another magical evening. (Lee Zimmerman)
Utah Symphony:
Harry Potter and the Sorcerer's Stone
@ Abravanel Hall, 123 W. South Temple, 801-355-2787, Jan. 3, 6:30 p.m., $27. UtahSymphony.org