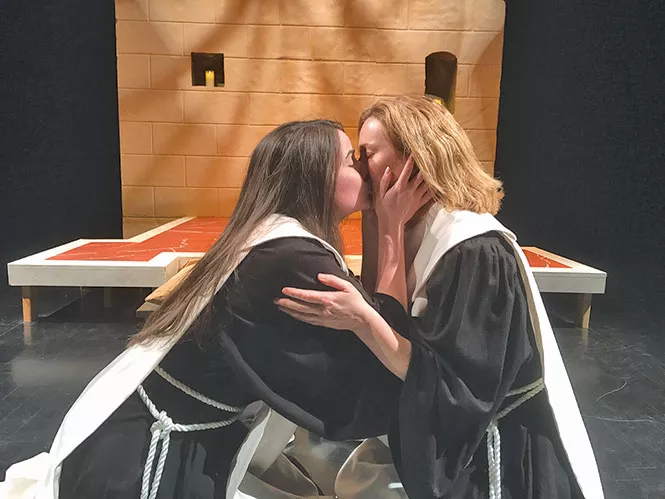 THURSDAY 2.16
Plan-B Theatre Co.: Virtue
The history of the early Catholic church is full of powerful and influential female thinkers. These abbesses, nuns and mystics are largely forgotten now, but their legacies still hold power to transfix and inspire.
Plan-B Theatre Co. examines the life of one of the most fascinating and powerful of these women, Hildegard of Bingen, in its new play, Virtue. In playwright Tim Slover's debut withthe company, the play delves into the visions, incidents and relationships surrounding her most influential work—the world's oldest surviving morality play, The Play of the Virtues.
In this backstory to Hildegard's musical play, Virtue also explores the gray, overlapping areas between sexuality and spirituality with the inclusion of Richardis von Strade, a fellow nun who became her scribe. Historically, the pair was incredibly intimate, leading to centuries of speculation over their relationship. While nothing can be proven, Virtue leans toward the idea that women were romantically involved, and that their relationship was crucial to completing Hildegard's work.
Director Jerry Rapier says the story's focus on the power of faith, its complicated presentation of women and the writing itself attracted him to Virtue. "I love the play and what it has to say about faith, women, God and love, but it was the writing itself that actually caught my eye," he says. "I felt the play. And when I feel the play, we have to do the play." (Kylee Ehmann)
Plan-B Theatre Co.: Virtue @ Rose Wagner Center, 138 W. 300 South, 801-297-4200, Feb. 16-26, Thursday-Saturday, 8 p.m.; Saturday, 4 p.m.; Sunday, 2 p.m., $10-$20, planbtheatre.org
SATURDAY 2.18
Craig Childs and Amy Irvine: The Naked Desert: Body Erotic, Body Politic
With the recent much-debated designation of Bears Ears National Monument in the southeastern corner of Utah, a lot of ears are attuned to conversations about what monument status might mean for conservation and land use in the state in general. Authors Craig Childs (pictured) and Amy Irvine are joining forces at Ken Sanders Rare Books to tell courageous and sometimes controversial tales about the fabled region.
Childs' most recent book—Apocalyptic Planet: Field Guide to The Future of The Earth (Vintage, 2013)—is a combination nature guide and love letter to the earth, and was awarded the Orion Book Award and the Sigurd F. Olson Nature Writing Award. Irvine's books—including Trespass: Living at the Edge of the Promised Land (North Point Press, 2009) and Making a Difference (Globe Pequot, 2001)—are about living in the presence of our region's incredible beauty, combined with stories of environmental activism.
The evening's event includes mixed-media art and spoken word, and the authors' impressions are of a landscape that is sometimes hostile and at times fragile—wilderness in the most profound sense of the term. They also address how we can find a kind of intimacy with nature, even at its most desolate, and a renewed appreciation of its beauty. It's about more than just the land; it's about our relationship to the planet. (Brian Staker)
Craig Childs and Amy Irvine: The Naked Desert: Body Erotic, Body Politic @ Ken Sanders Rare Books, 268 S. 200 East, 801-521-3819, 7 p.m., free, kensandersbooks.com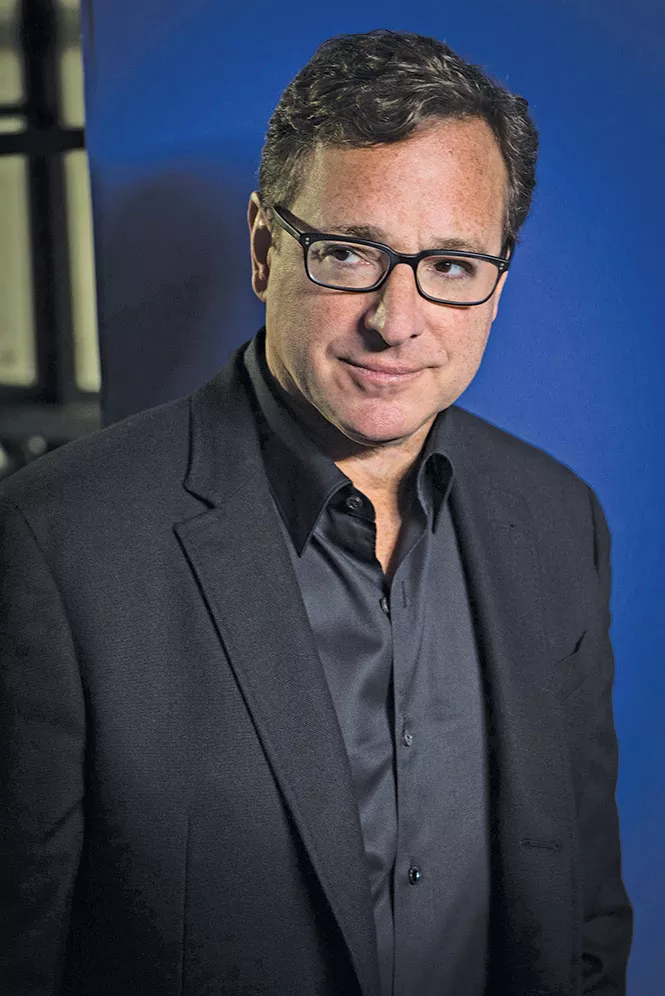 SUNDAY 2.19
Bob Saget
There's probably no greater walking contradiction in comedy than Bob Saget. Few people could pull off a clean-cut image for years, then go completely filthy—including his infamous version of a legendary crude joke in the documentary The Aristocrats—and remain beloved.
Saget himself has been having one of the best times of his life recently, he says in an email interview, starting with his two kids and a new girlfriend—who he says is "a woman, and that's real growth for me." Saget is currently on tour, with plans to act and direct in a movie called Jake later this year. In March, he'll perform at a New York benefit for the Garden of Dreams foundation with John Oliver and Tracy Morgan. And, of course, filming more episodes of Fuller House for its third season on Netflix.
"It's actually been amazing. People are very appreciative," Saget says about the show's return. "It's really quite a kick."
Saget comes to SLC with almost 90 minutes of new material. "It's a lot of new stories and things that mean something to me, and my job is to entertain people right now, because they deserve it and need it so much," he says. "To me, it's a privilege to be able to have an audience spend some money and come because they want to see me do my comedy. I'm 60 now, I don't take this stuff for granted. Every show means something to me."
Near the end of his set, Saget works in some songs from older specials and encourages the audience to sing along. "I'm turning into Liza Minnelli," he says. (Gavin Sheehan)
Bob Saget @ Wiseguys SLC, 194 S. 400 West, 801-532-5233, Feb. 19-20, 6:30 & 9 p.m., $35, wiseguyscomedy.com
TUESDAY 2.21
Matilda the Musical
These are difficult times—times of challenge that require talent and tenacity. How fitting then that modern audiences can take inspiration from a children's story written early in the last century.
Adapted for the stage by Dennis Kelly with songs by Tim Minchin (the soon-to-debut Groundhog Day musical) and on its first national tour, Matilda the Musical is based on the novel by Welsh writer Roald Dahl about a 5-year-old girl who is not only a genius, but gifted with amazing powers as well. With the support of a caring teacher—helping to make up for her oblivious parents—she confronts the cruelty of her school's headmistress, providing proof that innocence and humility can sometimes overcome adversity.
Granted, simple sentiments are rarely enough to triumph in the real world, but there's something so hopeful about Matilda the Musical that it not only won raves from critics but also reaped four Tonys and more than 50 international awards during its run on Broadway and London's West End. The New York Times, Bloomberg News and The Wall Street Journal all shouted its praises, while Time Magazine cited it as their No. 1 musical of the year. Impressive, indeed.
Clearly, there's something to be said about a little girl who takes a stand and determines her own destiny. If she can do it, maybe the rest of us can, too. And if not ... well, at least we can put our troubles aside long enough to enjoy enchanting entertainment. (Lee Zimmerman)
Broadway in Utah: Matilda the Musical @ Eccles Theater, 131 S. Main, Feb. 21-26, performance times vary, $30-$90, arttix.artsaltlake.org