THURSDAY 2/8
Salt Lake Acting Co.: Hir
When playwright Taylor Mac's Hir was first published in 2015, it might have felt a bit ahead of its time. The story—which deals with an American soldier returning from war to find that his sister is transitioning to male, his father has had a severe stroke and his mother has dressed her abusive, now-incapacitated spouse like a clown—comes to Salt Lake Acting Co. in the middle of the #MeToo moment, addressing gender and masculinity in a way that's now being questioned everywhere.
"We invite an audience ... to our productions knowing that they will, no, hoping they will be tuned into the controversies happening in our daily existence," director Tracy Callahan says, "therefore I try to be acutely aware of how every theme or idea within the play might land with them. Yes, I do believe current events including the MeToo movement, as well as the political climate, will be onpeople'sminds, and rightly so."
It's tricky balancing heavy issues like transgender identity and domestic violence with dark comedy—Mac refers to it as "absurd realism," according to Callahan—as characters in the play begin to throw off roles they feel had restrained them. Callahan says, "Walking this line has been a challenge, but an exciting one, especially when we are dealing with such important and often dark subjects. ... Thisplay leans into these controversies and never apologizes for going the distance. Mac uses comedy right next to violence, abuse shoulder to shoulder with tenderness and acceptance—really quite extraordinary." (Scott Renshaw)
Hir @ Salt Lake Acting Co., 168 W. 500 North, 801-363-7522, through March 11, dates and times vary $24-$43, saltlakeactingcompany.org
FRIDAY 2/9
Paula Poundstone
Anyone who grew up listening to NPR would instantly recognize Paula Poundstone's voice, even if they couldn't quite tie it to her name. Regularly appearing as a panelist on NPR's popular comedy news quiz, Wait, Wait...Don't Tell Me!, Poundstone has made a name for herself as a dynamically witty comedian, and Salt Lake City gets the chance to appreciate her skill live at the Jeanne Wagner Theatre.
The immensely talented Poundstone was recognized on Comedy Central's "The 100 Best Standup Comics of All Time," has won an American Comedy Award for Best Female Standup Comic, starred in several HBO specials—the list goes on and on. She's even written two books, the most recent of which is The Totally Unscientific Study of the Search for Human Happiness, published in May 2017.
In addition to writing books, her regular gig on Wait, Wait..., performing in comedy shows and taking care of her 14 cats and two dogs (you read that right), Poundstone also hosts her own podcast, Live From the Poundstone Institute, covering actual research studies that seem to demand someone laugh about them. Poundstone herself claimed in a 2017 interview with NPR, "It's the only podcast with coffee spilled all over it, which keeps it stimulating," while her cohost and Institute's director of research (and fellow Wait, Wait...Don't Tell Me! alum) Adam Felber describes it as "Where higher learning meets, 'Dude, are you high?'" Pop-Tarts connoisseur Poundstone is sure to bring that wit with her for this performance. (Casey Koldewyn)
Paula Poundstone @ Jeanne Wagner Theatre, Rose Wagner Center, 138 W. 300 South, 801-355-2787, Feb. 9, 7 p.m., $49.50, artsaltlake.com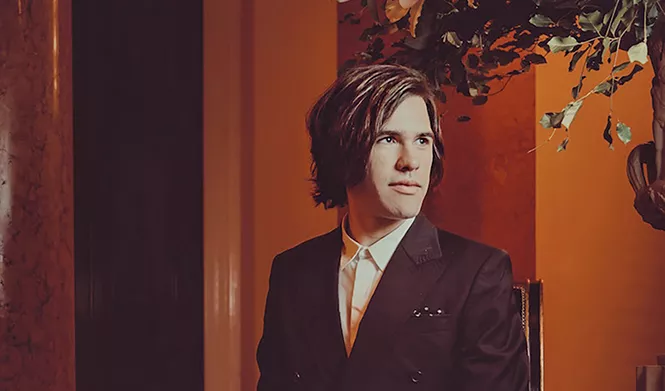 SATURDAY 2/10
Scott Silven: Wonders at Dusk
At just 28 years old, Scott Silven has the smoldering good looks of a pop idol and the casual, commanding stage presence of a performer twice his age. But he's been studying the art and craft of illusion since he was just a teenager, headlining his first gigs in the U.K. by the age of 21, so the Scottish native isn't so much a precocious genius as he is a hard-working entertainer who only makes his trickery look easy.
It's a gift he showed off in 2017 in a visit to the Today show, where he baffled host Megyn Kelly by engaging in a bit of audience-generated word association. After one audience member started with a word—"sex"—that bounced around to several other volunteers for the next word in the chain before Kelly's final word choice, Silven casually pulled a slip of paper out of a book on a nearby table, on which was written that final word.
This week, Silven brings his latest show, Wonders at Dusk, to Utah. But rather than a kind of theatrical spectacle built on impressive staging and grand-scale props, Silven prefers an intimate setting where it's even easier for spectators to feel like they're part of something truly other-worldly. Seated on the stage of Kingsbury Hall, attendees join Silven for an up-close experience that combines storytelling, sleight-of-hand and a chance to wonder if it really is possible for somebody to read your mind. It all might be the result of more than a decade of study, but it sure feels like magic. (SR)
Scott Silven: Wonders at Dusk @ Kingsbury Hall, 1395 E. Presidents Circle, 801-581-7100, Feb. 10, 7:30 p.m., $10-$30, tickets.utah.edu
SATURDAY 2/10
John O'Hurley: A Man with Standards
Clearly, actor, singer, musician and entrepreneur John O'Hurley isn't your run-of-the-mill Renaissance man. He's become a familiar face to TV audiences over the years, thanks to his tenure as host of Family Feud and the reprised edition of To Tell the Truth, his dazzling turn on Dancing With the Stars and the recurring part he plays as announcer for NBC's popular Thanksgiving National Dog Show special. Still, he's best-known as Elaine's glib but slightly bewildering boss J. Peterman on Seinfeld, a part that garnered him a Screen Actors Guild Award while making him famous worldwide. Later, life imitated art when he joined the real J. Peterman in his company of the same name.
Those triumphs alone would be enough to secure his stardom, but being the overachiever that he is, O'Hurley has established himself in other realms as well. As a pianist/composer/recording artist, he's climbed the Billboard charts. His performances as King Arthur in Spamalot and Billy Flynn in Chicago made him a leading light on Broadway. By lending his voice to animated hits incuding Spongebob Square Pants and Phineas and Ferb, he also became a family favorite.
Consequently, this evening of music, musings and memories ought to make for an eclectic encounter. In an email, O'Hurley describes it as "the stories of my life with the music of my life ... plus one tear." That sets a high standard indeed. (Lee Zimmerman)
John O' Hurley: A Man With Standards @ DeJoria Center, 970 N. State Road 32, Kamas, 8 p.m. Feb. 10, $40, 21+, dejoriacenter.com