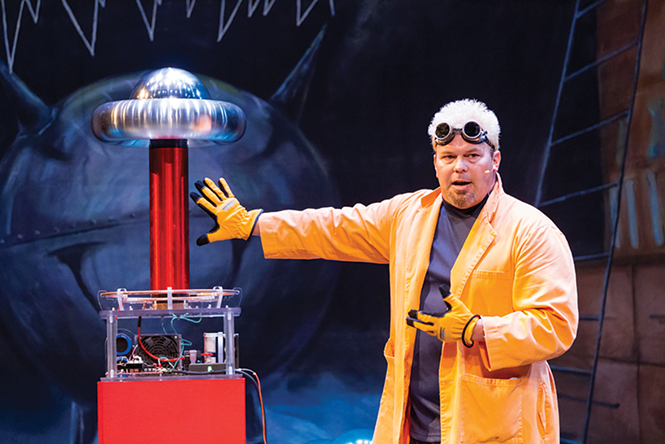 SATURDAY 1/12
Doktor Kaboom
One part cheerleader, one part mad physicist, one part satirist and several parts stand-up comedian, Doktor Kaboom (real name David Epley) entertains audiences in the guise of a manic German scientist obsessed with sharing his weird experiments with audiences young and old. Best not to ask how he adopted his stage name—suffice to say it had to do with a demonstration gone wrong—but his ability to educate and entertain simultaneously with catapults, air cannons and, naturally, chemical reactions breaks down the barriers between fact and frenzy.
Bedecked with signature goggles, orange lab coat, goulish-looking gloves, motorcycle boots and turnip-top hair, he's not exactly the kind of doctor you'd consider first for a house call—unless, of course, you're willing to give yourself over to mayhem. He's no Mister Wizard, no Bill Nye the Science Guy, and certainly no Captain Kangaroo. He appears far more intimidating, but as he assures audiences early in his show, "It's just rocket science"—a ready retort to those who say acquiring knowledge should be hard.
The Doktor incorporates stand-up comedy, interactive stagecraft and a love of science into an eccentric—and attention-grabbing—show that offers life lessons to both the young and impressionable and their begrudging parental units. Given that he takes his name from his explosive personality—and that hapless victim of the aforementioned experiment gone astray—when he implores the audience to shout its approval, simply say, "Yes Doktor," and quickly comply. (Lee Zimmerman)
Doktor Kaboom @ Kingsbury Hall, 1395 E. Presidents Circle, 801-581-7100, Jan. 12, 2 p.m., $5-$12, tickets.utah.edu
SATURDAY 1/12
An Evening of Burlesque
Who said the party has to stop on New Year's Day? Under the glittering stars of Ogden's Peery's Egyptian Theater, six world-renowned dancers from Las Vegas, Los Angeles, New York City and San Francisco keep the festive atmosphere going as they take the stage for An Evening of Burlesque.
Sponsored by Endless Indulgence Retro Wear, an Ogden boutique specializing in high-end vintage reproduction clothing, the evening features bawdy humor and the classic tease-of-the-fan dance—a number in which performers dance on stage with two large and elaborate fans and not much else. It also includes new twists on the genre, including aerialist performances.
This show, the first of its kind at the Egyptian, is hosted by pinup model and performer Ms. Redd (pictured). Other performers include Harvest Moon, Bettina May and Michelle L'amour and Kalani Kokonuts—winners of the 2005 and 2009 Miss Exotic World competition, respectively. The show also features a male burlesque dancer, Mr. Gorgeous—a multi-award-winning performer who has strip-teased his way into the Burlesque Hall of Fame three times.
For those willing to pay a bit extra for a VIP ticket, the doors open at 5:30 p.m. for an hour-long meet-and-greet beginning at 6 p.m. VIP ticket holders have a chance to get their playbills signed by the performers, take pictures with them and fill up on some hors d'oeuvres. And—because what kind of burlesque show would it be without alcohol—enjoy the cash bar. (Kylee Ehmann)
An Evening of Burlesque @ Peery's Egyptian Theater, 2415 Washington Blvd., Ogden, 801-689-8700, Jan. 12, 8 p.m., 21+, $35-$100, egyptiantheaterogden.com
MONDAY 1/14
Holly Black: The Wicked King
A cruel prince. Treacherous faerie realms. Palace intrigue. And one mortal girl, striving to belong in a world where she's not welcome. These were the driving plot elements of Holly Black's first young-adult fantasy novel, The Cruel Prince. Now, in her sequel, The Wicked King, our girl hero Jude must protect her brother and fend off a traitor—by binding herself to the wicked faerie king and controlling the faerie kingdom from behind the scenes.
The faerie realm—and, more broadly, the world of fantasy—is a place Black is accustomed to visiting. Her long bibliography includes the acclaimed middle-grade Spiderwick series, which takes place in a realm between human and faerie and was adapted into a popular movie. Lest you think Black's work is solely relegated to the kid-lit realm, her Cruel Prince series takes on decidedly adult themes.
Join Black and Utah's own Ally Condie at The King's English to discuss Black's series. Condie published the wildly popular young-adult Matched series; Black's Cruel Prince series carries similar dark, dystopian undertones, and like Matched, features a young, determined heroine. But Black does not put romance at the fore; tor.com described the first book in the series as "the platonic ideal of a coming-of-age novel set in faerie," and in the second book, Jude must navigate the complicated eddies of attraction and power in order to survive in the faerie world. Kirkus Reviews describes the book as "a heady blend of courtly double-crossing, faerie lore, and toxic attraction." Perhaps a bit of faerie escapism is what we all need right now. (Naomi Clegg)
Holly Black with Ally Condie @ The King's English Bookshop, 1511 S. 1500 East, Jan. 14, 7 p.m., free; book purchase required to secure spot in signing line, kingsenglish.com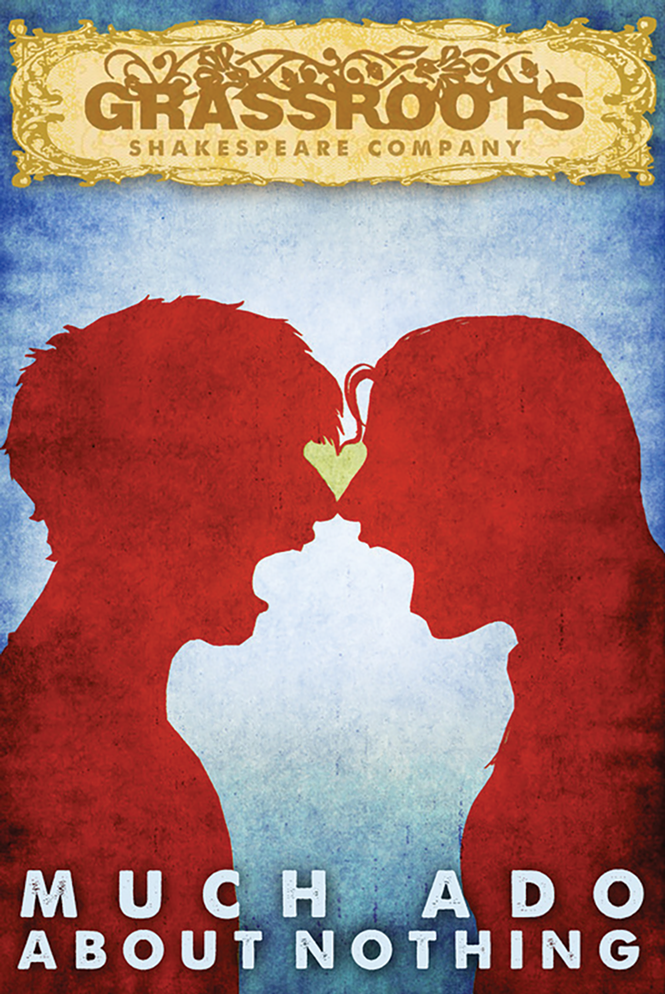 WEDNESDAY 1/16
Grassroots Shakespeare: Much Ado About Nothing
In the spring of 2009, Mark Oram and Alex Ungerman, inspired by faculty at Utah Valley University, co-founded the Grassroots Shakespeare Co. Their first production that summer was Much Ado About Nothing.
Nearly 10 years later, there are Grassroots Shakespeare Cos. in Utah, Arizona, Alabama and London, but the company is going back to its roots with a series of performances of Much Ado About Nothing Jan. 16 to 19 in Utah County.
The Grassroots group looked to the American Shakespeare Center and its philosophy of, "We do it with the lights on." With universal lighting, the audience can see the actors, and vice versa. The result is an interactive theater experience with give-and-take between the performers and those encouraging them.
Grassroots likes to keep things moving at a brisk pace while staying true to the Bard's language and plots. They usually perform in open-air spaces, so a chance to see them indoors at SCERA is a unique opportunity.
That setup should work well with a mischievous rom-com like Much Ado About Nothing. Beatrice and Benedick are tricked into professing their love for each other. Claudio rejects Hero at the altar in the mistaken belief she has been unfaithful. Hero's father pretends his daughter is dead. Beatrice and Benedick set things right, Hero and Claudio get back together, and everybody ends up dancing. How could you not have fun? (Geoff Griffin)
Grassroots Shakespeare Co.: Much Ado About Nothing @ SCERA Center for the Arts, 745 S. State, Orem, Jan. 16-19, 7:30 p.m., $10-12, scera.org