FRIDAY 1/4
Big Jay Oakerson
Big Jay Oakerson's featured billing at New York comedy clubs, frequent festival appearances, Comedy Central specials, popular podcasts, regular television, radio and cable appearances, and two best-selling comedy albums (An American Storyteller and What's Your F@#king Deal?!) have made him one of the most recognizable comedians in the country. Nevertheless, his self-effacing style and early struggles suggest that he, like other unassuming individuals, has never had an easy time of it. Raised by a single mother who worked full time, he quit college after a month to pursue a career in comedy, but took jobs as a bouncer at a strip club and a performer at children's parties just to pay the rent. Don't ask us how those two scenarios have anything in common. A man's gotta do what he's gotta do.
That includes avoiding political correctness and talking dirty and directly, with full foul-mouthed frenzy, much like many average guys would do while hanging at a bar or talking trash with friends. He can sound ornery and innocent all at the same time, like the time he told Conan O'Brien that he was very nearly sued as a kid when the family of a girl he had been hanging with accused him of ruining her reputation. And the two weren't even dating.
Yes, he can seem intimidating with is imposing physical presence—he's not called "Big" Jay for nothing—but there's something sympathetic about a hapless guy trying to deal with the obstacles and absurdities that confront and confound us all. Who wouldn't, at least occasionally, want to vent Jay's way? (Lee Zimmerman)
Big Jay Oakerson @ Wiseguys SLC, 194 S. 400 West, 801-532-5233, Jan. 4-5, 7 & 9:30 p.m., $20, wiseguyscomedy.com
FRIDAY 1/4
Pioneer Theatre Co.: The Lion in Winter
For those who can't wait for theGame of Thrones'premiere this April, Pioneer Theatre Co. is offering a healthy dose of royal backstabbing and scheming in their upcoming production ofThe Lion in Winter. Best-known for the Academy-award winning 1968 film adaptation starring Katharine Hepburn and Peter O'Toole, the play depicts the tempestuous relationship between Henry II and his wife, Eleanor of Aquitaine, as they fight over which of their sons will inherit the English throne.
Esau Pritchett (pictured, right), who plays Henry II, says you don't need to have seen the famous movie or have an in-depth knowledge of the historical context in order to enjoy the show. "I love for audiences to come in with an empty cup and fill it while they're here," he says. "I'm always interested in what audiences get from a show; there's always a diverse reaction."
The production isn't a museum piece—the set design, costuming and even the racial makeup of the cast differ from historical reality. Pritchett says that while the show will still be visually stunning, the production's main focus is on the drama between the members of this extremely dysfunctional family.
Vreni Romang, publicity manager for PTC, says that while the play is a high-stakes drama, it also has a dark humor that the actors play up well. "Our actors are amazing. There's an amazing intensity about them," she says. "It's a drama, but they're so snippy and witty with each other." (Kylee Ehmann)
The Lion in Winter @ Pioneer Memorial Theatre, 300 S. 1400 East, 801-581-6961, Jan. 4-19, dates and times vary, $30-$50, pioneertheatre.org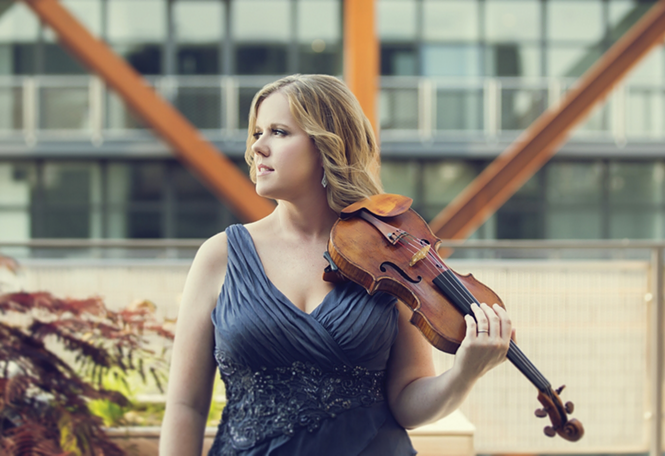 FRIDAY 1/4
Utah Symphony: A New Year's Celebration
As part of its marketing for their 2018-19 season, the Utah Symphony playfully positioned their musicians as rock stars, dressing up some of those musicians in riffs on familiar faces from the world of popular music. Among them—including variations on Kiss and Bob Dylan—was violinist and Utah Symphony concertmaster Madeline Adkins (pictured), who put on the iconic makeup from David Bowie's 1973 Aladdin Sane album cover.
It's an effective way of conveying that talent doesn't have to be accompanied by stuffiness, as evidenced by the works in the program for Utah Symphony's first performance of 2019. Adkins will serve as the featured soloist for composer Karol Szymanowski's 1922 Violin Concerto No. 1, a distinctly unromantic piece inspired by the work of Polish poet Tadeusz Micinski. The violinist brings talents informed by her diverse interests—including baroque performances on period-accurate instruments—and her history growing up as the child of musicologists.
Conducted by Xian Zhang, the program also features Joan Tower's Fanfare for the Uncommon Woman No. 1; a suite of familiar melodies from Tchaikovsky's The Sleeping Beauty; Strauss the younger's overture to The Gypsy Baron and polka française Bitte schon!; and Richard Strauss' suite from Der Rosenkavalier. As a special treat for attendees, enjoy sparkling drinks and desserts before the performance and during the intermission, just in case you didn't get your fill of bubbly saying farewell to 2018. Like any rock stars, these folks know how to party. (Scott Renshaw)
Utah Symphony: A New Year's Celebration @ Abravanel Hall, 123 W. South Temple, 801-355-2787, Jan. 4-5, 7:30 p.m., $15-$84, utahsymphony.org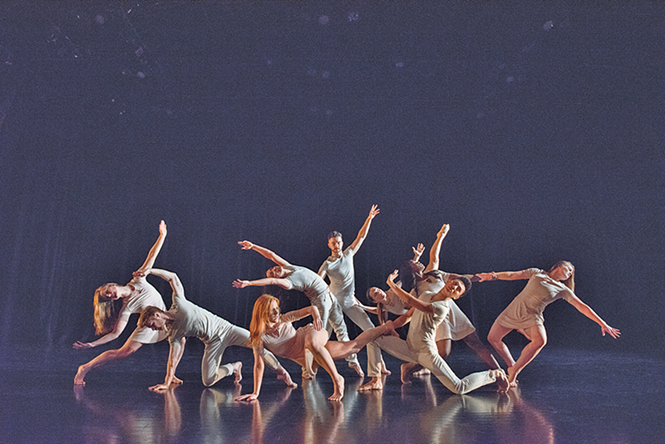 SATURDAY 1/5
Repertory Dance Theatre: Emerge
At its founding in 1966, Repertory Dance Theatre was less a simple dance company than a dance cooperative—a setup steeped in the ideals of the time, where dancers shared the power of director and choreographer. As the company performed old works, holding onto the history that was just beginning to accumulate in the canon of modern dance, it also created new works that would advance that art.
Today, RDT's mission is little-changed. Emerge—a special season addition now in its thirdyear—holds on to the part of that mission that allows each company member to be more than just a piece of someone else's work. This year's Emerge will feature works created by seven RDT company members and three staffers.
RDT's two newest members—Daniel Do and Elle Johansen, both native Salt Lakers—will try their hand at choreography; Do has previously shown work at the Fertile Ground Festival in Portland, Ore. Executive/Artistic Director Linda C. Smith, a founding member of the company 52 years ago, will also have a piece in the performance. Smith's new choreography has the potential to be a standout event for the company's entire season—even moreso since the solo piece will be performed by company dancer Efren Corado Garcia. Over the last six years, Garcia's performances—from Limón's Missa Brevis to Zvi Gotheiner's Dabke—have filled the stage with the kind of power, grace and emotion that comes from a truly gifted artist. This season will be Garcia's last with RDT. (Katherine Pioli)
Repertory Dance Theatre: Emerge @ Rose Wagner Center, 138 W. 300 South, 801-355-2787, Jan 4, 7:30 p.m.; Jan. 5, 2 & 7:30 p.m., $12-$15, artsaltlake.org