THURSDAY 1/18
Nikki Giovanni
Few things last in the American consciousness. Yet, somehow, Nikki Giovanni has remained a vital figure in social and political life for more than 50 years, as poet, teacher, scholar and activist. From her emergence during the civil rights movement with works like "Nikki-Rosa" to her most recent poetry collection—2017's A Good Cry: What We Learn from Tears and Laughter—Giovanni has mined her life to explore not just the African-American experience in some general sense, but deeply personal truths.
Her voice has also been powerful in times of crisis, perhaps most memorably in April 2007, when a student at Virginia Tech University—where Giovanni is a faculty member—killed 32 people. At the memorial service for victims, Giovanni presented the convocation, and her closing poem became a kind of healing invocation for those grieving on that day: "We know we did nothing to deserve it. But neither does a child in Africa dying of AIDS. Neither do the invisible children walking the night awake to avoid being captured by a rogue army. Neither does the baby elephant watching his community being devastated for ivory. Neither does the Mexican child looking for fresh water ... We are Virginia Tech ... We will prevail."
Giovanni visits Salt Lake City to deliver the keynote lecture for a week of events commemorating the Martin Luther King Jr. holiday. The event—which includes a 40-minute presentation, Q&A moderated by Lisa Bickmore and a book signing—is free to the public, but tickets are required and can be reserved online. (Scott Renshaw)
Nikki Giovanni @ Salt Lake Community College Grand Theatre, 1575 S. State, 801-957-3300, Jan. 18, 7 p.m., grandtheatrecompany.com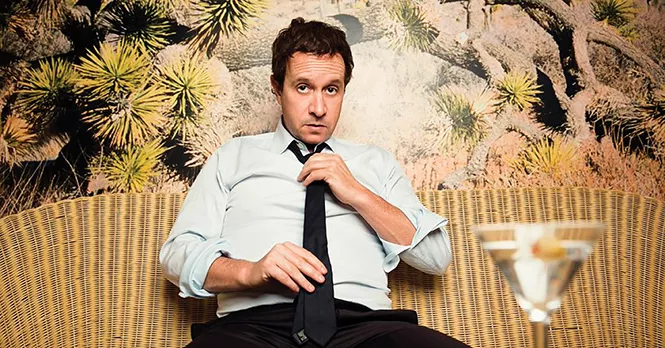 FRIDAY 1/19
Pauly Shore
Those who grew up in the '90s might remember it as a simpler time—when Music Television actually played music, and when wearing plaid meant you were "cool." An integral part of the decade's entertainment scene was California native Pauly Shore, who took MTV and America's youth by storm. Shore's stand-up comedy caught the eye of the network, and by 1990 he had his own show, Totally Pauly. That led to film roles in Son in Law, Bio-Dome and the cult classic Encino Man. In 1991, his first comedy album, Future of America, was named Best Comedy Album by College Music Journalists.
Although Shore has been MIA from the mainstream, his 2018 stand-up tour is making its way to Utah. But don't call it a comeback: Shore has always had roots in stand-up. In a 1998 interview with the AV Club, he said, "The best part about stand-up is that you control everything. Period." Last summer, Shore lampooned White House adviser Stephen Miller for Will Ferrell's comedy website Funny or Die, then ended up producing Silverlake Vice Squad for the same outlet.
Although we might know Shore for his stoner entertainment, there's a serious side to the lovable party animal. Over the past decade, he has focused more on his stand-up and his podcast, the Pauly Shore Podcast Show, where he interviews everyone from Nick Kroll to Montel Williams. Don your plaid shirts, folks, and have a night of epic-ness with The Weasel. (Rachelle Fernandez)
Pauly Shore @ Wiseguys Ogden, 269 25th St., Ogden, 801-622-5588, Jan. 18, 7:30 p.m., $25, sold out at press time, 18+; Wiseguys West Jordan, 3763 W. Center Park Drive, 801-463-2909, Jan. 19-20, 7 & 9:30 p.m., $25, wiseguyscomedy.com
Gage Skidmore via Wikimedia Commons
FRIDAY 1/19
Kevin Smith/Jason Mewes
Granted, Kevin Smith has never aspired to be the originator of highbrow entertainment. And yet, in his own way, he's become an undisputed cultural phenomenon. His 1995 low-budget movie debut Clerks—which he wrote, directed, co-produced and starred in—spawned the ongoing success of the odd and unlikely stoner duo Jay & Silent Bob, cult favorites whose popularity soared over a series of succeeding films. Smith later created the AMC series Comic Book Men, authored several popular books, and went on to produce a daily podcast, which, in turn, led to "ViewAskewniverse," a virtual realm that his rabid fans quickly embraced as their own.
So, it ought to be a treat to hear Smith share the insights, inspiration and eccentricities that make up his oft-askew universe, as he makes one of his fairly regular Sundance Film Festival-adjacent visits to Utah for live shows. However, the most pointed—and poignant—presentations revolve around a live performance of the popular podcast Jay & Silent Bob Get Old. A surprisingly touching look at the idea of maturity from an otherwise immature perspective, it's an ideal blend of humor and humility.
The next night, Jay—aka Jason Mewes—takes over. Here's further opportunity to give Jay & Silent Bob the voice they deserve. (Lee Zimmerman)
Kevin Smith @ Wiseguys SLC, 194 S. 400 West, 801-532-5233, Jan. 17-18, 7 p.m., $35
Jay & Silent Bob Get Old @ Wiseguys SLC, 194 S. 400 West, 801-532-5233, Jan. 17-18, 9:30 p.m., $35
Jason Mewes @ Wiseguys SLC, 194 S. 400 West, 801-532-5233, Jan. 20, 7 & 9:30 p.m., $20, wiseguyscomedy.com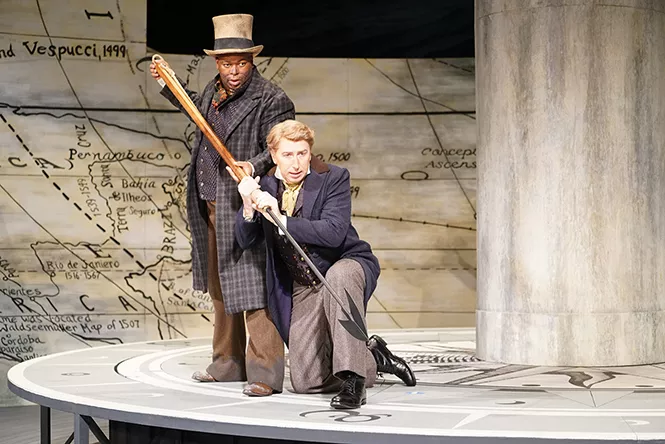 SATURDAY 1/20
Utah Opera: Moby-Dick
For generations of high school students, Herman Melville's Moby-Dick has been one of those agonizing academic rites of passage—a book everyone is expected to read and admire, despite being hard to digest at the young age most of us are required to read it. Yet at the center of all the dense material about knot-tying and setting sails, there's one of the most iconic narratives ever written, perhaps the definitive American story of the destructive nature of obsession.
The power of that emotional core emerges through a new operatic version of Moby-Dick by composer Jake Heggie and librettist Gene Scheer (who have collaborated previously on Three Decembers and It's a Wonderful Life, among others). Set in 1820, it's the familiar story of Captain Ahab (tenor Roger Honeywell), who has lost one of his legs to the great white whale Moby Dick, and is determined to have his revenge on the illusive creature. Along on the dangerous journey of the whaling boat Pequod are the harpooner Queequeg (bass-baritone Musa Ngqungwana) and first mate Starbuck (baritone David Adam Moore).
The production pushes the Utah Opera behind-the-scenes crew to adapting the massive show to the Capitol Theatre stage, offering an impressive technical achievement. But even more than spectacle, it's a reminder of the human part of this classic tale. "At its core, Moby-Dick is the story of a friendship," the production's director Kristine McIntyre, says in a press release. "It's about how connection with another human being can literally save your life—and maybe your soul." (SR)
Utah Opera: Moby-Dick @ Capitol Theatre, 50 W. 200 South, 801-355-2787, Jan. 20, 22, 24 & 26, 7:30 p.m.; Jan. 28, 2 p.m., $15-$100, usuo.org