THURSDAY 7/11
Power Couples: The Pendant Format in Art
Utah residents are used to seeing power couples during the Sundance Film Festival, but their attention will be equally engaged with the couplings in the new exhibit at the Utah Museum of Fine Arts. In a variety of media, Power Couples: The Pendant Format, offers an exploration of art produced in pairs, from 16th-century Europe to contemporary Utah.
Recognizing years ago the artistic strategies at play in such works, Leslie Anderson, UMFA curator of European, American and regional art, took notice of the museum's broad collection of "pendants," (interdependent works of similar dimensions, subject matter and composition) and proposed an exhibition. "Many of these works were created by artists historically underrepresented in museums," Anderson says. "The acquisitions will allow us to tell new stories in the collections of paintings, sculpture and works on paper from the 17th, 18th, 19th, 20th and 21st centuries."
The first exhibition of its kind devoted to a comprehensive look at the pendant format, the subject matter ranges from simple kittens to intricate gothic churches, and draws mainly from the museum's collection. Illuminating how artists have used this form across media and cultures, the exhibit explores issues spanning centuries. "My goal is for visitors to consider how artists impart meaning through pairs," Anderson says. "By juxtaposing art from different periods, I communicate the ideological underpinnings of pendants throughout time. ... What emerged are playful, participatory interventions within the presentation of art." (Colette A. Finney)
Power Couples: The Pendant Format in Art: UMFA, 410 Campus Center Drive, July 11-Dec. 8, $9.95-$12.95, Tuesday-Sunday, 10 a.m.-5 p.m.; Wednesday open until 9 p.m., umfa.utah.edu.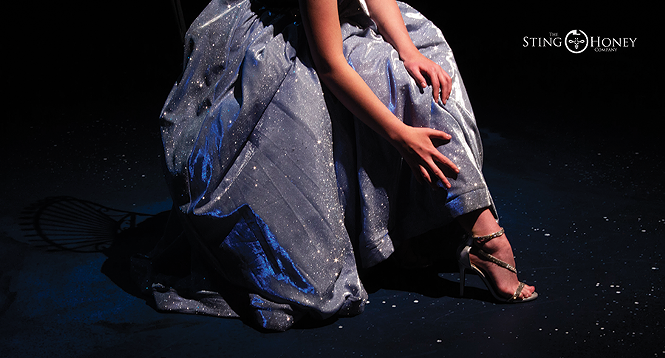 FRIDAY 7/12
Sting & HoneyTheater Co.: Cinderella
"Cinderella, Cinderella/ All I hear is Cinderella/ from the moment I get up/ 'til shades of night are falling/ There isn't any letup, I hear them calling, calling ..."
Those are the lyrics sung by Cinderella in the classic animated Disney version of the classic fairy tale. However, for many people, the repetition emphasized in the song might also reflect the fact the story is so well-known that all of us know it verbatim. While familiarity doesn't breed contempt, at least in this case, it's a credit to Salt Lake City's respected Sting & Honey Theater Co. that their interpretation on this timeless tale takes it in a slightly different direction.
"Our version of Cinderella stays true to the story people have come to know and love, but it is also quite unique," Sting & Honey artistic director Javen Tennen, the play's writer and director, says via email. "About a year ago, I began to see some similarities between Cinderella and Hamlet, and I thought it would be interesting if Cinderella had to decide between a fairy tale and a revenge tragedy. Her stepmother gives her ample reason to want revenge. But will the girl known for her kindness give into that desire? The ideas of revenge and fate loom large."
Suffice it to say that any wicked stepmother ought to think twice about how she treats a sweet Cinderella. If Cindy employs the heel of her glass slipper in defense, it might become a formidable weapon. (Lee Zimmerman)
Sting & Honey Theater Co.: Cinderella: Regent Street Black Box, 131 S. Main, July 12-27, Thursday-Saturday, 7 p.m.; 2 p.m. Saturday matinees, $20 (discounts for children under 12, seniors, students and veterans), artsaltlake.org
SATURDAY 7/13
Nicole Walker: The After Normal: Brief, Alphabetical Essays on a Changing Planet
Writers on climate change seem to either eulogize or exhort; the issue compels readers to focus on our growing ecological decay as a form of moral instruction. In The After Normal: Brief, Alphabetical Essays on a Changing Planet, Nicole Walker addresses this personal and global problem quite differently.
Co-authored with Australian writer, David Carlin, the volume investigates our unsure future through essays sent as letters to each other. The choice to make this conversation epistolary encourages readers to figure out their relationship with climate change.
Throughout the collection, Walker isn't afraid of using research combined with personal accounts. Citing research and numbers isn't innovative when it comes to tackling climate change, but Walker asks how using these "material facts" deepens memories and stories.
As a resident of Flagstaff, Ariz., Walker lives near sites like the Grand Canyon and Monument Valley. The spirit of these natural formations left Walker to ponder "perspective and scales." These include tiny creatures like plasmodia and colossal ideas like death. Writing about our environment isn't a solitary act, but rather a shared one, the book demonstrates.
Join the author to learn more about her approach to writing. "We use the author Donna Haraway's advice to 'stay with the trouble,'" Walker says. "It's so much less lonely to stay with the trouble if you don't have to stay with it alone."(Miacel Spotted Elk)
Nicole Walker: The After Normal: Brief, Alphabetical Essays on a Changing Planet: The King's English Bookshop, 1515 S. 1500 East, July 13, 2 p.m., free, places in book-signing line reserved for those who purchase a copy, kingsenglish.com
SATURDAY 7/13 & SUNDAY 7/14
The Viva La Diva Show
In the wild jungle of local drag, one queen reigns as apex predator.
As head and star of The Viva La Diva Show, Jason CoZmo plays producer, star and mastermind. Most importantly, Magna's favorite son also serves as drag mother to a gaggle of Utah-born-and-raised talent that shines in every uproarious show.
CoZmo & Co.'s Disney, Halloween and Holiday-themed shows have become the stuff of legend, but for this upcoming run at Metro Music Hall, he's taking it back to basics with a glamtastic, celebrity impersonation-riddled lineup.
"After two months, all the Divas are back," the Dolly Parton doppelganger boasts, adding that Saturday's evening performance and Sunday's matinee includes a "wide range of genres and music." Expect appearances by the aforementioned Queen of Nashville, plus Cher in the spectacular hands of David Lorence, Taylor Swift as interpreted by Cody Rose and Miley Cyrus coming in like a wrecking ball thanks to Jeremiah Knight.
But wait, there's more! CoZmo also plans to deliver a taste of the Big Apple as Liza Minnelli, featuring choreography he picked up from the Broadway diva herself during a chance meeting in Las Vegas.
The showman advances the weekend's opening number will be an homage to the 1974 adaptation of Mame, which starred Lucille Ball. "It's a wild, 1920s flapper party; most people don't know this show," he says. "But it's a number they won't soon forget!"
Hear him roar. (Enrique Limón)
The Viva La Diva Show: Metro Music Hall, 615 W. 100 South, July 13, 8 p.m.; July 14, 2 p.m., $30, 21+, thevivaladivashow.com