FRIDAY 7/14
Under the Influence: Eight Local Artists Influenced by Animation
Ask any young child: Animation can be as addictive as sugary breakfast cereal. Since at least the pop art movement of the 1960s, visual artists have incorporated images and themes from the genre into their work, often as commentary on popular culture. Under the Influence at Rio Gallery collects works from local artists whose creations bear a distinct impression from the art of animation. Jason Jones, who curated the new exhibit, says, "Animation offers an opportunity for spontaneity. This show celebrates an art form often seen as fringe or outsider."
Ultimately, animation is about the ways we perceive the world, especially the ways objects in motion appear to us, how we experience emotional states or simply physical existence—what it feels like to inhabit a body. It often distorts objects, rendering them elastic, seemingly frozen or in explosive motion. The resulting images can portray exaggerated emotions and anthropomorphized non-humans, all in a bright color palette.
Presented works range from Robin Banks' papier-mâché pieces on the theme of depression to Trent Call's animated video loop to "ultra-zany professional mythmaker" Mike Murdock's folk art-influenced paintings on wood. Other featured artists include Sri Whipple (whose untitled piece is pictured) and curator Jones himself.
Jones didn't just ask artists to provide the pieces; he interviewed each one about this influence, and compiled responses in the format of a graphic novel, on boards hung up for display, in addition to bound copies for sale. The result is a show with eye-popping energy. (Brian Staker)
Under the Influence: Eight Local Artists Influenced by Animation @ Rio Gallery, 300 S. Rio Grande St., July 14-Sept. 1; artist reception, July 21, 6-9 p.m., free, visualarts.utah.gov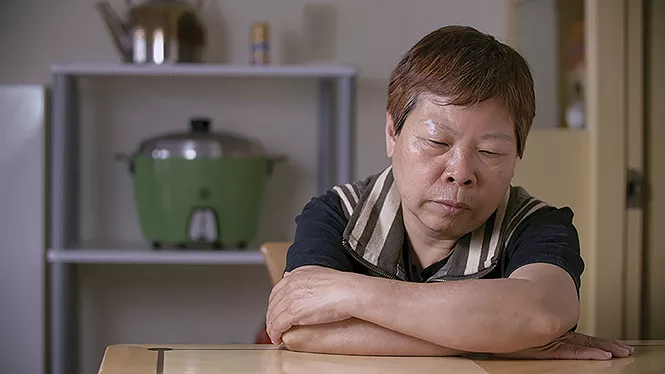 FRIDAY 7/14
Damn These Heels LGBTQ Film Festival
The official Pride Month might be over, but for the Utah Film Center's annual Damn These Heels Film Festival, it makes sense to program this showcase of queer-themed films in July. "There's a lot going on in June for the local LGBTQ community," says Patrick Hubley, Utah Film Center's director of programming. "An LGBTQ festival can be any time."
Over three days, Damn These Heels showcases 23 features and nine short films, representing a dozen countries. Among the fascinating documentaries is Small Talk, with Taiwanese filmmaker Hui-Chen Huang trying to get her lesbian mother (pictured) to open up about her life experience (July 16, 12:30 p.m.). Dramatic features include God's Own Country, a 2017 Sundance Film Festival entry, with lead actor Alec Secareanu in attendance for a Q&A (July 15, 7:30 p.m.).
Programming the festival has evolved over its 14-year history, according to Hubley, by circumstance and design. Where the program once skewed heavily toward narrative features, programmers have made a more concerted effort to include documentaries. The quality of available films has also increased, Hubley says: "Every [festival] programmer will tell you decisions are hard, but I think I easily could have picked another 10."
Most significant, though, is striving to represent the broad spectrum of LGBTQ experience—a goal made easier through the recent increase in number and quality of films with transgender themes, for example. "It's really important that we try to represent the community as a whole," Hubley says. "We want to be sure that the festival speaks for everybody." (Scott Renshaw)
Damn These Heels LGBTQ Film Festival @ Rose Wagner Center, 138 W. 300 South, 801-355-2787, July 14-16, times vary, $10 individual screenings; passes $60-$200, utahfilmcenter.org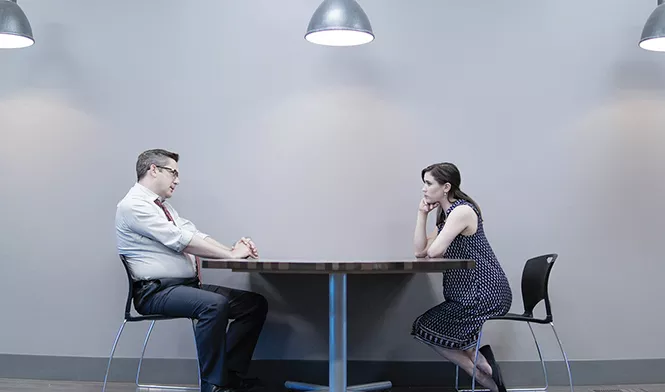 SATURDAY 7/15
Utah Repertory Theater: Blackbird
The subject matter of David Harrower's 2005 play Blackbird is the stuff for which the word "triggered" was invented: a confrontation between a 27-year-old woman named Una and a 55-year-old man named Ray about the brief sexual relationship they had 15 years earlier, when she was only 12. It's understandable, then, if actor Mark Fossen (pictured above) is somewhat conflicted about taking on the role of Ray.
"I'm deeply in love with it," Fossen tells City Weekly about the script, "and it's a challenge I want to do. I have kind of a history of playing disgusting human beings. I also find [Ray] completely repellent, and the closer we got to rehearsals, the more it built up. That tension is still there."
Harrower's two-character structure—with Anne Louise Brings playing Una in Utah Repertory Theater's production—makes it clear that Ray has spent time in prison for his crimes, and is attempting to build a new life. That doesn't necessarily make it easy for Fossen to humanize him. "Ray's got a lot of charm to him," Fossen says, "but I feel a personal responsibility not to excuse him. One of the early things I sort of latched on to was, in general, he tells the truth, or at least what he thinks is the truth. He's actually a bad guy, but he is a person, not a two-dimensional cartoon."
The text explores power dynamics of age and gender as Una attempts to deal with unresolved feelings about what happened to her as a child, evoking comparisons to David Mamet's Oleanna. For Fossen, that comparison only goes so far. "I think Oleanna touts itself as morally complicated," he says, "but actually, it's not. This play actually is in that moral grey area. This is the play Oleanna purports itself to be." (SR)
Utah Repertory Theater: Blackbird @ Sorenson Unity Center, 1383 S. 900 West, July 14-30, Friday-Saturday, 7:30 p.m.; July 30, 3 p.m. matinee, $17-$20, utahrep.org
SUNDAY 7/16
Neil Simon Festival
By its very nature, comedy is never taken seriously enough; we tend to associate true artistry with the darkest emotions. Indeed, were it not for misplaced intellectual attitude, neglect or simply snobbery, playwright Neil Simon would likely be considered the artistic equal of Tennessee Williams, Edward Albee or even Shakespeare himself, thanks to an ability to dissect interpersonal relationships and expose their inherent foibles.
"The uniquely American artistry of Neil Simon—his ability to create characters and situations on the stage that we can all relate to—makes his canon of plays worth honoring and preserving," Richard Bugg, founder and executive producer of Utah's Neil Simon Festival, suggests.
It's in that spirit that the festival launches its 15th anniversary season with four productions that represent the essential wit, humor and humanity embodied in Simon's work. Two are signature plays by the festival's namesake himself—Broadway Bound, the final installment of Simon's autobiographical trilogy detailing his breakthrough into show biz (Simon Festival actor Peter Sham, from 2016's production of Brighton Beach Memoirs is pictured) and The Dinner Party, a dramedy about three divorced couples unwittingly lured to a special gathering by a host who never shows. The other two offerings—the ever-popular British backstage farce Noises Off and a world premiere entitled Under Construction: The Blue Collar Musical—fill out the season. A free Sunday night variety show, Fireside in Zarehemla, and a staged reading of the festival's seventh annual New Play Contest winner, William Blake in Hollywood, round out the summer of laughs. (Lee Zimmerman)
Neil Simon Festival @ Heritage Center Theater, 105 N. 100 East, Cedar City, 866-357-4666, July 16-Aug. 12, $80 for all four shows, simonfest.org