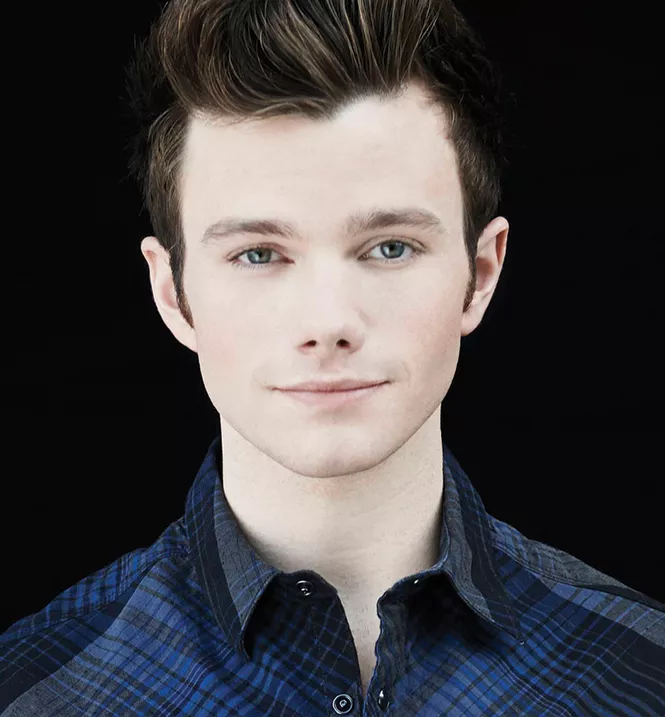 THURSDAY 7.21
Chris Colfer: The Land of Stories: An Author's Odyssey
July is shaping up to be a rather Glee-ful star-studded month. Matthew Morrison, who played popular character Will Schuester in the hit TV series, was just in Park City performing with the Utah Symphony; and now the actor who played similarly popular character Kurt Hummel is coming—though he won't be singing. Colfer, in addition to his remarkable vocal talents, is now also a prolific author, and will be in town to sign copies of his most recent book, The Land of Stories: An Author's Odyssey.
This middle-grade fairy tale is the fifth in a series that is, at this time, planned to include an additional five stories. The Land of Stories: The Wishing Spell is the one that started it all. Following twins Alex and Connor Bailey, the story weaves modern-day realities with the magic of fairy tales, to create something comfortably familiar while at the same time engagingly original.
Colfer will be giving a presentation in conjunction with the signing. Expect a Land of Stories trivia game and costume contest as well. Seats can be reserved by pre-ordering copies of the book from the King's English Bookshop. Seating for non-ticketholders will be available on a limited basis.
Attendees will be treated to never-before-released information on the series, in addition to having their books signed. There has been no word yet, however, on whether Colfer will be sharing any of his proven musical talents. (Casey Koldweyn)
Chris Colfer: The Land of Stories: An Author's Odyssey @ Viridian Event Center, 8030 S. 1825 West, West Jordan, 801-484-9100, July 21, 7 p.m. KingsEnglish.com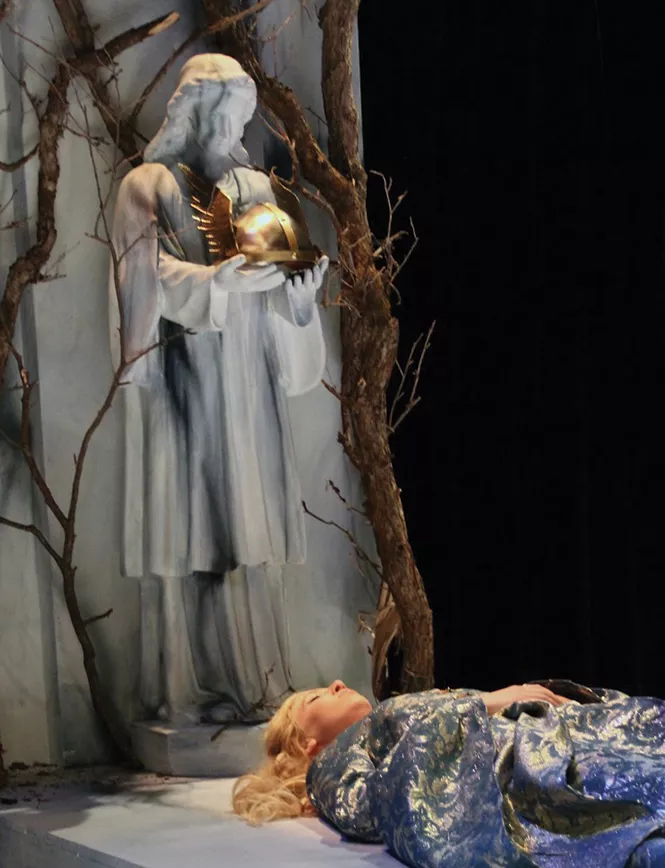 THURSDAY 7.21
Sting & Honey Co.: Sleeping Beauty's Dream
For a truly collaborative art form like theater, it often feels unfair to single out one contributor, at the risk of slighting the others. Yet it's hard not to notice when one name keeps popping out of the program for every standout element.
For Sleeping Beauty's Dream, that name is Javen Tanner, artistic director of The Sting & Honey Co. Tanner directed this family-friendly production, which cross-pollinates the familiar fairytale story of Princess Aurora (Zel Bromley)—cursed into an enchanted sleep by a jealous witch (Susan Maurer Barry)—with that of Siegfried and Brynhildr from Norse legend and Wagner's Ring of the Niebelung, as part of an intriguing study of "lost daughter" mythology. And he does so with a script that he wrote, crafted almost entirely in couplets of iambic pentameter.
But Tanner also contributes to the Shakespearean vibe by playing the role of the story's comic-relief fool, Robin, in asides that have virtually nothing to do with the main plot but deliver a charming burst of silliness. Tanner also designed the stunning primary set piece, a marble-patterned slab wrapped in bramble-like branches, and contributed to the unique choreography of slow-motion sequences in which the Valkyrie push and pull on warriors on the battlefield to shape the outcome. It's a gorgeous, intelligent production rich enough to satisfy all ages, full of solid performances—and guided by one multi-talented individual. (Scott Renshaw)
The Sting & Honey Co.: Sleeping Beauty's Dream @ Waterford School Performing Arts Building, 1700 E. 9400 South, July 21-22, 7 p.m.; July 23, 3 p.m. & 7 p.m., $10-$15. StingandHoney.org
SATURDAY 7.23
Utah Symphony: The Music of David Bowie
It's been a rough 2016 for losing some of the most iconic artists, athletes and public figures of the past 50 years. Sometimes it takes losing these people, whose lives touched our own, to be reminded of their importance. And sometimes placing the work of those people in a new context can show just how amazing it was.
David Bowie may have been celebrated in circles far different from those usually associated with the symphony, but that isn't stopping Utah Symphony from dedicating one of this summer's Deer Valley Music Festival programs to his songs. Guest conductor Martin Herman leads the musicians in an evening that will explore the range of Bowie's pop songcraft, with selections that have been radio staples throughout the 1970s, 1980s and beyond, including "Space Oddity," "Changes," "Under Pressure," "Heroes," "Rebel Rebel," "Fame" and "China Girl."
Accompanying the symphony as vocalist will be Tony Vincent, who may be best known as a contestant on 2012's Season 2 of The Voice. But Vincent has had a long career performing in musicals including Rent and the original cast of Green Day's American Idiot, as well as stepping into the hard-to-fill shoes of Freddie Mercury singing "Bohemian Rhapsody" with the surviving members of Queen during Queen Elizabeth's 50th anniversary celebration. Join Vincent, Herman and the Utah Symphony to learn how some unique arrangements—in the spectacular outdoor venue of Deer Valley—highlight Bowie's unique talents. (SR)
Utah Symphony: The Music of David Bowie @ Deer Valley Snow Park Amphitheater, 2250 Deer Valley Drive, Park City, 801-355-2787, July 23, 7:30 p.m., $15-$92. ArtTix.ArtSaltLake.org
WEDNESDAY 7.27
NOW-ID: Exodus
More than a book in the Bible, Exodus, in these modern times, seems either involuntary possibility or tragic reality in many corners of the globe. For the rest of us, these are matters to witness and discuss. For an artist like Charlotte Boye-Christensen, choreographer and co-founder of NOW-ID, contemplating Exodus offers an opportunity to, as she puts it, "explore the inner human journey—the psychological and emotional—and to allow too for optimism and hope."
Exodus, the title of Boye-Christensen's latest creative endeavor, explores new territory. While the company's productions often incorporate a variety of artistic media—experimental lighting, sound design, spoken word, performance art, dance—this will be their first dance/opera. Created in seven movements—crisis/hope, home, separation, dream, wave, borders, hope/crisis—the original opera, by Danish composer Peter Bruun and lyricist Ursula Olsen, is sung in both Danish and English without subtitles, encouraging the audience to experience confusion and disorientation—and, above all, empathy for those for whom such feelings are a daily reality. Alongside the music, the dancers, Salt Lake City's own Tara Mcarthur (formerly with Ririe-Woodbury Dance Co.), Adrian Fry and Katherine Lawrence (both currently with Ballet West) use movement to interpret the emotions.
Before the production moves to Denmark's Copenhagen Opera Festival, Utah audiences will have the first chance to respond to Exodus, which premieres this week in Salt Lake City. Join the international cast for a post-production closing night after-party. (Katherine Pioli)
NOW-ID: Exodus @ Marriot Center for Dance, 330 S. 1500 East, Bldg. 106, University of Utah, 801-581-8231, July 27-29, 7:30 p.m., $25-35, July 29 after party 8:45 p.m., $70. Excepturi-35463.ticketbud.com/Exodus