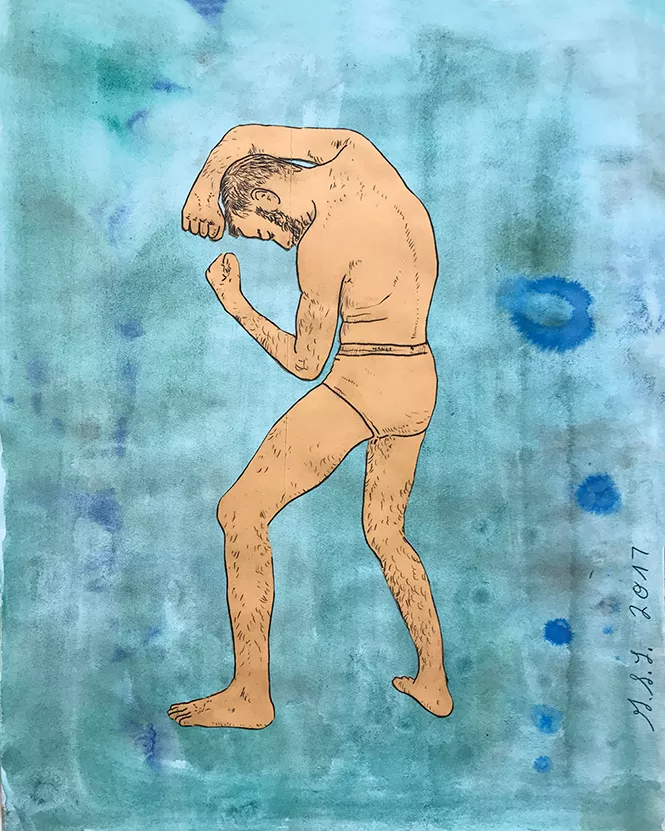 THURSDAY 6/1
G.S. Larson: Aaronic Configuration
Masculinity has been a mythic subject in art going back to the time of cave-dwellers, and G.S. Larson explores new terrain regarding what it means to be male. His Aaronic Configuration series—photographs transferred onto paper backdrops, then painted with watercolors and acrylics—began as figure studies, but eventually developed into stories.
The men Larson depicts are not ordinary artist's models. He describes one subject who was having a difficult time replicating poses from art history books. The artist got him a beer, and photographed him in conversation. "He opened up, and told me about working security on a military base in Afghanistan," he says. "He pointed out a scar on his body that he received when he fought a man who ran past a checkpoint to get onto the base."
Similarly, a man Larson met at a convenience store was obviously a heroin addict, but his physique and discussion revealed him to be a former high school athlete. Several pieces utilize bodybuilding-style poses to contemplate masculine clichés.
Formerly LDS, Larson says he used the word "Aaronic" (as in Aaronic priesthood) in the title "because I like how it referenced the Mormon culture most of the models and myself grew up in." It's fitting because these works examine the ways in which masculinity is a product of culture. The intimate gallery space of God Hates Robots is ideal for viewing smaller-scale, personal works like these. (Brian Staker)
G.S. Larson: Aaronic Configuration @ God Hates Robots, 314 W. 300 South, Ste. 250, through June 9, Monday-Friday, 11 a.m.-5 p.m., free, godhatesrobots.com
FRIDAY 6/2
Ogden Film Festival
When Sundance Film Festival organizers decided not to return to Ogden this year, it left a disappointing void for the city's film buffs—and left Peery's Egyptian Theater without a regular showcase for filmmakers. That, in part, was the inspiration behind the inaugural Ogden Film Festival.
"We think the Egyptian is just a gem in the community," says Ben Taylor, communications manager for the newly formed festival. "There was an opportunity to hold a festival and bring some life to this old venue. We just kind of put our heads together, just in February, and thought, 'Let's give this a shot.'"
That late start required some logistical jerry-rigging, since the Egyptian Theater wasn't available during the June 10-11 dates of the Ogden Arts Festival, with which the Film Festival is affiliated. "We felt that the theater was just a really important part of it—filmmakers getting a chance to premiere in this venue rather than just a hotel ballroom," Taylor says.
Those filmmakers include several Utah-native or Utah-based directors among the creators of the seven invited short films—like Tay Steele (Lumiére) Andrew Matthews (11:47) and Nick Garrett (Marcos El Muerto). The 40-minute documentary feature Under an Arctic Sky (pictured), about surfers attempting to find waves during the Icelandic winter, rounds out the program. This event might be during the height of spring rather than the winter chill of Sundance, but once again Ogdenites have a chance to get a first look at creative cinematic work. (Scott Renshaw)
Ogden Film Festival @ Peery's Egyptian Theater, 2415 Washington Blvd., Ogden, June 2, 6-10 p.m., $5 (includes admission to Ogden Arts Festival), ogdenfilmfestival.org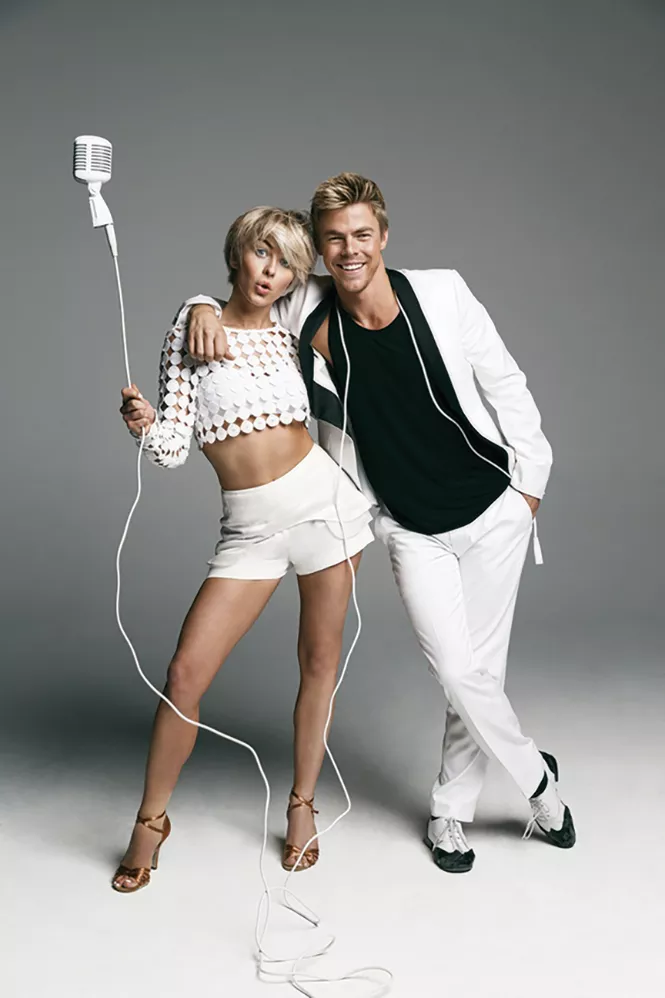 WEDNESDAY 6/7
Julianne & Derek Hough: Move-Beyond
When the brother-sister team of Derek and Julianne Hough say "move," they mean it in the most literal way possible. Having made their mark on Dancing with the Stars, these world-renowned, Utah dancers have joined the ranks of A-list celebrities, while garnering Emmys for two television specials (Grease: Live and Hairspray: Live)—both widely watched and critically acclaimed.
Still, despite the fame in recent years, the siblings insist that it's a fascination with the form that most motivates them. "What I absolutely love about dance is that it's universal," Derek told People magazine in September 2016. "It's a language that everybody understands. You can be from any part of the world, but there's something about dance that brings people together."
Indeed. Their 2014 and 2015 Move tours were so successful, they spawned another new show the pair insists is their most lavish production yet. Inspired by the elements of earth, wind, fire and water, it blends music, choreography and dance of every genre—from ballroom and salsa to hip-hop and tap—while incorporating several styles in between.
Not surprisingly then, Move-Beyond offers audiences the ultimate example of the Houghs' artistry. In that same People interview, Derek noted that the dance experience can be both compelling and contagious.
"There's something about moving, especially moving to music," he said. "I can challenge anybody not to feel something." No doubt that's something this Move will prove. (Lee Zimmerman)
Julianne & Derek Hough: Move-Beyond @ Eccles Theater, 131 S. Main, June 7; 4 p.m. & 8 p.m., $36-$96, artsaltlake.org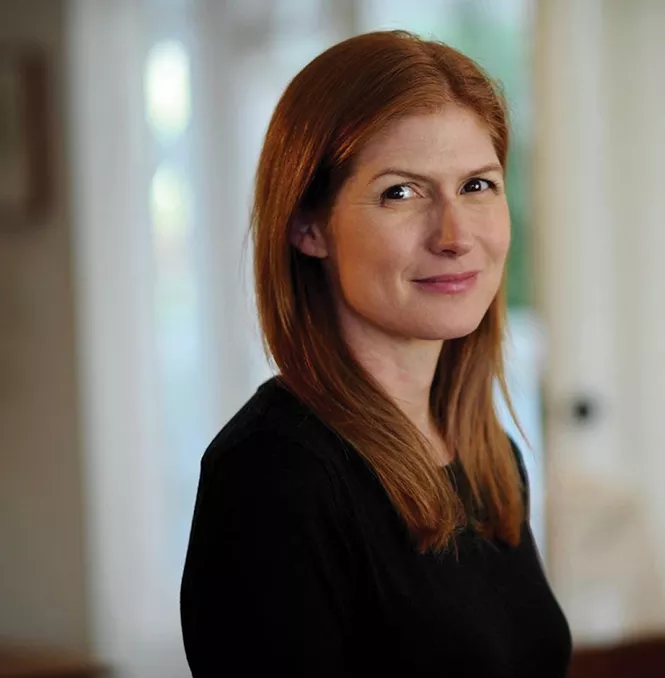 WEDNESDAY 6/7
Maile Meloy: Do Not Become Alarmed
In her new novel Do Not Become Alarmed, Maile Meloy addresses one of the most terrifying experiences a parent can go through: having children go missing. Yet for her, the story actually began with a focus on the experience of those missing children.
"I was reading the Richard Hughes novel A High Wind in Jamaica about kids who get accidentally taken by pirates," Meloy tells City Weekly via email. "The pirates are horrified—they don't want to get in trouble—and the kids mostly love the pirate ship. It made me want to write a novel about kids who don't know how much danger they're in because they're kids."
The resulting story, however, is a fascinating suspense tale that shifts back-and-forth between the parents—two American couples who have taken their families on a cruise together—and their children, who become separated from them while they're ashore in Central America. As the adults wind through reactions of fear, guilt and blame, the kids try to cope with their situation as the danger becomes more evident.
Most compellingly, Do Not Become Alarmed evolves into an exploration of race, class and privilege, where the ultimate resolution of the families' crisis yields even thornier questions. "I did begin with the epigraph from Teddy Roosevelt— 'Americans learn only from catastrophe and not from experience,'" Meloy says. "It was only as I figured out what the story was, and tried to look at it from all angles, that I started thinking about it as a story about the United States in the world." (Scott Renshaw)
Maile Meloy: Do Not Become Alarmed @ The King's English Bookshop, 1511 S. 1500 East, 801-484-9100, June 7, 7 p.m., free, kingsenglish.com