THURSDAY 6/14
Wasatch Theatre Co. Page-to-Stage Festival
Wasatch Theatre Co. might be 21 years old, but like many 20-somethings nowadays, finding a place to live on your own isn't easy. So after two decades of putting on productions in the Rose Wagner Center and other spaces, it's understandable if WTC is excited about having its own home as part of The Gateway's revival.
"It means having more autonomy in the kinds of shows we do, ... and how we collaborate and partner with other art groups," says the company's artistic director, Brian Pilling. "It also represents possibility. We're having to work a little harder—which is helping us grow."
The debut production in this new space is the company's annual Page-to-Stage Festival, a showcase for shepherding brand-new short plays to production. For 2018, playwrights Brook Downs, J. Omar Hansen, Sierra DuCharme-Hansen, Hayley Heaton, Jesse Nepivoda and Andrea Kile Peterson drew inspiration for their original works from "missed connection" personal ads on Craigslist, which they were assigned in January. The writers then developed their drafts through April, before turning them over to director Michael Nielsen and a group of six local actors.
"We try to focus on telling stories about relationships," Pilling says, "and we revelled in the idea of taking seeds from the sometimes humorous, sometimes painful process of realizing we missed something along the way. It shows a side of the human experience that we don't always get to see. Plus, it provided a fertile ground for our playwrights to discover their voices." (Scott Renshaw)
Page-to-Stage Festival @ Wasatch Theatre Co., 124 S. 400 West, 801-869-4600, June 14-16, 8 p.m.; June 16 matinee, 1 p.m., wasatchtheatre.org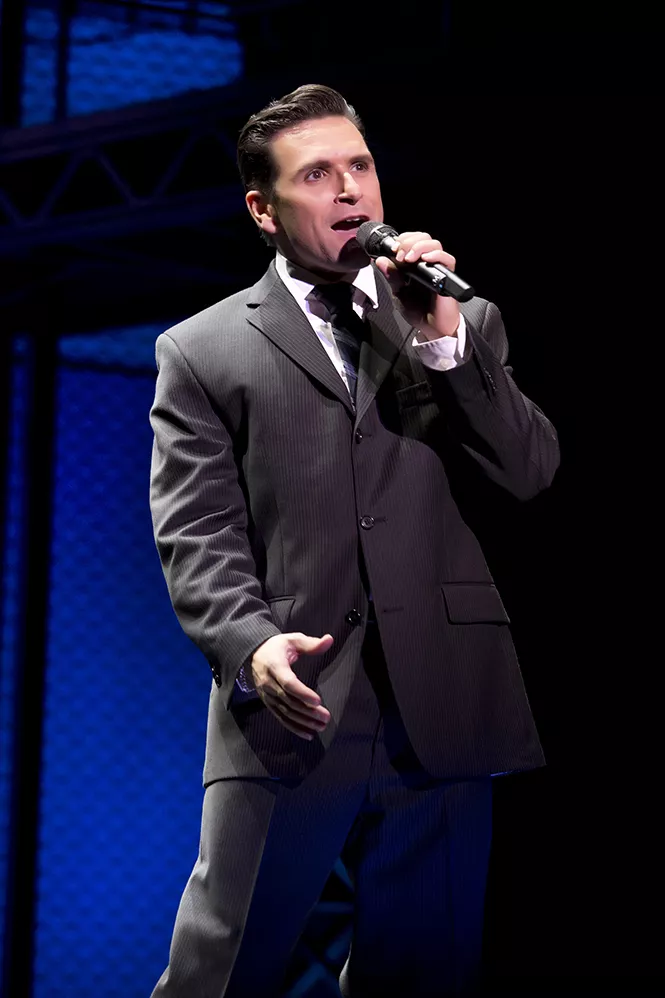 FRIDAY 6/15
Jersey Boys
Ever since Tommy and Jesus Christ Superstar first took Broadway by storm, rock 'n' roll has become ideal fodder for modern musicals. Billy Joel, ABBA and Carole King are just a few of the artists who have had their back catalogues turned into theatrical reboots, fueling the connection between the stage and pop classics.
Still, for all the music, mystique and memories such "jukebox musical" shows offer, a compelling narrative is still essential, which is why Jersey Boys retains its appeal. Its Grammy, Tony and Olivier Awards earned in 2006 testify to that fact, but there's also something to be said for a story about four blue-collar guys—each of whom gets a chance to tell the talle from his own point of view—who created their own sound, connected with a savvy producer and sold millions of records worldwide. The Beatles followed in their footsteps, but credit the Four Seasons for establishing the basic band template early on. Only they and the Beach Boys kept a consistent grip on the charts during the ensuing onslaught of the British Invasion. Notably, there's also a hometown hero playing the lead in this touring production: Utah native Aaron De Jesus in the role of Frankie Valli.
Ultimately, however, it's the melodies that matter, and there's certainly more than enough material here. Even those who weren't alive at the time might know the songs well: "Sherry," "Big Girls Don't Cry," "Rag Doll," "Oh What a Night," "Walk Like a Man" and "Can't Take My Eyes Off You" among them. That's clearly enough to leave the audience humming on their way out. (Lee Zimmerman)
Jersey Boys @ Eccles Theater, 131 S. Main, June 15, 8 p.m.; June 16, 2 & 8 p.m.; June 17, 1 p.m., $40-$130, artsaltlake.org
TUESDAY 6/19
Kristen Chandler: Thief of Happy Endings
Utah author Kristen Chandler has been around horses all her life, up to and including working as an adult with adolescents in programs like Bridle Up Hope and Provo's Heritage School. But that doesn't mean it was an obvious choice for her to write a book centered around horses. "There are a lot of books about horses out there," Chandler says. "When I was a kid, people gave them to me, and ... I thought they were too sentimental."
Chander finds authentic emotion, however, in Thief of Happy Endings, which focuses on a teenager named Cassidy sent by her parents to a summer program in Wyoming where teens work with wild mustangs. But Cassidy has never quite gotten past a childhood accident in which she was thrown from a horse, and has to overcome both that old trauma and the new wound of her parents' unraveling marriage.
It took Chandler's own experience going through a divorce for her to find the right way to fold her lifelong love of horses into a tale that also incorporates romance and adventure. "As a writer is, I tend to avoid things that are close, and that's what I should be writing about," she says. "I wanted to speak to the experience of ... a life that doesn't work out like you planned. Which is everyone, right?"
"It felt like [this] was a story of surviving a change in a family," Chandler adds. "They need to get back on a horse. They need to fall in love and think that their own relationships can be healthy. ... You can't ride a horse without failing. You can't do your life without failing." (SR)
Kristen Chandler: Thief of Happy Endings @ Provo City Library, 550 N. University Ave., Provo, 801-852-6650, June 19, 7 p.m., free, kingsenglish.com
Daniela Cartwright Photography
WEDNESDAY 6/20
In the Now Productions: Candy and Dorothy
The parade has ended, but just because Utah's Pride Festival has come and gone doesn't mean that all the Pride Month festivities are over. Ogden's In the Now Productions continues celebrating all things LGBTQ with its limited engagement of David Johnston's Candy and Dorothy. Both witty and endearing, this 2007 GLAAD Award-winning play imagines what would happen if Dorothy Day, a politically radical Catholic activist, and Candy Darling, the drag queen and Andy Warhol superstar immortalized in Lou Reed's "Walk on the Wild Side," met in the afterlife. After a rocky start, the pair's odd-couple relationship solidifies just in time for them to become guardian angels of Tamara, a depressed librarian contemplating suicide.
It's a bizarre premise by playwright David Johnston—who attends a post-performance talkback on closing night—that lends itself to comedy, wit and poignant commentary. This mix is part of what drew In the Now Productions to take on the project. William Richardson—one of the play's producers, who also plays Candy (pictured)—says that no one in the group was specifically looking for a project, but when this play materialized they couldn't pass it up.
"Everyone has a lot to learn from people who are not like them, and I think this play shows that beautifully," Richardson says. "The comedy of the play actually helps ease us into some deeper truths that we might not have found otherwise." (Kylee Ehmann)
Candy and Dorothy @ Eccles Theatre, WSU Browning Center, 3950 W. Campus Drive, Ogden, 801-633-8907, June 20-23, 8 p.m.;June 24, 1 & 4 p.m., $20, inthenowshows.com