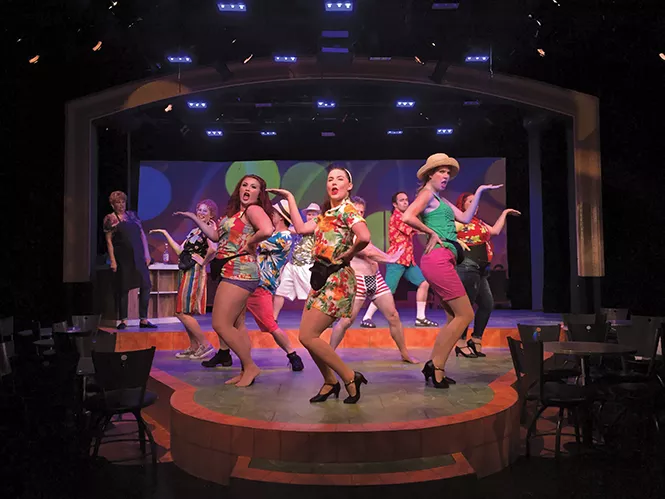 THURSDAY 6/22
Salt Lake Acting Co.: Saturday's Voyeur 2017
There are years when Saturday's Voyeur—Salt Lake Acting Co.'s annual satirical musical comedy revue—is certain to focus on specifically local headlines. Then there are years when it's impossible to ignore that national news has overwhelmed everything else.
"I think this year it's mostly about how, nationally, the world has affected us locally, more than taking it completely local," Cynthia Fleming, SLAC's executive artistic director, says. "Because we're all affected by this now."
According to Fleming, longtime show writers Allen Nevins and Nancy Borgenicht had a particularly challenging time filtering a tumultuous year into a single show (a rehearsal pic can be seen above), but finally found a through-line in a James Bond-like premise where the Russians are the villains. Yet even some of the planned structure required revision as new breaking news came every day. "Early on, [Nevins] knew this would be Jason Chaffetz' show," Fleming says. "And Chaffetz all of the sudden resigned. But how [Nevins] made sense of that in the play is wonderful."
As much as the world changes, Voyeur itself will bring a structure that has made it an institution for nearly 40 years. Song parodies are scheduled to include tunes from Newsies and a prologue, set the day after Trump's election, sung to a variation of Don McLean's "American Pie." It also brings a biting sensibility to those who have spent 2017 wondering what will happen next. "I know regular attendees have been saying, 'I can't wait for Voyeur,'" Fleming says. "They really need that cathartic experience, and I think they're going to get it." (Scott Renshaw)
Saturday's Voyeur 2017 @ Salt Lake Acting Co., 168 W. 500 North, 801-363-7522, June 21-Aug. 27, dates and times vary, $45-$55, saltlakeactingcompany.org
FRIDAY 6/23
Brian Posehn
With his doughy appearance, goofy demeanor, bushy beard and speaking voice that's halfway between a mumble and a monotone, Brian Posehn isn't exactly the kind of guy you'd imagine being an omnipresent TV star. Yet he's a familiar face whose recurring roles in such hit comedies as The Big Bang Theory, New Girl, Seinfeld, NewsRadio, Everybody Loves Raymond, Friends and Just Shoot Me—not to mention Comedy Central's The Sarah Silverman Program, the Netflix hit Lady Dynamite and FX's You're The Worst—make him that guy you recognize but whose name invariably escapes you.
Self-effacing to a fault, Posehn readily admits that his seemingly stoned persona isn't necessarily a put-on. "I've been trying to quit smoking weed, and it's really hard quitting pot," Posehn has said in his stand-up act. "It was actually easier to become a vegetarian because your friends never show up at your house with a sack of beef."
His comedy style often touches on his pop-culture nerdiness, which he addresses in his 2016 special Criminally Posehn, filmed in San Diego during Comic Con. If you've ever wondered what it might sound like when a comic-book enthusiast gets a lapdance from a stripper dressed for the convention clientele as Lady Thor, this is the guy for you.
It's that droll approach that positions Posehn as the perfect comedian for our time, one who refuses to take himself too seriously. He sums up that sentiment like this: "Good comedy makes you laugh, and bad comedy makes people you hate laugh." (Lee Zimmerman)
Brian Posehn @ Wiseguys SLC, 194 S. 400 West, 801-532-5233, June 23-24, 7:30 p.m. & 9:30 p.m., $20, wiseguyscomedy.com
SATURDAY 6/24
Utah Symphony: La La Land Live
La La Land might now forever be associated with the already-infamous Oscars blunder where it was mistakenly announced as the Best Picture winner. But the fact that it didn't win doesn't mean it's not a delightful film—and one that lends itself well to Utah Symphony's new program of presenting live-performance accompaniment of movie scores.
Justin Hurwitz' music did win Oscars—both for the full score and the original song "City of Stars"—and this week the Utah Symphony plays that music at Usana Amphitheatre, set to a full screening of the movie on a 40-foot screen. As struggling would-be actress Mia (Emma Stone) and struggling would-be jazz musician Sebastian (Ryan Gosling) try to navigate their careers and their budding romance, the glorious tunes ring forth from the full orchestra, after only two two-and-a-half-hour full run-through rehearsals to nail the unique challenge of synchronizing their performance to the on-screen action.
Utah Symphony director of operations Jeff Counts believes there's a unique dynamic when audiences experience a movie—even one they've seen before—in this particular way. "The live aspect of the performed score seems to convince viewers that the movie is live, too," Counts says. "The audiences cheer like it's happening before them in real time." In the outdoor venue, that experience might also feel like something akin to a drive-in movie—except instead of a tinny speaker, you get to hook a whole orchestra over your car window. (SR)
Utah Symphony: La La Land Live @ Usana Amphitheatre, 5150 Upper Ridge Road, West Valley City, 801-417-5343, June 24, 7:30 p.m., $30-$70, usana-amp.com
SUNDAY 6/25
Big Shiny Robot's Nerd Swap Meet
According to organizational guru Marie Kondo, the key to decluttering your life is to look at each object you own and ask yourself whether or not that object brings you joy in that moment. If it does, then you should keep it. If it doesn't, and it happens to be geek-related, you should bring it to Big Shiny Robot's Nerd Swap Meet.
There, you can make sure that the piece of Star Wars memorabilia that you no longer have room for will go to an appropriately nerdy owner. If you're on the opposite end of that spectrum, the swap meet is a great place to find that perfect addition to your collection.
The kindly nerds behind Big Shiny Robot!—Utah's own one-stop shop for geek news and reviews, including City Weekly columnist Bryan Young—have arranged a community swap meet to help rid yourself of excess memorabilia. Partnering with Bohemian Brewery & Grill in Midvale, the swap meet is a great place to grab a beer, feast upon tasty bar food and either ditch or gain some gently loved collectibles. Expect to see everything from vintage Nintendo and Sega Genesis cartridges to back issues of your favorite comic book.
Vendors are all local, and, based on your haggling skills, are potentially open for bartering if you feel like bringing your own goods to trade. Or, if you're not interested in buying or trading, swing by for the company—it's a great place to meet and greet other members of Salt Lake City's geek community. (Alex Springer)
Big Shiny Robot's Nerd Swap Meet @ Bohemian Brewery & Grill, 94 E. Fort Union Blvd., Midvale, 2-7 p.m., free, bohemianbrewery.com