THURSDAY 6/28
Utah Shakespeare Festival
Tragic kings, misguided heroes and bumbling fools take the stage as the 57th annual Utah Shakespeare Festival kicks off in Cedar City. This year's plays include some of the Bard's classics—such as Othello (pictured), The Merry Wives of Windsor and The Merchant of Venice—but also more modern productions such as the one-man show The Iliad, the musical Big River and more.
Publicity Manager Tyler Morgan says while some new-comers might be surprised there are non-Shakespearean plays at the festival, these modern works fit with its mission to introduce theater to as many people as possible. "Shakespeare is our cornerstone," Morgan says. "There will always be Shakespeare at the Shakespeare Festival. But with that as our cornerstone, it gives us a pathway to introduce people to our modern classics. We believe Shakespeare isn't the only work—the only stories that are worth telling."
In addition to the plays, the festival offers theater workshops, backstage tours and The Greenshow. This free, outdoor music-and-dance experience establishes a laid-back atmosphere nightly before each show.Three themes rotate each night corresponding with three of the four Shakespeare plays: Americana Night for The Merry Wives of Windsor, Italian Night for The Merchant of Venice and British Isles Night for Henry VI: Part One. And for those interested in attending, but afraid they won't understand Shakespeare's language, the festival offers study guides for every play on its website. (Kylee Ehmann)
Utah Shakespeare Festival @ Southern Utah University,195 W. Center St., Cedar City, 435-586-7878,June 28-Oct. 13, dates and times vary, $20-$75, bard.org
THURSDAY 6/28
Pirates of the Caribbean: Curse of the Black Pearl in Concert
Released in 2003, the original Pirates of the Caribbean feature Curse of the Black Pearl was a box office smash hit. Whatever you might say about the four films that followed—or the now more unsavory actor whose portrayal of Captain Jack Sparrow contributed significantly to that success—Black Pearl was something special.
Given that the film was inspired by the classic Disney theme park attractions, it's not surprising that quite a few people—including Hans Zimmer, who oversaw production for its soundtrack—were initially certain the movie would fail. Yet, the opposite proved true, as the film earned five Oscar nominations and inspired a franchise including four sequels (and counting).
The fast-paced soundtrack Zimmer created with credited composer Klaus Bedelt is haunting. Zimmer and Bedelt faced challenging deadlines, and perhaps that's why the resulting music is energetic. But whatever the reason, it works. Heard on its own, the music evokes images of ships on an eerie, darkened ocean with no land in sight—and where anything can happen.
Following multiple successes of its own, the Utah Symphony now adds the Pirates soundtrack to its performance repertoire. While the first-ever PG-13-rated Disney movie plays on a giant screen, the symphony performs live on stage for a unique experience audiences would be hard pressed to find elsewhere. Yo-ho-ho. (Casey Koldewyn)
Pirates of the Caribbean: The Curse of the Black Pearl in Concert @ Abravanel Hall, 123 W. South Temple, 801-533-6683, June 28, 7 p.m., $30-$79, utahsymphony.org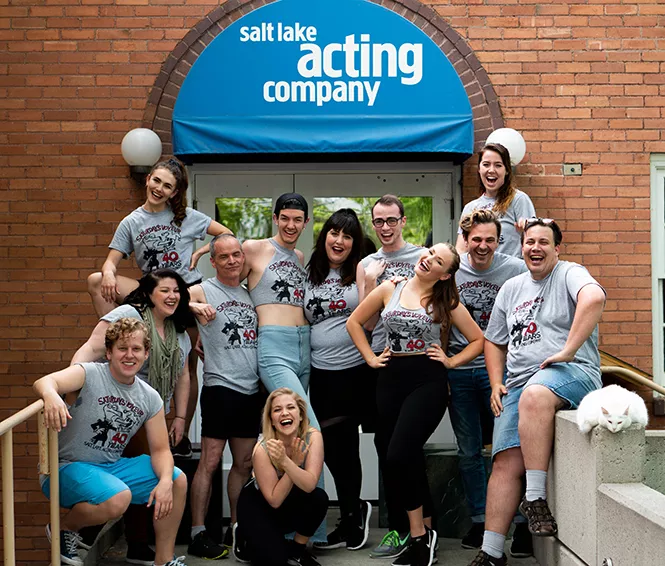 FRIDAY 6/29
Salt Lake Acting Co.: Saturday's Voyeur 2018
Salt Lake Acting Co.'s annual musical revue Saturday's Voyeur reaches a milestone anniversary as it celebrates 40 years of raucous, rhythmic, ribald comedy. That makes for an opportunity to look back not just at the weird, wild year that was, but also to look back at the entire history of the show.
According to Janice Jenson, who is stage managing her eighth year of Voyeur, the 2018 prodcution honors the legacy and memory of actor Becky Meacham, who was an integral part of the show's early years. Segments also bring back classics from years past. "So much of it is a throwback, looking at original Voyeur in a fresh way," Jenson says. "People who have been to Voyeur before are going to be so excited to see it. If you're a fan, it'll be 100 percent up your alley."
Still, the show is always a brand-new experience from year to year, as writers Allen Nevins and Nancy Borgenicht comb both local and national news to find targets for their skewering of hypocrisy, self-righteousness and general stupidity. That process has gotten even more challenging, Jenson believes, in such a news-saturated world, but the focus remains on providing a cathartic party experience that brings audience members right up to the edge of the stage—which provides its own unique challenges for staging the high-energy choreography in the tight SLAC theater space. There will be moves," Jenson says, "like, 'Oh, you're going to kick somebody in the face. We're going to have to change that.'" (Scott Renshaw)
Saturday's Voyeur 2018 @ Salt Lake Acting Co., 168 W. 500 North, 801-363-7522, through Sept. 2, dates and times vary, $45-$55, saltlakeactingcompany.org
Eva Rinaldi via Wikimedia Commons
SATURDAY 6/30
Kevin Hart: The Irresponsible Tour
While it often seems fashionable for comedians to amplify the outrage expressed in these politically potent times, black comedians often feel especially obligated to speak out on the subjects of indignity and injustice. So when Kathy Griffin, no stranger to controversy herself, recently took aim at Kevin Hart by calling him a "pussy" for declining to target the current administration, the barb was not only pointed, but somewhat stereotypical as well. Why are black comedians held to that certain standard?
For his part, Hart simply ignored Griffin's crass critique—and rightfully so. He's always acknowledged his supposed failings, like his height (he's 5'4), and the way masculinity and ethnicity often collide with unrealistic expectations. His creative contributions to the faux reality show Real Husbands of Hollywood is a prime example. Hart, playing a fictionalized version of himself, struggles to find acceptance in the inner circle of show biz, only to end up depressed and disappointed. Of course, that's hardly the case in real life; Hart has played parts in several successful films and television shows, recorded a number of well-received comedy albums, and hosted both the BET Awards and the MTV Video Music Awards, as well as multiple episodes of Saturday Night Live. Although self-deprecating to a fault, he's reaped both the kudos and the credibility needed to make him a major star.
Hart's new summer replacement show on CBS, TKO: Total Knock Out, finds contestants taking the licks, and not the host himself. It ought to go a long way to further elevate his supposedly short stature. (Lee Zimmerman)
Kevin Hart @ Vivint SmartHome Arena, 301 W. South Temple, June 30, 7 p.m., $32-$191.62, vivintarena.com