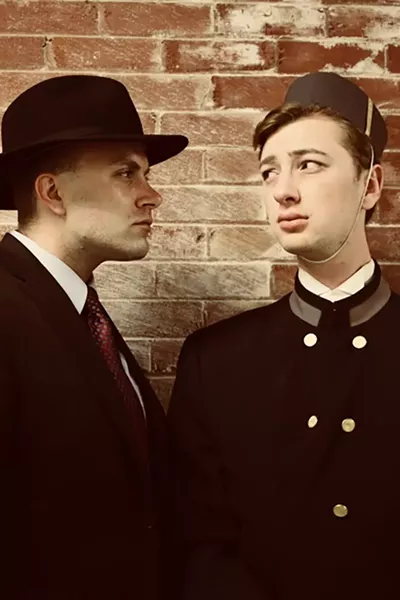 THURSDAY 6/7
Sisyphus Theatre Co.: No Exit
Any launch of a new theater company is an auspicious occasion. Sisyphus Theatre Co., the newest addition to Salt Lake City's thriving arts scene, makes its debut with French philosopher, playwright and novelist Jean Paul Sartre's dark comedy No Exit, a meditative tale about three strangers brought together in Hell and forced to ponder what awaits in eternity. Still seeking salvation, they realize that the scourge of damnation comes with keeping company with others.
"No Exit has such relevance right now," says Sisyphus founder Megan Chase. "We're kind of in this absurd political climate. It felt very timely."
The play's director, Meighan Page Smith, offers an anecdote of her own. "When we did the read-through, my husband came with me. When they get to the famous line, 'Hell is other people,' he was like, 'OK, I'm totally on board with this.'"
Chase says Sisyphus intends to distinguish itself from the start. "We have lots of musicals around here, but not lots of stuff that's a little bit different," she suggests. "Fluffy musicals are great, but I wanted to provide something else, and also, more roles for women."
Not surprisingly, the company's name itself is a statement. "There's an essay by Albert Camus about Sisyphus, and it works really well with No Exit," Chase explains. "It's this whole metaphor for theater, rolling this rock uphill only for it to roll back down, then repeating the process. I thought that was a perfect way of describing the theater process, and life in general." (Lee Zimmerman)
Sisyphus Theatre Co.: No Exit @ Rose Wagner Studio Theatre, 138 W. 300 South, June 7-9, 7:30 p.m., $10, artsaltlake.org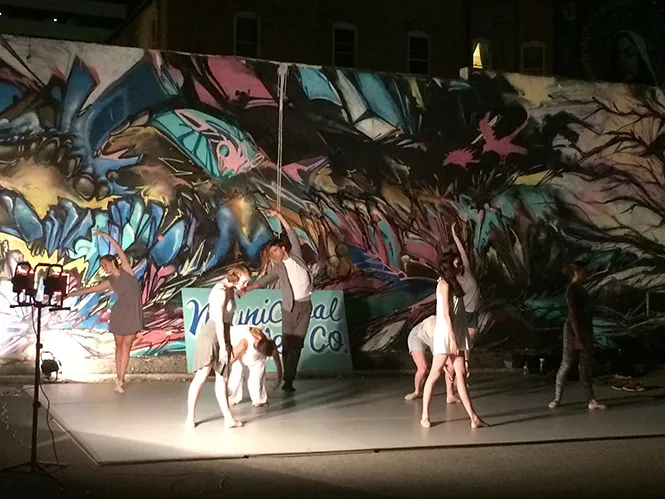 FRIDAY 6/8
Municipal Ballet Co. & Color Animal: Night
Municipal Ballet Co. has carved out a unique place by setting classically influenced choreography to works by local rock bands like Holy Water Buffalo and Conquer Monster. It was a new twist, however, to work with one of those bands on composing all-new music for an evening of dance. "That's the way ballets were made back in the day, by Stravinsky and Balanchine," company founder Sarah Longoria says. "They would have a story, and create the music simultaneously. So I figured I'd give it a try."
Night continues Municipal Ballet Co.'s efforts to shift the notion of ballet being defined by tutus and orchestral music. "Ballet is an art form that can be used in any way," Longoria says. "I believe it can accompany many different genres of music."
Longoria reached out to Andrew Shaw of Color Animal, with whom Municipal Ballet worked on a 2016 performance (pictured) and who is now a member of Municipal Ballet's board. Together, they developed Night, a concept inspired by a quote from civil rights activist Valarie Kaur—"What if this darkness is not the darkness of the tomb, but the darkness of the womb?"—as well as the 1653 La Ballet de la Nuit. "We started talking about this right after Trump was elected," Longoria says. "We wanted to address this feeling of disappointment, but then we also wanted it to be hopeful. ... I liked the idea of 12 pieces, each one representing an hour of the night, ending with the dawn." (Scott Renshaw)
Municipal Ballet Co. & Color Animal: Night @ Commonwealth Studios, 150 W. Commonwealth Ave., June 8, 8 p.m.; June 9, 3 p.m. & 8 p.m., $12 presale, $15 day of show, municipalballet.com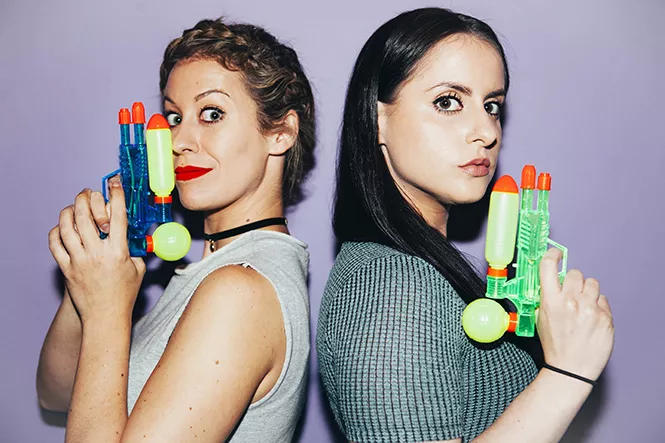 FRIDAY 6/8
Corinne Fisher & Krystyna Hutchinson
Comedians Corinne Fisher and Krystyna Hutchinson are all too aware of the stigma attached to openly talking about sex. In so many places—though especially so in Utah, where the general consensus on sex is "don't do it unless you're married"—conversations about sex are often met with discomfort at the least.
In recognition of that fear, Hutchinson and Fisher have spent years performing together under the stage name Sorry About Last Night to challenge everything we were (and weren't) taught about sex, mostly on their popular podcast Guys We F***ed. They know about people's fears of sex talk anywhere outside the bedroom. They know about the fear that exists even in the bedroom. On the podcast, the two not only discuss sex, but also the complicated narratives that have followed it, as well as why those narratives are harmful. They might even discuss sex itself with people they've had sex with.
From conversations about where to find sexual partners, to double-standards for men and women when it comes to sex, these conversations are impressively not painfully awkward, but instead hilarious, while also educational. Fisher and Hutchinson bring this skill for sex talk on tour with the "Guys We F***d Live Experience." The show takes all the brilliance of their (as they call it) "feminist, sexy, anti-slut-shaming" podcast and turns it into a form for audiences to appreciate in person. Prepare to learn about sex in ways you never thought you could—and do it while laughing. (Casey Koldewyn)
Corrine Fisher & Krystyna Hutchinson @ Wiseguys SLC, 194 S. 400 West, 801-532-5233, June 8-9, 7 & 9:30 p.m., $20, 21+, wiseguyscomedy.com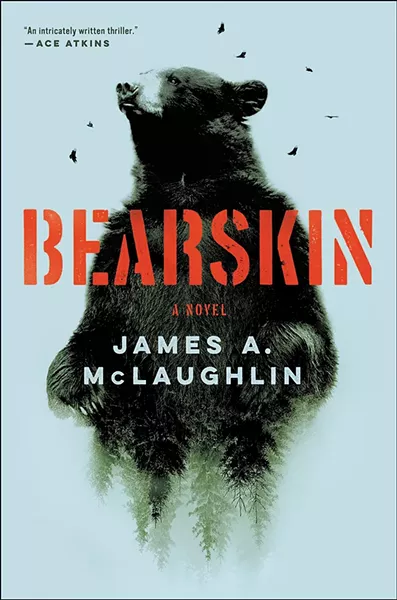 Harper Collins Publishing
TUESDAY 6/12
James A. McLaughlin: Bearskin
In City Weekly's 2002 Literary Issue, Salt Lake City resident James A. McLaughlin took first place in the fiction category for an unsettling snippet titled "Southern Gothic ca. 2001." A different version of that episode appears in McLaughlin's new novel Bearskin, but the story's journey to publication goes back even farther than 16 years.
In fact, according to McLaughlin, Bearskin originated nearly 25 years ago, when he was in an MFA program at the University of Virginia. The earliest version originated from an anecdote shared by McLaughlin's cousin, about picking up a hitchhiker who described finding mutilated bear carcasses. "It was a terrible first novel, so I set it aside," McLaughlin recalls. "In 2007 or 2008, a friend from that program said, 'You should go back to that, there's something there.' So I dug it out, converted it from Word Perfect to Word, and just stripped everything out except the place and the bear carcasses."
That revised version follows biologist Rice Moore, hiding out from vengeful Mexican drug cartels as caretaker for a remote Virginia forest preserve when he discovers poachers killing bears for the Asian black market. And he found the narrative's best approach by embracing genre elements he hadn't initially considered. "I had been sort of snooty: 'I'm an MFA,'" he says with a laugh. "I was kind of in the middle of this when Cormac McCarthy came out with No Country for Old Men. That's a straight thriller set-up. So I thought, 'Let's push [Bearskin] into a thriller, and have some fun with it." (SR)
James A. McLaughlin: Bearskin @ The King's English Bookshop, 1511 S. 1500 East, 801-484-9100, June 12, 7 p.m., kingsenglish.com