FRIDAY 3.18
Brian Regan
There's a little salt-and-pepper in that trademark spiky hair, and he's prone to making self-deprecating gags about his crumbling body these days, as he did on his 2010 CD All By Myself: "Oh, my hip hurts ... I guess, forever." Yet, it's still somehow difficult to imagine that the ever-boyish Brian Regan has been a professional comedian for more than 30 years, as he continues to prowl and bounce around a stage with goofy enthusiasm.
That charm is part of what has made him such a favorite in Utah whenever he visits, along with his history of providing hilarious observational comedy that generally stays clean. And his long career of avoiding potty talk on stage is part of what made him a safe bet for Comedy Central's first-ever live broadcast of a stand-up performance, which Regan did from Radio City Music Hall in September 2015.
But the real reason Regan has continued to endure and sell out arenas boils down to a dedication to the craft of live comedy performance that seems all-too-rare. Where most of his successful peers from the 1980s and 1990s comedy scene looked for crossover fame in sitcoms or movies, Regan simply continued to tour. Rather than shifting his act to accommodate the whim of trends, he opted to perfect the art of the simple, absurd observation, using his versatile voice and exaggerated body language to enliven the most mundane situations. All he has done, for more than three decades, is make thousands of people at a time laugh themselves hoarse. (Scott Renshaw)
Brian Regan @ Vivint HomeSmart Arena, 301 W. South Temple, 801-325-7328, March 18-19, 8 p.m., $36.50-$61.50. SmithsTix.com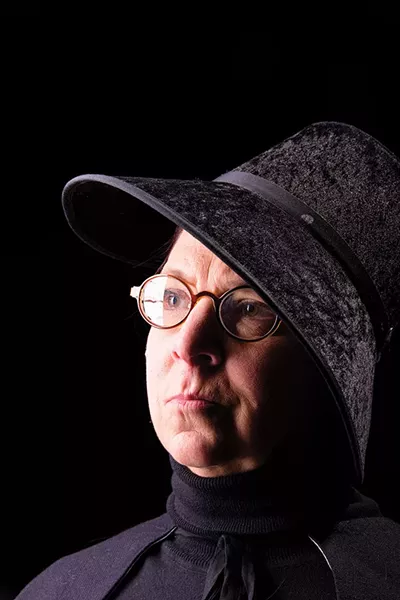 FRIDAY 3.18
Utah Repertory Theater Co.: Doubt: A Parable
John Patrick Shanley's Pulitzer Prize- and Tony Award-winning Doubt: A Parable begins with a simple question, asked from the pulpit by Father Brendan Flynn circa 1964: "What do you do when you're not sure?" But, as that question evolves over the course of the play, it means something even more complex: Why should we consider certainty such an inherent moral good?
In Utah Repertory Theater Co.'s production, Roger Dunbar plays Father Flynn, who comes under the scrutiny of Sister Aloysius (Tracy Callahan), the principal of the Catholic school where Father Flynn serves. Information from one of the teachers, Sister James (Cylie Janiece), has led Sister Aloysius to suspect that Father Flynn may have initiated an "inappropriate relationship" with the school's first black student—and that suspicion soon becomes an absolute conviction.
Callahan turns in a fierce performance as the stern nun, caught in the transition of the Vatican II-era church to a different sensibility. Indeed, the performances are uniformly strong, in a production that allows Shanley's text to shine (while making the small mistake of including an intermission that interrupts it).
Mostly, the play captures something painfully timely for contemporary American society: the damage that can be caused by an inability to acknowledge one's own blind spots, and by focusing on the idea that people are corrupt. Father Flynn insists that Jesus' message was "not suspicion, disapproval or judgment, but love of people," and Doubt brilliantly questions the virtue of a worldview too little informed by compassion. (SR)
Utah Repertory Theater Co.: Doubt: A Parable @ Sorenson Unity Center Black Box Theater, 1383 S. 900 West, through March 20, Friday & Saturday, 7:30 p.m.; Sunday, 3 p.m. UtahRep.org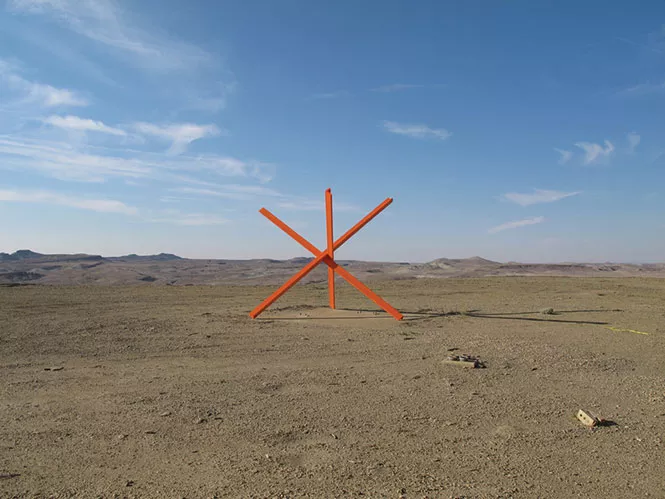 A Call to Place: The First Five Years of the Frontier Fellowship
Among the various landscapes of Utah, the region around Green River is often overlooked. With red cliffs and terraces, alongside the namesake river, there are verdant vistas and open skies; to call it picturesque would be an understatement. The completion of Interstate 70 in 1992, bypassing the town, rendered it no longer the crossroads it had been since the railroad days, and saw jobs and residents leave.
For the past five years, Epicenter (RuralandProud.org)—a nonprofit community design center serving the once-booming town—has sponsored "Frontier Fellows," a one-month artistic residency for participants to generate place-based work. The exhibit A Call to Place at Rio Gallery collects the work of 50 diverse artists and collaborators. Raphy Griswold's sculpture "Czech Hedgehog" (pictured) evokes World War II battlements, while Eliza Fernald's "Green River Quilt" uses her medium to reinforce a sense of community. The community remains small in number, but their vision is expansive. (Brian Staker)
A Call to Place @ Rio Gallery, 300 S. Rio Grande St., 801-245-7272, March 18-May 13, artist reception March 18, 6-9 p.m. ArtsAndMuseums.Utah.gov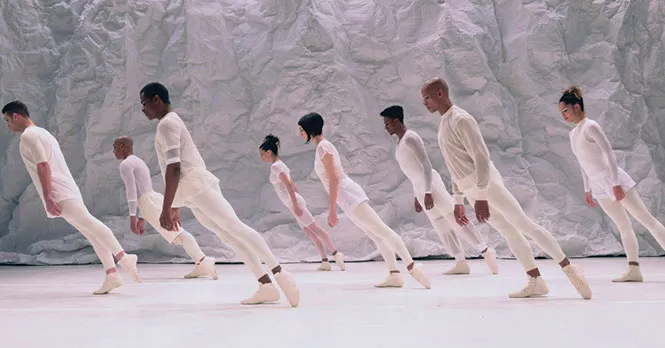 SATURDAY 3.19
Grupo Corpo
Grupo Corpo is, where technique is concerned, a ballet company. But even if you're not interested in ballet, don't rule out seeing this Brazilian dance troupe. This company does more than just blend ballet with the sensual movements of its home country; it creates an entirely new dance language born of Latin movement and European tradition. In the words of Rodrigo Pederneiras, the company's choreographer since 1978, Grupo Corpo "harbors the xaxado, the samba, the ballroom dance, the celebrations, the capoeira ... with a certain amount of joy and humor, which does not hide the violence and the ambiguity of our condition."
Suíte Branca ("White Suite")—by the young Brazilian choreographer Cassi Abranches, and one of two works featured in Saturday's performance—perfectly exemplifies this unique dance hybrid. The point of the feet, the piercing arabesques, the graceful sweep of the dancers' arms are all undeniably classical, but what the women do with their hips is something I doubt any other classically trained dancer outside of Brazil could accomplish. Suíte Branca also showcases the exceptional lighting and set design of Paulo Pederneiras, troupe founder and artistic director (also Rodrigo's brother), as the dancers dressed entirely in white move across a milky linoleum backdrop.
Dança Sinfônica ("Symphonic Dance"), a piece created in 2015 for the company's 40th anniversary, finds choreographer Rodrigo Pederneiras revisiting some of his best works from 34 years with the troupe, reconfiguring and reimagining them into a climactic Grupo Corpo experience. In one particularly intimate pas de deux, the ease of strength and crispness of form perfectly exemplifies what this talented troupe brings to their art form. (Katherine Pioli)
Grupo Corpo @ Eccles Center, 1750 Kearns Blvd., Park City, 435-655-3114, March 19, 7:30 p.m., $25-$75. EcclesCenter.org
TUESDAY 3.22
Los Angeles Angels vs. Salt Lake Bees
The Boys of Summer will visit Salt Lake City in early spring when the Los Angeles Angels make a rare Utah appearance this week to take on their AAA-affiliate, the Salt Lake Bees.
Although there are no guarantees as to who will make the trip up from the Angels' spring training camp in Tempe, Ariz., it could be a homecoming for several prominent Angels. American League MVP Mike Trout, starting right fielder Kole Calhoun, former Bee and Utah Ute C.J. Cron, starting pitchers Garrett Richards and Jered Weaver and several others all spent time playing at the corner of 1300 South and West Temple on their way to the big leagues.
Seeing a Major League team in Salt Lake City is a relatively rare thing. It last happened three years ago, when the Rockies and Mariners played an exhibition game at Smith's Ballpark in March 2013. Other MLB games through the years have included Indians vs. Giants in 1957, Cubs vs. Red Sox in 1964 and A's vs. Padres in 1970. Those games all took place at the old Derks Field, which would be replaced by what is currently known as Smith's Ballpark on the same site in 1994. The Twins visited in 1995 and 1999 when they were parent club to the Bees (then known as the Buzz).
March 22 will be a teaser for the Bees official Pacific Coast League season, with their home opener scheduled for April 7. The Bees will play 72 home games stretching from April through early September. (Geoff Griffin)
Los Angeles Angels vs. Salt Lake Bees @ Smith's Ballpark, 77 W. 1300 South, 801-325-2337, March 22, 4 p.m., $10-$40. SLBees.com