THURSDAY 5/11
Wait Wait ... Don't Tell Me!
Let's face it: The news isn't all that upbeat these days. So credit Wait Wait ... Don't Tell Me—one of the most popular programs on National Public Radio—with doing its best to tackle that tension with off-the-wall humor. Host Peter Sagal (pictured) asks the unexpected of his guests and contestants, a rotating weekly panel of comedians, commentators and humorists like Mo Rocca, Paula Poundstone, Alonzo Bodden and Peter Grosz who skewer weekly events, try to make sense of the insanity and obsess over the absurd; lineup for the local taping is not set at press time.
Indeed, when it comes to today's headlines, the real is often surreal. Sagal admits that the absurdities that have transpired in the wake of the presidential election have increased the challenge of trying to find the dividing line between satire and reality, especially when it comes to a personality like President Trump. "What do you do when the person you're talking about is already so extreme?" Sagal asks. "It's really something we've struggled with."
Currently celebrating its 20th anniversary, this comical quiz show still manages to tackle its topics in ways that tread the line between the silly and the sublime. "I don't want to be just another voice yelling at our audience about things they agree with," Sagal says. "My feeling has always been, we're not part of these partisan battles. We're up in the stands with you watching them. To get involved in any other way would be contrary to our purpose." (Lee Zimmerman)
NPR and KUER present Wait Wait ... Don't Tell Me! Live @ Abravanel Hall, 123 W. South Temple, 801-355-2787, May 11, 7:30 p.m., $35-$125, arttix.artsaltlake.org
THURSDAY 5/11
Wasatch Theatre Co. Page to Stage Festival
Returning this week is Wasatch Theatre Co.'s annual Page to Stage Festival, a unique event combining the work of six different playwrights into a single evening of one-act plays. Last year's call for entries yielded original works by writers Bill Anderson, Beth Bruner, Sierra Ducharme-Hansen, Nicholas Dunn, Laurel Myler and Erin Saunders. Six local actors are set to perform the original plays, guided by director Zac Curtis
"We wanted to focus on writing and acting, so we asked them to create worlds that could be conveyed through minimal props and sets," company board chairman Brian Pilling says. "We assigned each playwright specific actors to write for, and we gave them a time limit. The key thing we asked is to use an assigned story from The Bee as inspiration."
After the original festival plan fell through, the company still wanted to utilize the idea of adapting someone else's stories as part of the challenge. The Bee—a local storytelling group—was able to provide original stories presented at previous events as guides for each play.
"We really liked the idea of using someone's real story—and that's when we happened upon The Bee," Pilling says. "We applaud what they are doing in providing a space for people to share their stories, so we approached them to see if they would be interested in this type of partnership, and they said yes." (Gavin Sheehan)
Wasatch Theatre Co. Page to Stage Festival @ Rose Wagner Center, 138 W. 300 South, 801-355-2787, May 11-13, 8 p.m.; May 13 matinee, 3 p.m., $20, arttix.artsaltlake.org
FRIDAY 5/12
Colm Tóibín: House of Names
In previous novels like Brooklyn and Nora Webster, author Colm Tóibín has addressed women dealing with the struggles of living in a time where their options seemed limited. He finds another such heroine for his latest novel House of Names in a rather unexpected place: classical Greek theater.
Based on Aeschylus' Oresteia trilogy, it begins with the plotting of Queen Clytemnestra to murder her husband, Agamemnon, as retaliation for his decision to sacrifice their daughter Iphigenia to the gods so he would be favored in battle. The point of view eventually shifts to the other members of the family affected by their parents' actions: their son Orestes and other daughter, Electra, both of whom ultimately seek revenge on Clytemnestra.
Though these characters and their stories have been known for centuries, Tóibín dives into them with the same deep, reflective psychology he has brought to all of his literary creations. His narrative decisions are pointed—the two women relate their stories in the first person, while Orestes is third person—in exploring a setting where one's gender dictates the options available. Tóibín finds richness and complexity in a wife shattered by her husband's betrayal, a young boy who reveres his warrior father too much to understand what is going on, and a young woman who can only latch on to the crimes of her mother. By giving these legendary names real pain, real hunger and real thirst, Tóibín finds humanity in tragic human frailty that might have seemed the stuff of marble statues. (Scott Renshaw)
Colm Tóibín: House of Names @ The King's English Bookshop, 1511 S. 1500 East, 801-484-9100, May 12, 7 p.m., kingsenglish.com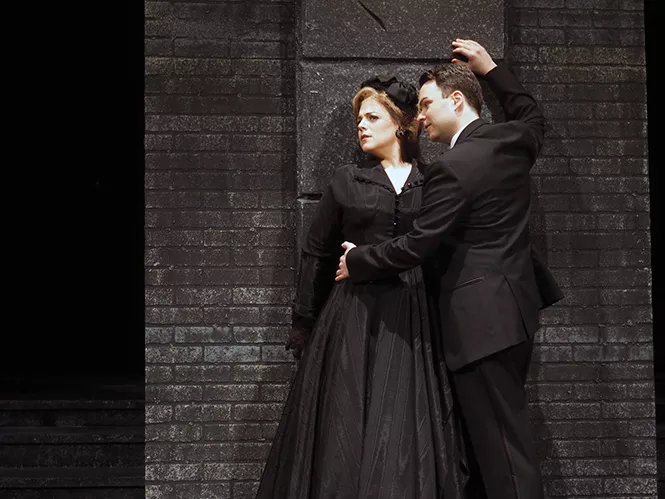 SATURDAY 5/13
Utah Opera: Don Giovanni
It seems each day brings news of yet another affluent, privileged man getting away with years of assaulting women and treading on the rights of others, with nothing more than a slap on the wrist and a few million dollars in penance for his troubles.
With this in mind, the final performance of Utah Opera's season seems unnervingly familiar, while offering a kind of catharsis via the idea that the world's abusers will eventually get theirs in the end. Don Giovanni presents the life of the all-around reprobate man of the same name as he assaults and murders his way through life.
Kristine McIntyre, the production's director, says Giovanni's ability to avoid consequences creates a feeling of helplessness throughout the story. "The normal rules don't seem to apply to him, no matter what you do," she says. "The experience of all the women in the opera is that ultimately they feel powerless; even the male characters feel powerless."
As the full opera's title literally translates to "The Rake Punished, namely Don Giovanni," it's not too much of a spoiler to say justice is eventually served, even if it takes paranormal intervention to do so.
The opera is presented with the stylistic trappings of film noir, designed in black-and-white with vintage clothing. While this genre is also known for highlighting imbalanced gender power dynamics, McIntyre says the decision to set the production this way was to convey the danger and darkness in the story to a modern audience. (Kylee Ehmann)
Utah Opera: Don Giovanni @ Capitol Theatre, 50 W. 200 South, 801-533-6683, May 13, 15, 17 & 19, 7:30 p.m.; May 21, 2 p.m., $21-$93, utahopera.org