FRIDAY 5.13
Pioneer Theatre Co.: The Count of Monte Cristo
Frank Wildhorn and Jack Murphy's musical adaptation of Alexandre Dumas' The Count of Monte Cristo—receiving its U.S. premiere production at Pioneer Theatre Co.—might feel more than a touch reminiscent of the massively popular musical Les Misérables. The plot setting in 19th-century France, the tale of a wronged man, aliases, mysterious parentage and even the use of a turntable set might all create the sense that this show is going to have a lot to live up to.
Yet The Count of Monte Cristo carves out its own unique sensibility in telling the tale of Edmond Dantés (Matt Farcher), a simple sailor whose good fortune—marrying his beloved Mercédes (Briana Carlson-Goodman) and receiving a commission as ship's captain—is destroyed by a conspiracy of those who envy him, including the man, Mondego (Darren Ritchie) who wants Mercédes for his own. As Dantés spends years languishing in prison, and an opportunity finally arises for escape, he's forced to consider whether he wants to focus his new life entirely on revenge.
While the set design by Michael Schweikardt is impressive, the physical production never overwhelms the story, or the solid collection of songs. Whether Mercédes is lamenting her lost love in the show-stopping "When the World Was Mine," or Edmund and the young Albert are sharing the whimsical duet "Ah, Women," Monte Cristo finds a tone and grace notes—even when departing from the source text—that give this musical a distinctively satisfying power. (Scott Renshaw)
Pioneer Theatre Co.: The Count of Monte Cristo @ Pioneer Memorial Theatre, 300 S. 1400 East, 801-581-6961, through May 21, Monday-Thursday, 7:30 p.m.; Friday, 8 p.m., Saturday, 2 p.m. & 8 p.m., $40-$67. PioneerTheatre.org
FRIDAY 5.13
The Sklar Brothers
The Sklar Brothers are a unique act, not just in the idea of having a pair of identical-twin brothers performing standup comedy together, but because what would normally be written off as a "novelty act" has become one of the most successful duos in modern comedy.
The back-and-forth comic timing that Randy and Jason Sklar write is almost a throwback to that of Abbott and Costello—except you as the audience are Abbott, and they're both Costello. Find YouTube clips of "Chopper 4" or "Wonder If Kids Understand," and you'll see how the two play off each other in a rapid-fire style where one brother's banter immediately leads to other's punch line.
Aside from getting their start on MTV for the short-lived sketch show Apt. 2F, the Sklar Brothers have been guests on shows and films like It's Always Sunny in Philadelphia, Entourage, Grey's Anatomy, Bubble Boy and The Comebacks. The duo have had some cool projects over the years, including the ESPN comedy show Cheap Seats, where they riffed on old sports broadcasts from the channel's library. More recently, the pair have been running their own Earwolf podcast called Sklarbro Country, where they give their comedic take on the world of sports and pop culture with special guests, and recently recorded their 300th episode. They've also been producing videos for the NFL Now series, ripping apart all things football on the league's own website.
The brothers will be in town for a two-night stand at Wiseguys, performing a mix of classic bits and new material. (Gavin Sheehan)
The Sklar Brothers @ Wiseguys Salt Lake City, 194 S. 400 West, May 13-14, 7:30 & 9:30 p.m., $20. WiseguysComedy.com
FRIDAY 5.13
Impulse at Mundi Live: A Sound Painting Music Festival
Certain artistic forms can seem like they belong entirely in separate worlds. How, for example, can you connect the typically solitary activity of visual-art creation with the theatricality of a live music performance?
The Mundi Project—a nonprofit focused on providing access to piano education for those who might not traditionally have such access—is among the organizations looking to find out this week in a special event connected to National Music Week. Salty Cricket Composers Collective's Grace Notes Program and Salt Lake School of Performing Arts are among the groups that will send students to show off their musical skills in a performance that's free and open to the public. And while these amazing young people treat listeners to the masterpieces of Brahms, Beethoven, Chopin and Mozart, students and faculty from the Visual Art Institute will create new works inspired by the music. (Scott Renshaw)
Impulse at Mundi Live: A Sound Painting Music Festival @ Rose Wagner Black Box, 138 W. 300 South, 801-355-2787, May 13, 7-9 p.m., free. MundiProject.org/Event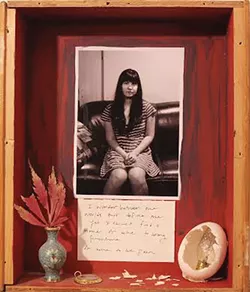 MONDAY 5.16
Sarah May: Identity Retablos
Racial identity is often thought of as a binary equation: black or white, Latino or Asian, etc., with the various ethnic communities even maintaining some degree of separateness. However, the realities of life in an increasingly diverse nation and world are that lines and colors blur, and it benefits everyone. Stereotyping still occurs, and it's worthwhile to examine it in order to try to move beyond it.
Local artist, curator, photographer and writer Sarah May has been undergoing a process of questioning her own identity as a biracial woman for several years. As a Latina, she has used the retablo tradition in Mexican folk art, with paintings of religious iconography as part of this process. It's a series of mixed-media boxes depicting herself and people who are important to her, creating a kind of narrative telling the story of their culture and identity, with personal statements and artifacts. The impromptu nature of the boxes reinforces the idea of telling cultural and personal histories as a casual, everyday phenomenon; a part of our everyday lives.
A graduate of the University of Utah with a BFA in photography and digital imaging, May has created work focused on contemplating the many facets of identity. In 2014, she curated a local show at a pop-up gallery called The Identity Project, and this January she curated Emotional Ties at Urban Arts Gallery.
A reception for the artist will be held Friday, May 20, from 6 to 9 p.m., during the May Gallery Stroll. (Brian Staker)
Sarah May: Identity Retablos, @ Mestizo Institute of Culture and Arts, 631 W. North Temple, Ste. 700, 801-596-5000, May 16-June 10. MAACollective.org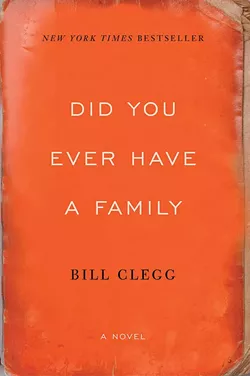 TUESDAY 5.17
Bill Clegg: Did You Ever Have a Family
The question posed by the title of Bill Clegg's novel—taken in part from a poem by Alan Shapiro—might seem unusual, given that nearly all of us were raised in a family. But this heartbreaking work digs deeper into the concept, exploring how the flawed realities of people ripple through generations, making that platonic concept of family feel elusive.
The plot is initiated by a tragedy in the small Connecticut town of Wells, where a house fire takes the lives of four people, including a young couple set to be married the next day. Over the course of several subsequent months, the narrative switches to the point of view of nearly a dozen people impacted by that event: June, the mother of the bride; the owners of a Washington state motel where June comes to stay; a perpetually stoned teenage boy; and even people who don't realize themselves that the tragedy touched their lives.
Clegg masterfully weaves these individual stories into a rich portrait not just of grief, but of the regret that comes from lost opportunity to mend past mistakes with those we love. He even does a brilliant job of turning the town of Wells itself into a kind of dysfunctional family, in the way that many small towns shape those who were raised there. But mostly, he captures something universal in the way one damaged relationship can shape others down the line, and how hard it can be to find the peace that allows healthy relationships to emerge. (SR)
Bill Clegg: Did You Ever Have a Family @ The King's English Bookshop, 1511 E. 1500 South, 801-484-9100, May 17, 7 p.m., free. KingsEnglish.com