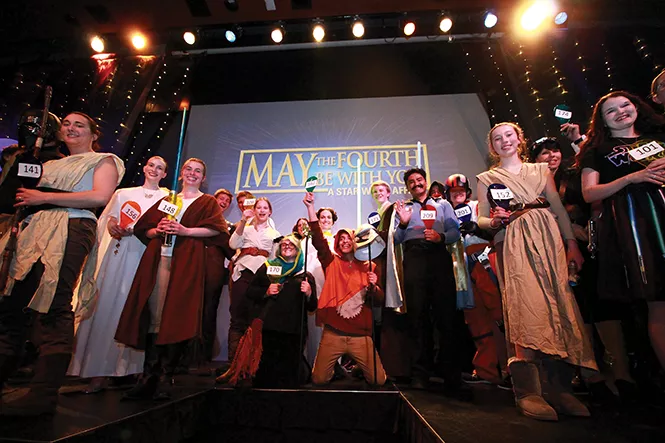 FRIDAY 5/4
May the Fourth Be with You & Free Comic Book Day
Utah has become something of a national capital of nerddom, whether it be through record-breaking ticket sales for fantasy movies at local theaters, national polls about nerdy affinities or the breakout success of the local pop-culture convention. That makes this weekend something of a special holiday for fans of imaginative stories, with Friday's Star Wars celebration "May the Fourth Be With You," and Saturday's annual Free Comic Book Day.
The Salt Lake County Library System invites Star Wars fans to two days of events at the Viridian Center, beginning with a screening of the documentary The People vs. George Lucas on Thursday, May 3 at 7 p.m. Then on Friday, put on your favorite thematically appropriate costume and join fellow enthusiasts (18 and over) at an ersatz Mos Eisley cantina for costume contests, trivia competition, games and refreshments.
At Urban Arts Gallery, check out the annual display of fan art in the exhibition Star Wars: Heroes and Villains. Enjoy watching (or participating in) cosplay contests during the May 4 reception, with locals bringing their own special interpretations of beloved (or hissable) characters.
On Saturday, it's time for local comic-book purveyors like Black Cat, Dr. Volts, Nerd Store and more—and the industry at large—to thank fans for their support by offering limited-edition free comic books featuring the Avengers, DC Super Hero Girls, Pokémon and more. It's an all-weekend nerd party, and you're invited. (Scott Renshaw)
May the Fourth Be With You @ Viridian Center, 8030 S. 1825 West, West Jordan, May 4, 7-10 p.m., free but ticket reservation required, viridiancenter.org
Star Wars: Heroes and Villains reception @ Urban Arts Gallery, 137 S. Rio Grande St., May 4, noon-9 p.m., free, urbanartsgallery.org
Free Comic Book Day @ various locations, freecomicbookday.com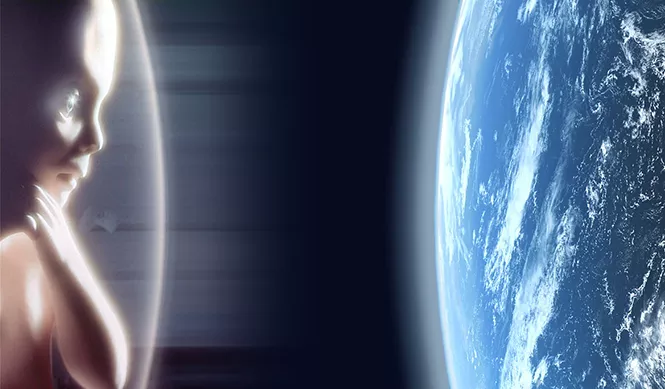 FRIDAY 5/4
Utah Symphony: Strauss' Don Quixote and Zarathustra
Director Stanley Kubrick made it one of his filmmaking hallmarks to take existing pieces of music, and use them in such a way that they became inextricably linked to his movies: Vera Lynn's "We'll Meet Again" over the apocalyptic finale of Dr. Strangelove; "Singin' in the Rain" accompanying a brutal assault in A Clockwork Orange; "Dies Irae" for the ominous opening credits of The Shining. But no example has become as iconic as the triumphal "Sunrise" from Richard Strauss' 1896 work Also Sprach Zarathustra, heightening the grandeur of human evolution in 2001: A Space Odyssey.
It was a fitting choice for reasons beyond its sound, as the inspiration for the piece was Friedrich Nietzsche's philosophical novel Also Sprach Zarathustra, which addressed humanity attempting to transcend itself toward becoming the "Übermensch." "Man is something that shall be overcome," Nietzsche writes, and it's hard not to imagine 2001's Starchild climax and thinking Nietzsche would have nodded in approval.
Utah Symphony's program of Strauss works concludes with Zarathustra, but the composer was inspired by less overtly heroic characters as well. The symphony also performs Strauss' Don Quixote, based on the story of Cervantes' legendary knight errant. The 45-minute piece turns the cello (Utah Symphony's principal cellist Rainer Eudeikis) and viola (principal violist Brant Bayless) into the representations of Don Quixote and Sancho Panza, in a manner akin to the character-based instruments of Prokofiev's Peter and the Wolf. Tilting at windmills offers a slightly more comic musical sensibility than the booming fanfare that now represents a classic film about a journey beyond the infinite. (SR)
Utah Symphony: Strauss' Don Quixote and Zarathustra @ Abravanel Hall, 123 W. South Temple, 801-355-2787, May 4-5, 7:30 p.m., $15-$83, utahsymphony.org
Lee Stranahan via Wikimedia Commons
SATURDAY 5/5
Jay Leno
They say that nice guys finish last. Jay Leno is considered by many as one of the nicest guys in showbiz, but there are two sides to that axiom. A successful stand-up comedian, he was the designated heir apparent to succeed Johnny Carson as host of the Tonight Show after Carson's retirement. Although he landed the job, he had to compete for it publicly, first against David Letterman, and later, Conan O'Brien, creating some very bad blood in the process. Even after getting the gig, he continued to work relentlessly, ending his day by writing the next night's monologue and doing stand-up on the weekends while living only off those earnings. The late James Brown aside, he was indeed the hardest working man in show business.
So, how did the brass at NBC reward him? They tried moving him to primetime with an hour-long variety show that aired five nights a week. When that hare-brained idea proved a failure, they brought him back to late night post-midnight, weakened by the network's lack of confidence and felled by lower ratings. Eventually, he was fired, a humiliation Leno took with his characteristic grace and good nature. He rebounded by repaying his dues: taking on a semi-regular role on the ABC sitcom Last Man Standing; launching Jay Leno's Garage, a show based around his love of collecting cars; and going back to his roots in stand-up.
Given the fortune he amassed while at NBC, Leno could have easily retired, but he still does more than 100 live shows a year. An Everyman of sorts, he's a class act, and a very funny one at that. (Lee Zimmerman)
Jay Leno @ Tuacahn Amphitheatre, 1100 Tuacahn Drive, Ivins, May 5, 8 p.m., $60-$85, tuacahn.org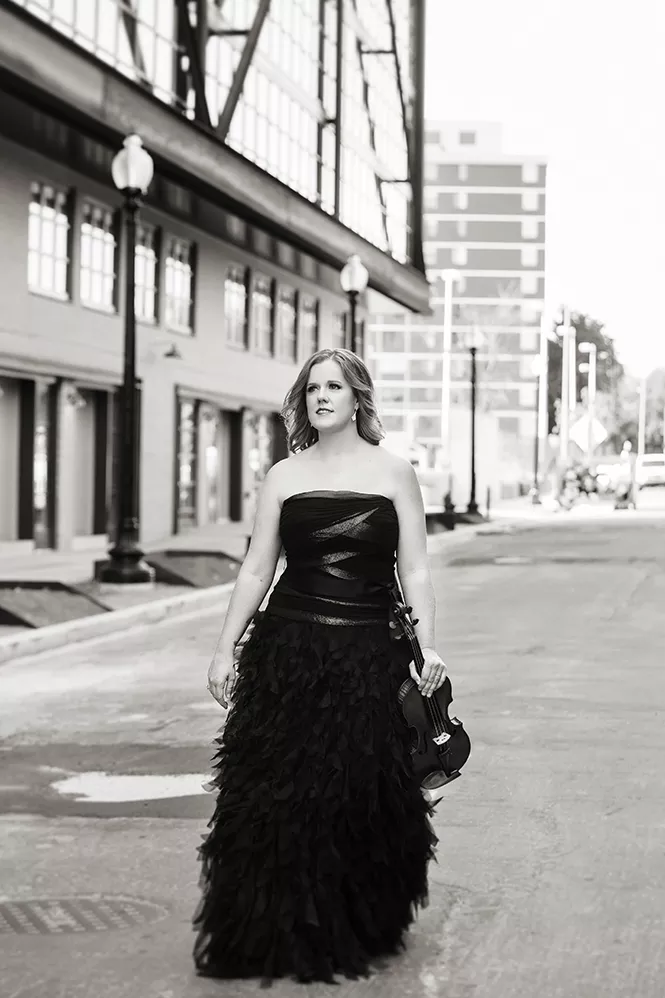 SUNDAY 5/6
NOVA Chamber Music 40th Anniversary Finale
Usually, when an arts organization changes leadership, the transfer of power occurs behind the scenes. For the NOVA Chamber Music Series, the passing of the baton will be quite literal, and you can be part of the audience.
As part of the program closing NOVA's 40th anniversary season, outgoing artistic director Jason Hardink leads things off with pieces including Messiaen's Trois Mélodies and Lutoslawski's Bucolics. But the finale—Schubert's Octet—is led by Madeline Adkins (pictured), who takes over in the newly defined role of music director, while Hardink will work in a consultant capacity as artistic advisor to ensure continuity. The program also includes the announcement of the 2018-19 season.
According to NOVA Executive Director Kristin Rector, the restructured music director position—freed from many administrative responsibilities, and with only a year-to-year appointment—offers unique opportunities for creativity. "Knowing that it's just one year," Rector says, "it could be really attractive to somebody who might not consider [the role] otherwise. She gets to have an outlet for maybe a particular composer, maybe a particular musician that she wants to provide an opportunity to play on a particular piece. That's a very exciting opportunity for a creative person, without the burden of the logistics of it."
It wasn't even necessary to rearrange schedules to make Adkins—who is also the Utah Symphony concertmaster—available for this show. As it happens, she was already on the program announced a year ago by Hardink. "It just turned out to be this meant-to-be kind of situation," Rector says. (SR)
NOVA Chamber Music 40th Anniversary Finale @ Libby Gardner Hall, 1395 E. Presidents Circle, May 6, 3 p.m., $18-$20, novaslc.org