FRIDAY 11/3
Pygmalion Theatre Co.: The Weyward Sisters
Just because Halloween season has ended doesn't mean you need to leave witchy fun behind.
Throughout the month, Pygmalion Theatre Co. presents The Weyward Sisters, a comedic twist on William Shakespeare's Macbeth told from the witches' point of view. Three modern and good actual witches are recruited to perform in "the Scottish play," and struggle to find their footing in the weird and wild world of theater.
Written by local playwright L.L. West, the show follows the style of Tom Stoppard's Rosencrantz and Guildenstern Are Dead, a meta-retelling of Hamlet. However, rather than being minor characters who become aware they're just characters in a story, these protagonists have a bit more agency, according to production director, Jeremy Chase. "Not only are they helping tell the story, but they're helping shape the story with their witchy powers," he says.
In addition to providing a twist on a classic, Weyward Sisters also ties into Pygmalion's mission of producing plays that give a voice to women playwrights, directors, performers and characters. Rather than depicting the witches as forces of chaotic evil, they're fleshed out and made into engaging subjects. And while this show is dripping with references to Macbeth, you don't need to be a huge Shakespeare fan to enjoy it. Chase says the fun in this production comes from the departures they get to make from the source material. "Get ready to laugh through this play," Chase says. "If anything, it's a laugh." (Kylee Ehmann)
The Weyward Sisters @ Rose Wagner Center,138 W. 300 South,801-355-2787,Nov. 3-18, days and times vary, $15-$20, pygmalionproductions.org
FRIDAY 11/3
Ballet West: Carmina Burana
Ballet West marks two milestones with its upcoming production of Carmina Burana, a revolutionary work with classic connotations. Paired with George Balanchine's unorthodox ballet Serenade and set to Tchaikovsky's "Serenade for Strings," it officially opens Ballet West's 54th season, and also celebrates Artistic Director Adam Sklute's 10th anniversary with the company. Carmina Burana has additional historical significance for the company as well: Ever since its Utah debut in 1974, Ballet West has performed the piece more than 100 times, making it one of the most popular offerings in its repertoire.
Ironically, when the company first performed it, several audience members walked out. "The subject matter is rather complicated," Sklute explains via email. "It is about monks slipping out of the monastery and leaving behind their sacred duties and reveling in a very human and profane way."
Credit Carl Orff's sweeping score with elevating the intensity. Indeed, this particular production is something of a spectacle, thanks to a 50-piece orchestra, a 76-member choir and 18 dancers. Based on the poems of an 11th-century text discovered in a Bavarian monastery in 1803, it's been adapted for film, television and video games, and has even been sampled by Michael Jackson and Ozzy Osbourne.
Resident choreographer Nicolo Fonte's choreography—a world premiere version, part of a co-production with the Cincinnati Ballet—underscores Orff's intent. He imagines a battle between the sacred and the profane, Sklute says. "It will not be obvious and nothing is literal. ... It is both unexpected and inevitable." (Lee Zimmerman)
Ballet West: Carmina Burana @ Capitol Theatre, 50 W. 200 South, 801-355-2787, Nov. 3,4,8-11, 7:30 p.m.; Saturday matinee Nov. 11, 2 p.m., $29-$87, balletwest.org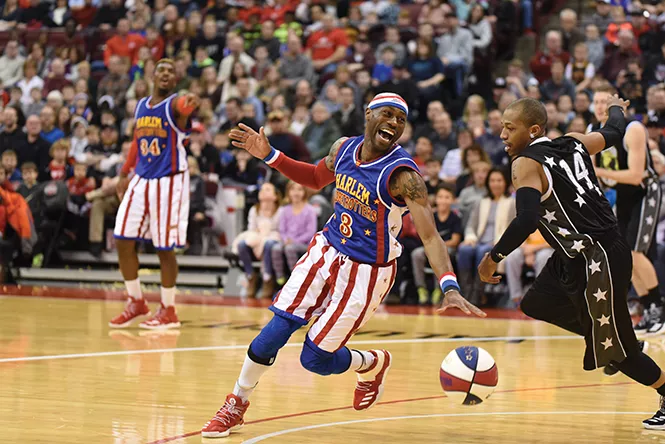 SATURDAY 11/4
Harlem Globetrotters
Has anyone noticed lately that there seems to be increased interest in professional sports, and athletes in particular, yet for all the wrong reasons? Thank you, Mr. President. Fortunately, the Harlem Globetrotters are seemingly immune from controversy. For more than 90 years, their focus has been on entertainment, amusement and providing inspiration. In the process, they've broken down barriers, extended goodwill and given back to the community. Their blend of comedy and innovative tactics—among them are the slam dunk, the fast break and some dazzling dribbling—have delighted some 144 million fans in 122 countries and territories worldwide.
"Putting smiles on people's faces and bringing joy to the game of basketball is one of the reasons why we have been so popular for so many years," says Firefly Fisher (pictured), a starring member of the team's current roster. "Not everyone loves basketball, but everyone loves the Harlem Globetrotters because it is more than just abasketball game."
As an exhibition team, they've accelerated integration of professional sports, won numerous championships and evolved as an entertainment brand. A part of pop culture, they're known for amazing performances on the court and close connections with fans off it.
"Our Globetrotter antics still entertain audiences even in these changing times," Fisher says. "Everyone loves to see greatbasketball and loves to laugh, so no matter what is going on in the world, or what someone is going through inlife, those two things are always a good mix." (LZ)
Harlem Globetrotters @ Vivint Smart Home Arena, 301 W. South Temple, Nov. 4, 2 p.m. & 7 p.m., $20-$135, vivintarena.com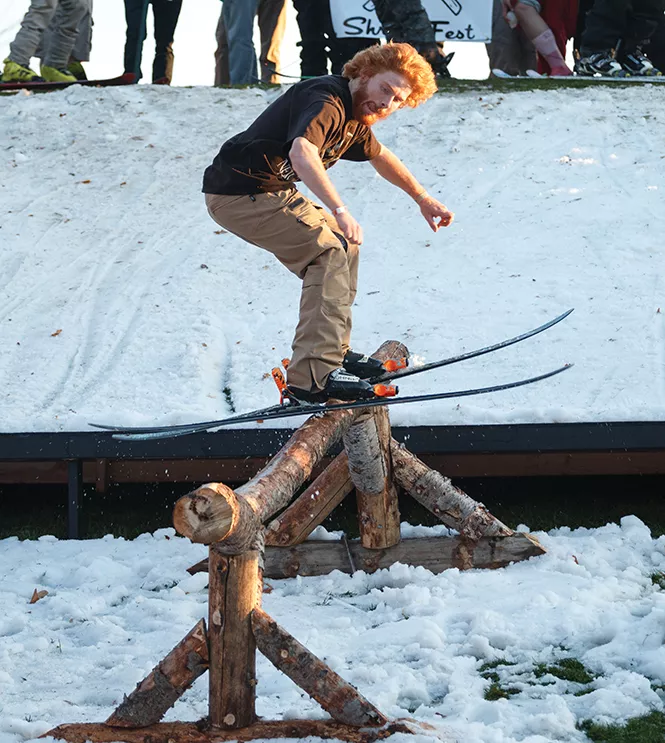 SATURDAY 11/4
Shred Fest
If our unseasonably mild October has you wondering if winter will ever arrive, there's one local event that makes sure you remember what it's like to have snow on the ground. Co-sponsored by City Weekly sister publication, Vamoose, Shred Fest invites all winter outdoor enthusiasts to unite and welcome the new season. Stop by if you enjoy good food, beer, lumberjacks and skiers. With seven food trucks, a beer garden, freestyle ski and snowboard and lumberjack competitions, this event has it all.
The best skiers and snowboarders in the valley are set to compete in the Rail Jam on features provided by Powder Mountain for a $1,500 cash prize. This year, attendees can expect more than $5,000 worth of prize giveaways. If watching others shred isn't your jam, just head over to catch some true woodsmen in the highly anticipated lumberjack competition, as the Montana State Timbersports Team shows off their skills with axes and chainsaws. Festival-goers can even try their hand at a special axe-throwing area to see if you can hit the bullseye. After the competitions, enjoy live music from local artists Hot Vodka, Pixie and the Party Grass Boys and DJ Matty Mo.
"It wouldn't be a community event without giving back," Marketing Director Shaun Nakamine says. "This year's food truck fundraiser will donate to the National Ability Center and Team Utah." Supporting these two awesome nonprofits should feel almost as good as it tastes: The Ability Center empowers individuals of any skill level through sports, recreation and education, while Team Utah helps young snowboarders take their riding to the next level. Now let the real winter begin. (David Miller)
Shred Fest @ Liberty Park, 600 E. 900 South, Nov. 4, 1-9 p.m., $10, shredfestival.com