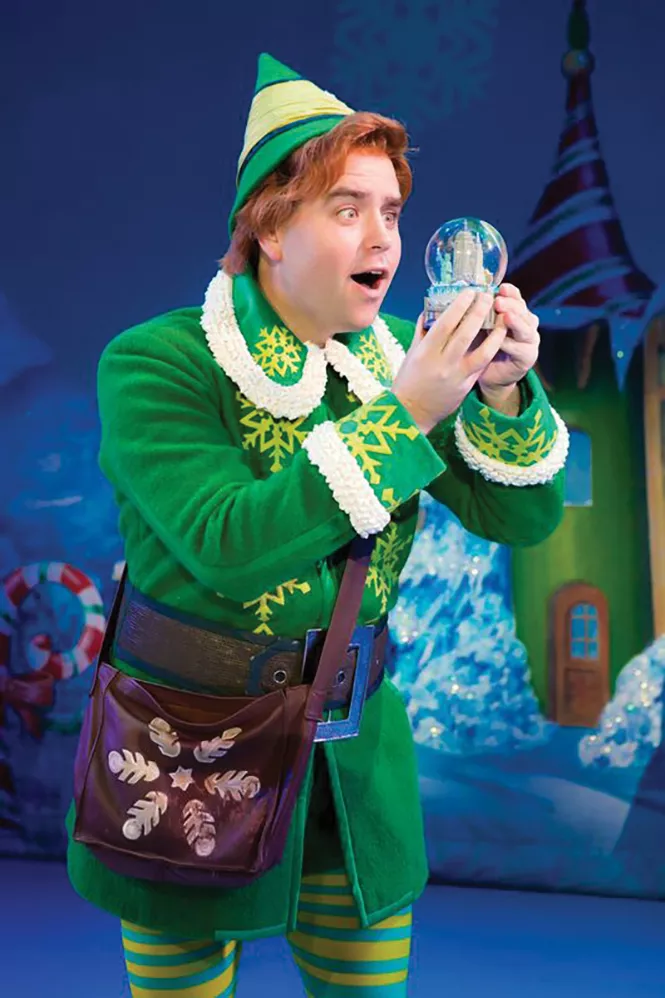 FRIDAY 11/24
Elf: The Musical
The 2003 comedy Elf introduced us all to Buddy, a human orphan who crawled into Santa's bag as a baby and was mistakenly brought back to the North Pole, where he was raised to believe he was a (slightly taller than normal) elf, before returning to the outside world to find his family. It was a box-office hit, earning $173 million largely on the basis of Will Ferrell's appeal as the enthusiastically naïve Buddy, and his interactions with James Caan as his irascible biological dad, Walter Hobbs. But was there anything—aside from Zooey Deschanel crooning "Baby, It's Cold Outside"—that suggested this high-concept star vehicle was the stuff of a Broadway musical, which could be successful even without its star?
Yet, here we are: A musical version of Elf premiered in 2010, with songs by Matthew Sklar and Chad Beguelin (The Wedding Singer), and mostly following the arc of its cinematic source material. There are a few noteworthy changes—Papa Elf isn't our narrator, and Walter has been softened as a character from the movie's neglectful meanie—but the bones of the story are there.
And it all works, even without Ferrell's distinctive charms. Sam Hartley stars as Buddy in this touring production, and he'll get to bring audiences into tunes like "World's Greatest Dad." Meanwhile, you've got the chance to see a cadre of fake Santas in a grand production number, all on the way to a lesson about appreciating the true meaning of Christmas. (Scott Renshaw)
Elf: The Musical @ Eccles Theater, 131 S. Main, 801-355-2787, Nov. 24, 8 p.m.; Nov. 25, 3 & 8 p.m.; Nov. 26, 1 & 6:30 p.m., $30-$90, artsaltlake.org
Saturday 11/25
Utah Repertory Theater: The Bridges of Madison County
Great things can be born of not-so-great material. That already happened once with Robert James Waller's best-selling 1992 romance The Bridges of Madison County, as the book's drippy melodrama gave rise to a wonderfully restrained 1995 feature film. Then, in 2014, it inspired a Broadway musical adaptation, which won a Tony Award for the songs by Jason Robert Brown (The Last Five Years).
"The complexity of the music is above anything that we have tackled at Utah Rep yet," says Johnny Hebda, co-director of Utah Repertory Theater's production. "It has a classical base to it, but set to a very contemporary score—a very unique musical theater score that I don't think audiences will have experienced very often."
The story remains fundamentally the same in exploring the relationship between Francesca Johnson, an Italian-born war bride in 1960s Iowa, and Robert Kincaid, the National Geographic photographer who comes to town to chronicle the local covered bridges. Unlike some of the story's previous incarnations, however, this version expands the focus beyond just the romance between Francesca and Robert.
"The Broadway version kind of expanded a few of the supporting characters," Hebda says, creating some additional conflict. It brings a number of different perspectives to the show. I think the stage adaptation did a good job of creating the sense of how close-knit a community this is. One of the central themes is family, and making sacrifices for your family above your passions." (SR)
Utah Repertory Theater: The Bridges of Madison County @ Eccles Theater Regent Street Black Box, 131 S. Main, Nov. 25-Dec. 10, dates and times vary, $20, artsaltlake.com
SATURDAY 11/25
Utah Symphony: Messiah Sing-In
In these divisive times, when it seems like so many people disagree about so many things, it's important to focus on what we have in common. How about this: People love to sing. They love it even better when they can do it in a group large enough that it doesn't matter how you sound; you just need to add to the volume level.
The community comes together once again on Thanksgiving weekend for the Utah holiday season tradition of the Messiah Sing-In at Abravanel Hall. On Saturday and Sunday nights, anyone can show up with a score for Handel's Messiah—the official edition for these performances will be by Bärenreiter—or even just have a free edition downloaded on their smartphone or tablet, and join with more than 1,000 like-minded singers to get into the spirit of Christmas.
Participants raise their voices accompanied by the Utah Symphony, under the baton of conductor Conner Gray Covington, as well as the Messiah Chorus, singing melodies that have captivated audiences and singers alike since premiering 275 years ago in 1742. Between the choruses, everyone can sit back and enjoy solos by the professionals, including soprano Abigail Rethwisch, mezzo-soprano Melanie Ashkar, tenor Christopher Oglesby and bass-baritone Jesús Vicente Murillo.
Does a group of people coming together to do something they enjoy solve all of the problems we face these days? Of course not. Is it a place to start? Yes. And hallelujah for that. (Geoff Griffin)
Utah Symphony: Messiah Sing-In @ Abravanel Hall, 123 W. South Temple, 801-355-2787, Nov. 25-26, 7:30 p.m., $14-$39, utahsymphony.org
WEDNESDAY 11/29
Christkindlmarkt SLC
When it comes to classic holiday experiences, one of the most famous is the German Christmas market. The combination of small outdoor shops gathered together in one area, lots of good food, music and the feel of being in Old Europe is so sought after that travel, tour and cruise companies build entire itineraries around them for people traveling to Germany in December.
Thanks to Utah native Allyson Chard and Christkindlmarkt SLC, you don't have to cross the Atlantic Ocean—just Sunnyside Avenue—to get a taste of the original at This Is the Place Heritage Park. It's an event based on giving—inspired by the German tale of St. Martin's kindness to a homeless stranger—and encourages families and other groups to participate in a service project.
The market features local vendors, including makers of traditional Christmas crafts and ornaments as well as purveyors of German food. In addition to the market stalls, check out the activities for children, such as a treasure hunt, a "Gnome Fest" and, of course, a chance to visit St. Nicholas. Enjoy live music, a cuckoo clock with live dancers emerging to mark the time and a live Nativity featuring Roman soldiers, wise men, angels and even camels.
Thursday night is highlighted by the St. Martin's Lantern Parade celebrating those who have participated in a service project. Friday and Saturday's St. Nicholas-themed parades praise the spirit of generosity. Feel free to join in and march while singing carols. (GG)
Christkindlmarkt SLC @ This Is the Place Heritage Park, 2601 E. Sunnyside Ave., 801-582-1847, Nov. 29-Dec. 2, 11 a.m.- 8 p.m., free, christkindlmarkt-slc.com