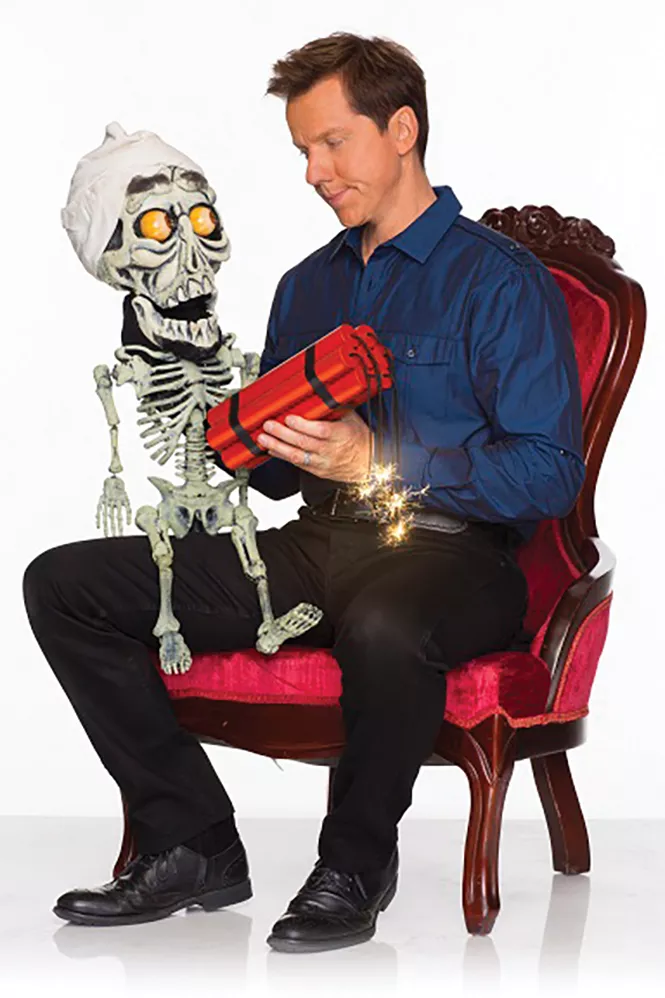 THURSDAY 11/30
Jeff Dunham
While they might not receive the same level of disdain usually accorded mimes, jugglers and fortune tellers, ventriloquists and puppeteers generally don't fare much better. Audiences tend to focus on seeing if their lips move, and often little else.
Comedian/puppeteer Jeff Dunham has been honing his craft since he was in grade school, and might be one of the most popular entertainers in the world—as well as one of the best-paid—but he's not immune to criticism and controversy. His audiences find him flat-out hilarious, and his cast of hand-operated characters has fanatical fans of their own. But when he graduated to bigger arenas, some suggested he should limit his performances to more intimate environs. After all, how do you know his lips aren't moving when you're way back in the balcony?
Likewise, in an era where violence and hatred are so pervasive, it's hard for some to find humor in a suicide bomber (Achmed the Dead Terrorist), a bigot (Walter) or flagrant stereotypes (Bubba J and José Jalapeño). Time Magazine complained that all his puppets are "politically incorrect, gratuitously insulting and ill-tempered." Likewise, The Hollywood Reporter insisted that Dunham's characters are "racist, sexist and homophobic." The Muppets, they're not. Lambchop and Howdy Doody were decidedly more family-friendly.
Still, Dunham has something his predecessors lacked, which is a generally infectious brand of humor. It's so witty, wacky and outrageous that Dunham himself often seems to be amused. Then again, why not laugh along? Or better yet, share the laughter as well? (Lee Zimmerman)
Jeff Dunham @ Eccles Theater, 131 S. Main, 801-355-2787, Nov. 30-Dec. 1, 7 p.m., $56, artsaltlake.org
FRIDAY 12/1
Salt Lake Acting Co.: The True Story of the Three Little Pigs
For nine years, Salt Lake Acting Co. has made its holiday musical production a family-friendly occasion. As director Penelope Caywood prepares for this year's show—The True Story of the Three Little Pigs—she continues to apply lessons she's learned about creating a show with all-ages appeal.
"The pacing of the show becomes crucial," Caywood says, "that it moves clearly and yet quickly. ... On the other hand, I try to make it something anybody would like to see. I try to make it clear to the actors: We're doing a real professional show."
Yet while Caywood wants the production to hold kids' attention, it's also important that the story offer something that resonates with them. In the case of True Story, there's an attempt to teach children about looking at a familiar story from a different point of view—even that of a perceived "villain" in a narrative focused on the trial of the Big Bad Wolf, with audience members ultimately serving as the jury. "If they can connect in some way, that's what I'm looking for," Caywood says. "Putting yourself in other people's shoes, and how to have empathy."
The production also performs before more than 1,500 students at Title 1 schools in Utah, which offers the chance for valuable feedback on whether the show is working. "We hear it as they're going out the door," Caywood says. "'I didn't like this, I liked that costume.' And if I can hear people humming that last song as they leave, I know it worked." (Scott Renshaw)
The True Story of the Three Little Pigs @ Salt Lake Acting Co., 168 W. 500 North, 801-363-7522, Dec. 1-29, dates and times vary, $16-$26, saltlakeactingcompany.org
FRIDAY 12/1
Pioneer Theatre Co.: Newsies
"This is the story you wanted to write; well tonight is the night that you can." —"Once and For All," from Newsies.
News organizations have received extra attention and scrutiny during the past year for a variety of reasons. The press' relationship to power has been examined, with media outlets alternately described as dominant or defenseless, depending on who is talking about which news organization. Given that climate, Pioneer Theatre Co.'s upcoming show is clearly relevant.
The stage musical version of Newsies—including catchy tunes like "Seize the Day" from legendary composer Alan Menken—is based on the 1992 Disney movie by the same name, which pivots around the historical newsboy strike of 1899. During that strike, New York City newsboys—who made meager livings selling newspapers on the streets—were protesting a rise in the prices they paid to buy the papers they then sold.
Told through songs and engaging characters, the movie contained a few adjustments to the true-life event it draws from, including the name of the boy behind the unionizing. Similarly, the musical deviates some from the movie, with the addition of journalist character Katherine replacing the corresponding one from the movie.
What all these stories maintain is a sense of injustice and a need to fight against it. Fair treatment, better recognition of people whose voices had previously been ignored, and the power of a news story are prominent—just as they are in the world today. (Casey Koldewyn)
Newsies @ Pioneer Theatre, 300 S. 1400 East, 801-581-6961, Dec. 1-20, dates and times vary, $42-$64; kids grades K-12 half-price Mondays and Tuesdays, pioneertheatre.org
Buffalo Bill CTR. of the West
SUNDAY 12/3
Go West! Art of the American Frontier from the Buffalo Bill Center of the West
"The West" exists at a nexus of mythology and reality—a story America tells itself about its trail-blazing spirit, and a history of cruelty and displacement for Native peoples. Both ideas emerge in the touring exhibition Go West!, curated by Cody, Wyo.-based Buffalo Bill Center of the West
The exhibit marks the first touring exhibition for the Utah Museum of Fine Arts since its post-renovation re-opening—and a fitting one, according to Leslie Anderson, UMFA's curator of European, American and regional art. "The UMFA is deeply committed to preserving and promoting the art of our home region," Anderson says. "This traveling exhibition allows [us] to tell a more comprehensive and nuanced story of the visual culture of the West."
Included among the works in Go West! are pieces by celebrated European-American artists like Thomas Moran, Rosa Bonheur and Frederic Remington (whose 1899 oil painting "Buffalo Bill in the Limelight" is pictured). Additionally, artistic creations by Plains Indians provide a different perspective on our notion of America's West. "Go West!examines the evolving notion of the American West relative to the experiences of the region's inhabitants over the course of a century," Anderson says.
In conjunction with the museum's exhibition, a series of free public programs throughout its run provide additional perspectives on the West, including lectures, gallery tours and the Utah Symphony's performance accompanying the classic film High Noon. (SR)
Go West! Art of the American Frontier from the Buffalo Bill Center of the West @ Utah Museum of Fine Arts, 410 Campus Center Drive, 801-581-7332, Dec. 3-March 11, $15.95-$18.95, umfa.utah.edu