THURSDAY 11/9
Christmas in the Wizarding World
Every year around this time, mall lines expand, Amazon orders soar and, along with the busy-ness, tension runs high. Few people would list shopping as a fun experience they look forward to.But The Shops at South Town is determined to change all that with Christmas in the Wizarding World.
The first event of its kind opens this year in several cities, combining elements of holiday shopping, winter festivities and J.K. Rowling's beloved Harry Potter series.Several mall retailers offer items Rowling created for her wizarding world, many of which, can't be found anywhere else, according to The Shops at South Town Marketing Manager Heather Nash. Among them are Honeydukes-style confections, Ollivander's-inspired wands and much more, from both Harry Potter and Fantastic Beasts and Where to Find Them. Games like an interactive Quaffle Toss, animated windows and photo opportunities add to the magic, creating an immersive—and fun—shopping experience available nowhere else in the state.
Plus, since the festivities run through January, "There really is an opportunity for everyone to come down to experience Christmas in the Wizarding World without feeling like they have to be there the first weekend," Nash says.
But that's not even the best part. "We invested the additional dollars so people could come for free," Nash says. So come enjoy the gratis Potter experience, and get your holiday shopping out of the way. (Casey Koldewyn)
Christmas in the Wizarding World @ The Shops at South Town, 10450 S. State, Sandy, 801-572-1517, through Jan. 31, free, theshopsatsouthtown.com
FRIDAY 11/10
Illuminate Salt Lake
Seeing your city in a whole new light isn't something many people have the opportunity to do. Now, Illuminate Salt Lake is bringing together artists and performers to radically change downtown for just two evenings. Food, drinks, live music, light shows, art installations and much more will transform the city into a technological wonderland.
Derek Dyer, executive director of the Utah Arts Alliance, describes the festival as "a free two-day community art event and a celebration of innovation and imagination for the community, art lovers and families." He also says he's excited "to see the community get together and experience light art" at this diverse festival.
More than 50 artists will use lights and technology to build installations and perform at venues including The Gateway, Eccles Theater and the Utah Museum of Contemporary Art. To enhance the experience, festival goers can download the new Illuminate AR app onto their smartphone, allowing them to alter the existing exhibits and view virtual artworks.
Illuminate Salt Lake promises a family-friendly celebration, as well. A Light Lab at Discovery Gateway, educational demonstrations at Clark Planetarium, the Utah Film Center's showing of Tumbleweeds Lite and a children's music festival are among the great all-ages options. After the kids go to bed on the second night, enjoy a ticketed after-party at the Grand Hall at The Gateway: The After Glo Party, a 21-and-up-event, features DJs and performers as well as more light-based art. (David Miller)
Illuminate Salt Lake @ various locations, Nov. 10-11, 5-10 p.m., free; special ticketed events $25-$100, illuminatesaltlake.org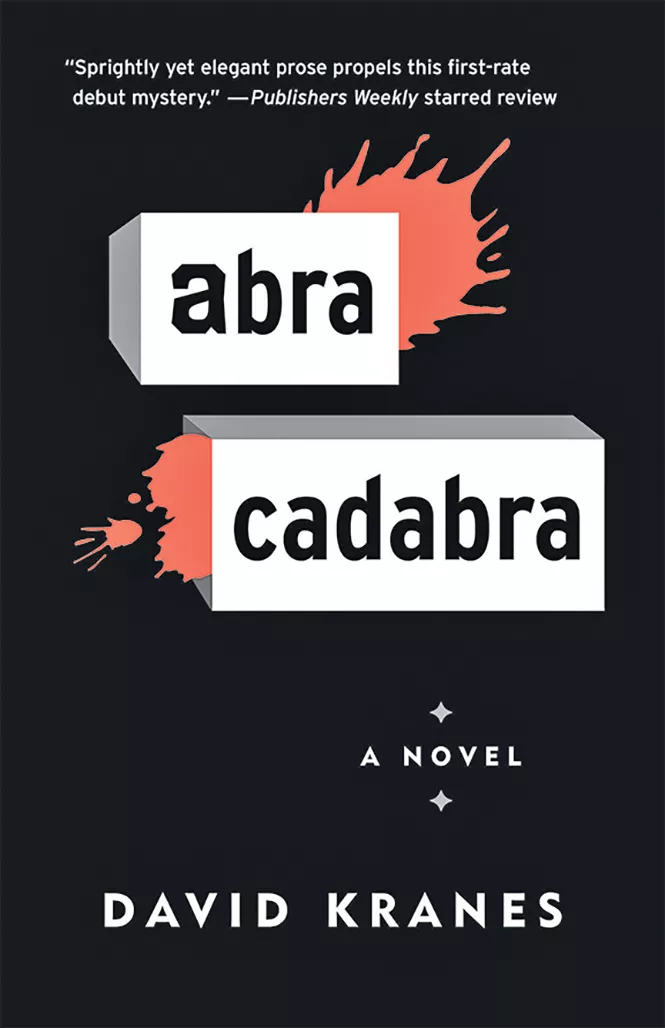 University of Nevada Press
WEDNESDAY 11/15
David Kranes: Abracadabra
What happens when a magic act goes too well? That's the idea behind David Kranes' new novel Abracadabra.
It begins with Mark Goodson, a seemingly well-adjusted man who is a participant in a Las Vegas magic show where he is made to disappear—but doesn't reappear. That vanishing act unfolds into what Kranes describes as "events which are mysterious to the central character."
That character is Elko Wells, a former professional football player who manages a missing-persons detective agency as well as a celebrity-impersonator business. Wells suffered a career-ending concussion, which also gave him the abilities to hear voices and recognize patterns. Those unique talents assist him in his search for Goodson, where he's also hepled by a group of cocktail waitresses called "The Bloody Marys."
Kranes—the award-winning writer of short stories including the Pushcart Prize-winner Cordials and nationally produced plays—has served as the artistic director of the Sundance Playwright Lab for 14 years, and also taught at the University of Utah. The inspiration for Abracadabra, his first noir novel, was built on Kranes' fascination with what he calls "dream space," or "the mix of possible and impossible is part of the attraction of a magic show."
While he's embarking on a new genre, the author says he already has two other novel ideas featuring Elko Wells to continue his story. Unlike Goodson, he won't be disappearing any time soon. (Benjamin Benally)
David Kranes: Abracadabra @ The King's English Bookshop, 1511 S. 1500 East, 801-484-9100, Nov. 15, 7 p.m., places in signing line reserved for those who purchase a copy of the book, kingsenglish.com
WEDNESDAY 11/15
Pacifica Quartet
Classical music isn't for sissies or snobs, and Pacifica Quartet can prove it. Formed in 1994, this Bloomington, Ind.-based ensemble is internationally acclaimed as one of the finest chamber quartets in the world, thanks to its fusion of Beethoven, Brahms, Mendelssohn and Shostakovich and daring new works by some of today's most remarkable young composers. They certainly have the kudos to show for it—among them, various Grammys and a host of prestigious awards representing the highest achievements in classical creativity.
Consequently, any performance by this well-seasoned foursome—Guy Ben-Ziony (viola), Austin Hartman (violin), Simin Ganatra (violin) and Brandon Vamos (cello)—becomes a remarkable experience for those who savor strings, or anyone seeking to expand their musical parameters. Each member of the quartet is an individual virtuoso, and together, their deft execution, sweeping arrangements and sheer daring have dazzled audiences.
For their upcoming appearance, the group is scheduled to perform three works, a program that Vamos promises will provide a variety of moods and motifs. "The Haydn quartet is one of my favorites," he says of the first. "It's full of wit and humor and great surprises." The second, Shostakovich's third quartet, he describes as "an epic journey for the listener." Vamos calls the final selection, Beethoven's 59, No. 3 "a real masterpiece ... an exciting and energetic fugue."
And who doesn't appreciate a good fugue? Classical music doesn't get classier than this. (Lee Zimmerman)
Pacifica Quartet @ Libby Gardner Concert Hall, 1395 Presidents Circle, Nov. 15, 7:30 p.m., $10-$30, tickets.utah.edu