THURSDAY 10.6
Guillermo Galindo: Sonic Border
Award-winning Mexican composer Guillermo Galindo's works blur the borders between finding objects to utilize as instruments, and composing the musical work itself. A child's shoe, a broken comb, a doll's head, a shotgun shell—all these items, found near the United States-Mexico border, become part of music-making devices.
It's not just music; it's an attempt to channel the spirit of these objects and commune with the people who once owned them. The sounds he elicits from them give a kind of voice to their history and the realities of their existence. He has described his compositions as "an imaginary story that each object has and carries within itself." His musical scores are just as innovative, using unconventional notation.
In the first artist talk at the Utah Museum of Fine Arts since it closed earlier this year for remodeling, Galindo presents his musical performance, titled "A la deriva/Adrift" at 7 p.m., followed by a talk about his work and a Q&A with the audience. After the presentation, he'll sign copies of his collaborative book project Border Cantos, produced with photographer Richard Misrach.
"Galindo and Misrach's project doesn't attempt to take a political side, but instead uses art to illuminate certain aspects about human migration and borders that may not be visible to the general public," says Mindy Wilson, UMFA director of marketing and public relations. (Brian Staker)
Guillermo Galindo: Sonic Border @ Dumke Auditorium, Utah Museum of Fine Arts, 410 Campus Drive, University of Utah, Oct. 6, 7 p.m., free. UMFA.Utah.edu/Artlandish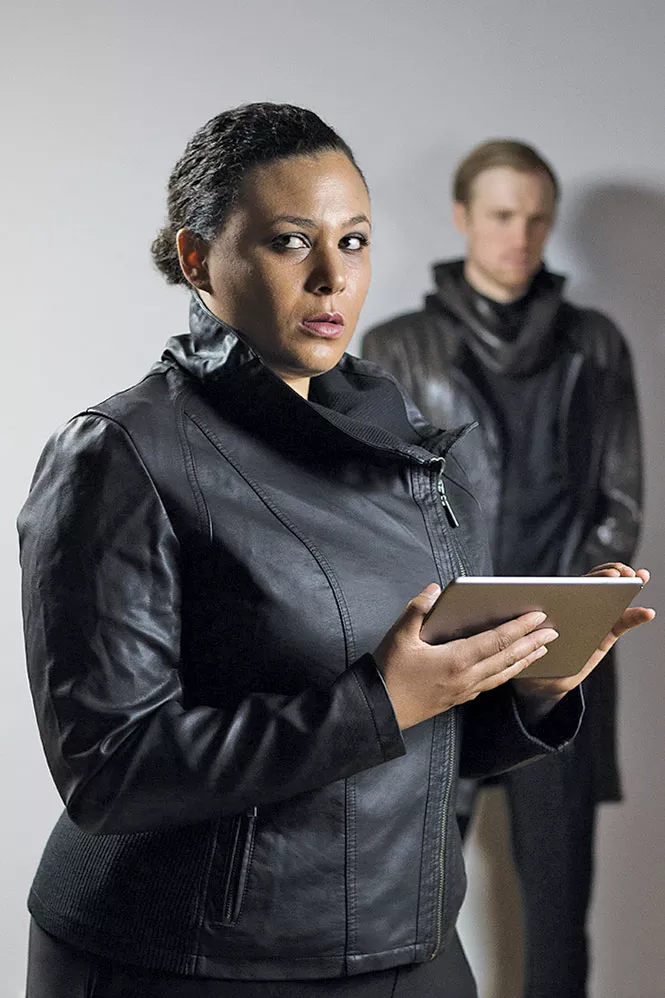 FRIDAY 10.7
Good Company Theatre: The Nether
Living in the future is awesome—and scary. Never mind the constant barrage of stories warning us about always looking at our phones these days; that's only a piece of the technological pie. Streaming media, immersive video games, the emergence of refined VR—we've basically become a plugged-in nation 24/7.
So it shouldn't shock anyone that we're close to finding ourselves in the kind of society depicted in Good Company Theatre's latest production, Jennifer Haley's The Nether. The play features a cyberspace detective combing through a heavily protected virtual getaway called "The Hideaway," where people's most secret desires can be lived without consequence. But as the detective pushes forward to find the true identity of its creator, she, too, is consumed its pleasures, and escape begins to look bleak.
"One of the things that stood out the most about The Nether is the believability of this future," GCT's co-director Camille Washington says. "Haley crafts a plausible future in which people are even more immersed in their digital lives. Plus, the story had fantastic noir elements, and is a true thriller—something that is nice to find in such a contemporary piece."
The play mixes themes of escapism from Philip K. Dick's A Scanner Darkly, online fulfillment as depicted in Ghost in the Shell, and the futuristic paranoia of Black Mirror—all wrapped into a modern thriller that explores whether our desires are stronger than our morals. It's cyber-punk drama at its best. (Gavin Sheehan)
The Nether @ Good Company Theatre, 260 25th St., Ogden, Oct. 7-22, Thursday-Saturday, 8 p.m.; Sunday, 4 p.m., $17. GoodCoTheatre.com
SATURDAY 10.8
Utah Opera: Carmen
What is it that makes Bizet's Carmen not only perhaps the most popular opera ever written, but also one of the few whose music has crossed over into mainstream culture?
Could it be the torrid romance between Don José and the titular Carmen? Or is it the musical's score that has so permeated popular culture that most are able to hum along with opera from the second it begins? With its return to the Capitol Theatre's stage and to the Utah Opera, local audiences have a chance to judge for themselves what exactly has kept this show in the spotlight.
The story follows Don José, who gives up both his job as a soldier and his original love to be with the fiery, dangerous Carmen. As he sinks deeper into their love affair, she drifts away toward the more glamourous bullfighter, Escamillo—and the end result is as tragic as you'd expect for everyone involved.
Last staged by Utah Opera in 2010, this production features traditional 16th-century Spanish costumes, giving viewers an authentic experience of the original. The show runs roughly three hours long with two intermissions.
For those a little daunted about seeing a performance entirely in French, the show includes English supertitles—translated lyrics projected on a screen during the performance.
Utah Opera's education and community outreach department also offers a "learn before you go" series, which provides more information on the opera's plots and origins. Find it at UtahOpera.org/OnlineLearning. (Kylee Ehmann)
Utah Opera: Bizet's Carmen @ Capitol Theatre, 50 W. 200 South, 801-355-2787, Oct. 8, 10, 12 & 14, 7:30 p.m.; Oct. 16, 2 p.m., $21-$110. UtahOpera.org
SATURDAY 10.8
Latin American Dance Spectacular
Since 2000, the Utah Hispanic Dance Alliance has been promoting the ethnic folk-dance traditions of Latin America throughout the state—and even beyond, including an invitation to represent Utah at the second inaugural parade for President Obama in 2013. But the biggest annual showcase of the year is the Latin American Dance Spectacular, which brings its 17th performance to the Rose Wagner Center with Origins: A Latin Musical Journey.
The show's focus, according to UHDA spokesperson Shawn Salazar, is "how the traditional folklórico dances of most Latin American countries draw their origins from a variety of cultural influences." Performers showcase a range of styles representing Mexico, Central and South America, accompanied by musical talent like Son Sor y Luna, a Montreal-based group playing in the traditional Veracruz musical style of jarocho (violinist Yamin Alvarado Zamora is pictured).
Salazar sees a program like this as one that might be particularly important during a year in which the political discourse has often focused on racial and ethnic divisions, and hostility toward a multicultural American identity. "Like the United States, Latin America is an ethnic mix of a wide variety of indigenous tribes, European colonizers, African people brought against their will, as well as Asian immigrants," Salazar says. "Our own unique origins are most often drawn from a pool fed by many different streams. ... It's our hope that the audience, like us, will see that interaction is inherently positive, and that our common cultural similarities outweigh any differences." (Scott Renshaw)
Latin American Dance Spectacular @ Rose Wagner Performing Arts Center, 138 W. 300 South, 801-355-2787, Oct. 8, 7 p.m. UHDA.org, ArtSaltLake.ArtTix.org