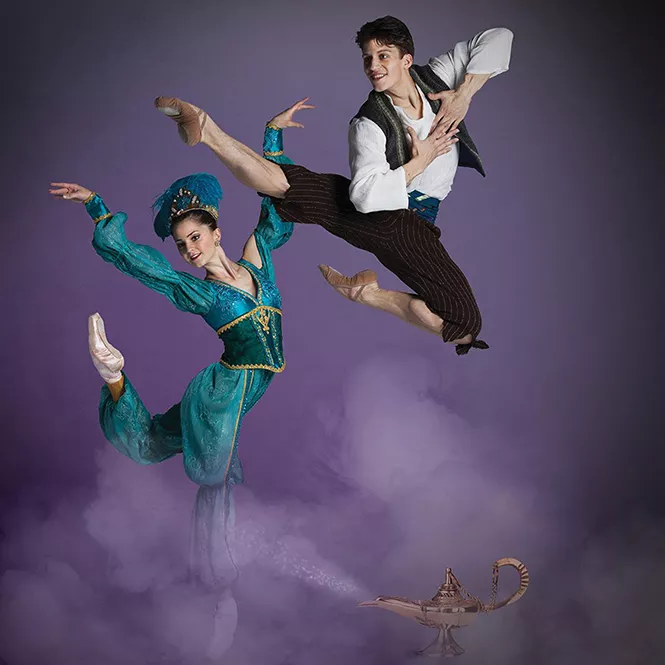 THURSDAY 10/19
Ballet West: Aladdin
Aladdin might be an age-old story, but it's still a perfect introduction for anyone new to ballet or theater. Adam Sklute, CEO and artistic director of Ballet West, selected this classic for the Family Series. It's designed to deliver a full ballet narrative in just one hour with clear narration, making it incredibly accessible for all ages.
Follow our destitute yet daring protagonist Aladdin as he explores moonlit sand dunes, treasure-filled caves and colorful markets. With the help of a troublesome monkey, an endearing camel and, of course, a magical carpet, the hero tries to win the heart of a courageous princess and save the land from an evil sorcerer.
Sklute describes the production via email as "magical, dramatic, beautiful and very funny. This is a perfect opportunity for you and your family to take time, slow down—not for too long—and experience theater, art, music and togetherness."
Choreographed by the company's Principal Ballet Mistress Pamela Robinson-Harris and former soloist Peggy Dolkas, the show unites members of the Academy Professional Training Division and the students of Ballet West Academy and Ballet West II—of which Dolkas is associate director. With coruscating costumes by David Heuvel, vivid sets by Michael Andrew Currey and a beautiful score, the story will truly come to life at the Capitol Theatre. When it's all put together, the final product is as accessible as the Disney film, and as classic as the Arabian Nights story. (David Miller)
Ballet West: Aladdin @ Capitol Theatre, 50 W. 200 South, 801-355-2787, Oct. 19, 20 & 21, 7 p.m.; Oct. 21 & 22, 2 p.m. matinees; $15-$35, balletwest.org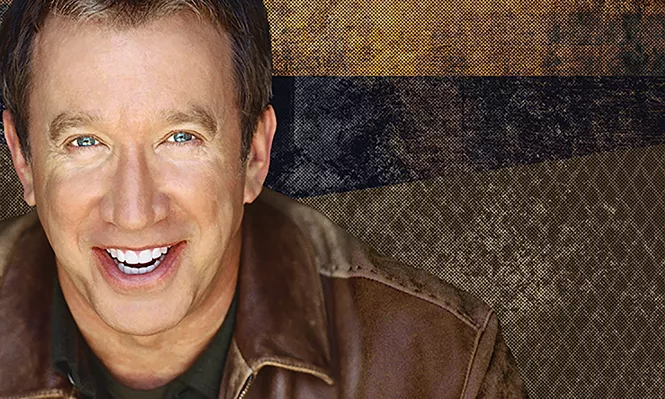 FRIDAY 10/20
Tim Allen
Actor, author and comedian Tim Allen is a funny guy. Cynicism and sarcasm often inform his delivery—which is one reason why his award-winning role as Tim "The Toolman" Taylor on the popular comedy Home Improvement and as Mike Baxter on Last Man Standing made him a successful sitcom star. Of course, voicing the character of Buzz Lightyear for the ever-loveable Toy Story franchise and playing Santa in The Santa Clause trilogy upped the ante on lovability for families, as well.
That said, he hasn't avoided potentially alienating part of his audience. Last Man Standing often became a platform for his weekly repasts against former President Obama, social activists and liberals in general, and it soon became clear that Allen's views helped script the show. Republicans are a rarity in Hollywood, and when the sitcom was canceled, despite its respectable ratings, ABC blamed a scheduling snafu. Others suggested liberal bias.
Allen himself agreed with the latter, and as one of the few high-profile actors in Hollywood to voice support for Donald Trump, he sparked further controversy by telling late-night host Jimmy Kimmel, "You gotta be real careful around here. You get beat up if you don't believe what everybody believes. It's like '30s Germany."
Though scolded by some, Allen refused to bow to political correctness. Four years ago, he grabbed headlines for insisting that using the "N-word" is worse than the epithet it represents. Luckily for audience members at the Eccles this week, his stand-up act tends to be more unifying in its observational anecdotes. (Lee Zimmerman)
Tim Allen @ Eccles Theater, 131 S. Main, 801-355-2787, Oct. 20, 8 p.m., $40-$125, live-at-the-eccles.com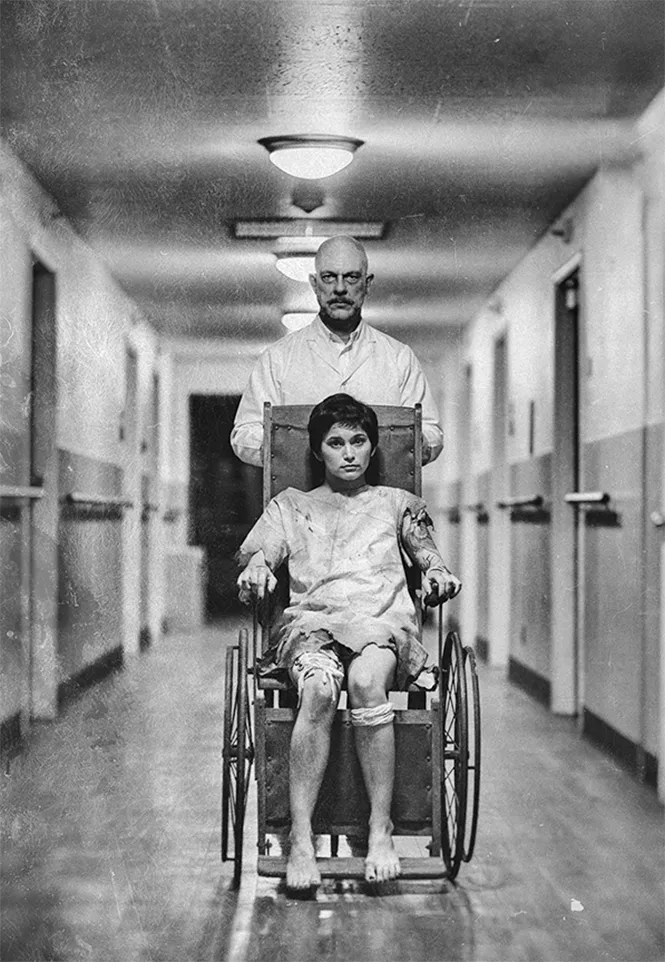 FRIDAY 10/20
An October Evening
Twelve years ago, Stephen Simmons noticed that while Utah seems to go all-out for Halloween, there was a certain sameness to the offerings. "We have a lot of haunted houses," he says, "but they rarely change their theme. There are Halloween events, but usually for family-oriented audiences."
An October Evening was event co-organizer Simmons' attempt at an alternative approach: a more adult-focused, multimedia "variety show" take on Halloween-themed entertainment that would incorporate live music, short films, interactive performances and even a fashion show of original costume designs. As the event has grown in popularity—adding a second show this year, technically making it plural October evenings—it has also evolved and shifted, adding new elements like last year's string quartet playing unique cover versions of music like the Ghostbusters theme, which returns for 2017. It's a way to keep things fresh for those who come back year after year.
Sometimes, that even involves a change in tone. Simmons notes that while the 2016 show's theme of 1980s horror movies lent itself to a more camp sensibility, this year has gone darker with its focus on ghosts. "Instead of going in a playful way," he says, "we went in an opposite direction, focusing on what it is to lose somebody, why people are so scared of Ouija boards, something truly terrifying." That includes Simmons' own short film Night Terror, which was filmed at a real "haunted" mental hospital in Tooele, lending an extra level of creepy authenticity. Come join the madness if you dare. (Scott Renshaw)
An October Evening @ Salt Lake Masonic Temple, 650 E. South Temple, 801-347-4047, Oct. 20-21, doors 7 p.m., show 7:30 p.m., $15, facebook.com/anoctoberevening
WEDNESDAY 10/25
The Pump and Dump Show
Friends since eighth grade, Tracey Tee and Shayna Ferm were separated for years while they pursued show business careers on opposite coasts. It wasn't until they both relocated to their hometown of Denver to start families—and move on to other occupations—that they discovered the concept that would allow them to become full-time entertainers.
According to Tee, it was Ferm who came up with the idea in 2012—when the two friends were new mothers caring for infants just three weeks apart in age—for what would become The Pump and Dump Show, a musical-comedy cabaret about the perils and unintended humor of parenting. "She had been reading this listserve of a local mommy group," Tee says. "These moms were so upset; someone had given her kid a non-organic cracker, and was freaking out. [Ferm said], 'Everyone just needs a drink.'"
Sharing drinks and stories is a big part of the resolutely non-man-bashing evening, in which Tee and Ferm perform songs like "Eat Your Fucking Food" and invite audience members to share their own anecdotes as a high-energy, therapeutic mutual support session. Tee recalls one mom at one of their earliest shows, who related having lost her kid for a short time at a Walmart. "You didn't know if you were supposed to laugh or cry," she says, "but everyone just started cheering, and high-fiving her. ... We don't judge each other. We've all been there. We get to be the jerks who say the things you think all day but are afraid to admit." (SR)
The Pump and Dump Show @ Wiseguys SLC, 194 S. 400 West, 801-532-5233, Oct. 25-26, 7:30 p.m., $25, 21+, wiseguyscomedy.com