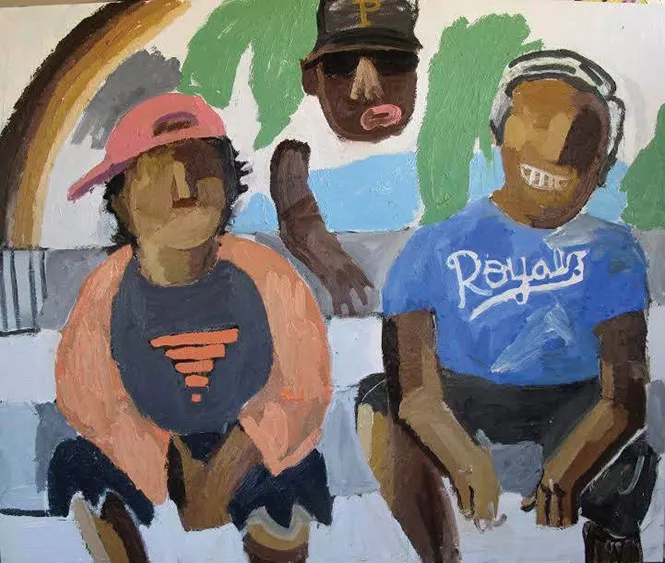 THURSDAY 9.29
Andrew Alba: Rainbow Variance
The paintings of Andrew Alba occupy a space where race, ethnic identity, gender, sexual orientation and even immigrant status all intersect. These portraits share the theme of coping with various levels of exclusion from larger communities. They tell the stories of the manifold realities of life for Latinx (a gender-neutral term replacing Latino/Latina) individuals.
Alba's artistic style renders his subjects somewhat abstracted, yet expressive through vibrant color, gesture and facial expression. Some details are absent, which makes it appear as though the struggle for identity occurs on the very basic level of physical existence. It's representative of the ways minorities are often viewed by white Americans—through the lens of stereotypes, instead of as complete, complex human beings.
This artist's work shows that identity is an intricate synthesis of many different elements, and you can't reduce people to their surface characteristics. At the same time, this series acknowledges that we often must rely on initial perceptions—which can be manipulated to some degree. We can also play with language, whether it's place names, given names or even on logos of sports teams; they all convey various clues about who we are, sometimes deceptively. The act of looking is also the act of reading and deciphering cultural symbols. It's all very much a sign of the times. (Brian Staker)
Andrew Alba: Rainbow Variance @ Mestizo Institute of Culture & Arts, 631 W. North Temple, Ste. 700, 801-361-5662, through Oct. 14. Facebook.com/MestizoArts
FRIDAY 9.30
Pioneer Theatre Co.: The Last Ship
Plenty of pop songwriters—from Rupert Holmes to Elton John—have attempted the transition from Top 40 to Broadway. And while results have been mixed, don't be dissuaded by the notion that The Last Ship features songs written by Sting. This man knows how to write a musical.
The story, too, comes from his experience, though John Logan and Brian Yorkey wrote the book based on Sting's childhood in the English shipbuilding town of Wallsend. As the local economy collapses with the loss of shipyard jobs, town priest Father O'Brien (John Jellison) encourages the workers to occupy the shipyard and create one final vessel to salvage their collective pride. And this mission coincides with the return to town of prodigal son Gideon (Bryant Martin), who 15 years earlier left behind life in Wallsend, as well as Meg (Ruthie Stephens), the girl he once loved.
The script tries to fashion a romantic triangle also involving Meg's patient boyfriend Arthur (Paul Castree), but that subplot never finds a real emotional hook. It's a much stronger story when focused on Father O'Brien's radical ministry, and the rising and falling of the town's collective spirits. But the real pleasant surprise is the terrific collection of songs, which recycles a couple of 1990s Sting solo hits, yet mostly shows an understanding of how those songs should function as both earworms and parts of the narrative. When the rousing production number "We Got Now't Else" echoes through the theater, it's impossible to keep the smile off your face that comes from a composer who's doing his job well. (Scott Renshaw)
The Last Ship @ Pioneer Theatre Co., 300 S. 1400 East, 801-581-6961, through Oct. 1, Thursday, 7 p.m.; Friday-Saturday, 7:30 p.m., $40-$62. PioneerTheatre.org
SATURDAY 10.1
Magic Men Live
Exploiting feminine fantasies as played out in clubs across the country, Magic Mike and its sequel brought hot-looking guys in skimpy shorts to big screens everywhere. Consequently, pelvic-thrusting, hip-shaking male strippers have become mainstream entertainment. Granted, guys have been busting their buns on and off the stage for decades now, but Magic Men Live takes the action to a new level of, ummm, arousal and enticement.
Still, it's apparently not enough to feature dancing dudes prancing around in outfits likely inspired by the same costume designs the Village People employed back in the day. Not when you're competing with Fifty Shades of Grey and the other hints of soft-core porn readily available 24/7. So it's wise that the Magic Men opted to turn up the heat by adding scripted stories, special effects and mega set designs to enhance the fantasy. It's not Shakespeare, but the experience ought to be engaging enough to titillate an audience that's already fairly frenzied, and then escalate that enthusiasm to near hysteria.
Then again, there might be some attendees who claim they're not enticed by striptease, and would rather experience the deeper drama that unfolds onstage. OK, that's a joke. We know that the real attention-getters here are the abs, not the acting. As far as any real magic's concerned, suffice it to say there's nothing up their sleeves, because sleeves are fairly negligible. All that's hidden are whatever's sequestered inside those skivvies ... and, be assured, only just barely. (Lee Zimmerman)
Magic Men Live @ The Complex, 536 W. 100 South, Oct. 1, 8 p.m., $26-$124. TheComplexSLC.com
SATURDAY 10.1
Utah Paranormal Fest
The month of spooky corn mazes, haunted houses and horror movies is upon us, and kicking it all off is the Utah Paranormal Festival.
One of the first supernatural-themed events in Utah this October, this festival has everything for the true believer and questioning skeptic alike. Approximately 40 booths sell items from gemstones to handmade soap; panels address psychics and UFO sightings; guest speakers discuss topics including paganism and hauntings. Hosted by local paranormal investigation team Badass Spirit Outlaws, it's a family-friendly affair, and children 12 and under get in free.
Eva Lietz, cofounder of the group, says the festival's broad array of topics and panel experts offer a chance for people to become familiar with the paranormal world. "There are so many people out there who are interested in the paranormal, or have activity in their homes or business that don't know where to turn," she says. "We hope to bring more awareness about the paranormal and spirit world ... not only to educate, but to also let them see that there really is nothing to fear about the paranormal."
After the event closes, visitors can listen for the laughing and whispering of children in an after-hours ghost hunt at the Off Broadway Theatre (272 S. Main, midnight-4 a.m.). Proceeds from this separately ticketed event ($40 per person/$65 for two) fund the festival, and tickets are available via the "Off Broadway Theatre Investigation for 2016 Utah Paranormal Festival" Facebook page. (Kylee Ehmann)
Utah Paranormal Festival @ Karen Gail Miller Conference Center, 9750 S. 300 West, Ste. 150E, Sandy, 801-502-7444, noon-9 p.m., $10/$15 at door, UtahParanormalFest.WixSite.com/UtahParanormalFest