THURSDAY 9/21
Salty Cricket Composers Collective: Liederabend
Say what you will about instrumental ensembles; there's no more emotive or intimate form of expression than the human voice. It can evoke laughter, bring tears, communicate the deepest of feelings or the most fleeting of circumstances. From opera to oratorio, throughout history, many of the great composers recognized music's transcendent ability to coax emotion from the sustained strains of inner conviction, and used it to create works that continue to resonate through the present. Emotion is indeed timeless, despite a changing world.
It's not surprising then that The Salty Cricket Composers Collective—an organization dedicated to presenting contemporary classical music performances, and fostering the talents of Utah-based composers and musicians—would choose to explore those vocal possibilities, accompanied by cello and piano, with Liederabend. Translated from German, the title means simply "an evening of song." However, it promises to be far more than that. Salty Cricket concerts tend to be challenging, dynamic and wholly unpredictable.
"Singing is an instinctual part of humanity and music," Salty Cricket's board chairperson Crystal Young-Otterstrom says. "Some of the music is avant-garde, some is tonal, some is song-like. Some of the music is emotional, some funny. You'll experience the range of humanity," she says of Liederabend.
That's their mission: to present thrilling, distinctive performances. It's an evening that might inspire you to raise your own voice in appreciation. (Lee Zimmerman)
Salty Cricket Composers Collective: Liederbend @ Urban Arts Gallery, 137 S. Rio Grande Street, Sept. 21, 7:30 p.m., $7.50-$20, saltycricket.org
THURSDAY 9/21
Riot Act Theatre: An Enemy of the People
It might be hard to believe, given the timeliness of the subject matter, but Riot Act Theatre's creative director Whit Hertford chose an adaptation of Henrik Ibsen's An Enemy of the People as part of the season before American politics went crazy. Yet the 1882 play—about a doctor daring to claim that his town's popular public baths are unsafe—serves as a compelling look at how groupthink can be dangerous to a society. "In America, to be critical of democracy is really taboo," Hertford says.
For Riot Act's Salt Lake City production, Hertford has adapted the controversial issue at the heart of the play from unclean water to one more fitting to our own location: air quality. "All you have to do is look out your window," Hertford says. "That was a really easy change, and it kind of wrote itself."
The most significant element of Ibsen's play, however, is that it doesn't provide a conflict where it's easy to take sides between the town's whistle-blower, Thomas Stockman (Andy Rindlisbach, pictured), and those who believe the local economy will be shattered by pursuing Stockman's allegations. This production dives into that uncertainty head-first by breaking the fourth wall and involving audience members in the debate. It's a risky approach, but Hertford thinks he's trying to be prepared for any eventuality. "In case nobody says anything, what happens?" he says. "If a lot of people say one thing, what happens? ... What I try to never do is come up with an answer." (Scott Renshaw)
Riot Act Theatre: An Enemy of the People @ The Wherehaüs, 175 E. 200 South, 801-882-1949, through Oct. 7, Wednesday-Sunday, 7:30 p.m., $17-$19, PWYC Sept. 20, riotacttheatre.com
FRIDAY 9/22
Preacher Lawson
Asked by the judges on America's Got Talent what he does for a living, Preacher Lawson replied, "I'm a stand-up comedian ... which means I'm unemployed and I do stand-up on the side."
That comment sums up Preacher's self-effacing style: brash, effusive and intentionally absurd on the one hand, yet decidedly down to earth on the other. Take this intro posted on his website: "I want to give a special thank you to yourself for utilizing this page, because I have to pay every month for it and I'm not rich. I had to choose between this website or Netflix. You made it worth missing The Flash."
It's that easy, agreeable attitude that has helped to assure Lawson's success. Born in Portland, Ore., raised in Memphis and starting his career in Orlando, Fla., he started writing jokes at age 16, mainly to adapt to his ever-changing environs. "The one universal language everyone had in common was laughter," he reflects on his website. "Even when I wasn't the funniest, I was still the loudest."
He began stand-up at 17, and soon found himself warming up for various headline comedians. In 2015, he was chosen "Funniest Comedian in Florida," and a year later he took top prize at the Seattle International Comedy Competition, leading up to his appearance on the live rounds of America's Got Talent this season.
For his part, Lawson remains philosophical. "Comedy is important," he writes in an email. "It's impossible to laugh without using a smile." Amen to that. (LZ)
Preacher Lawson @ Wiseguys SLC, 194 S. 400 West, Phone 801-532-5233, Sept. 22-23, 7 & 9:30 p.m., $15, wiseguyscomedy.com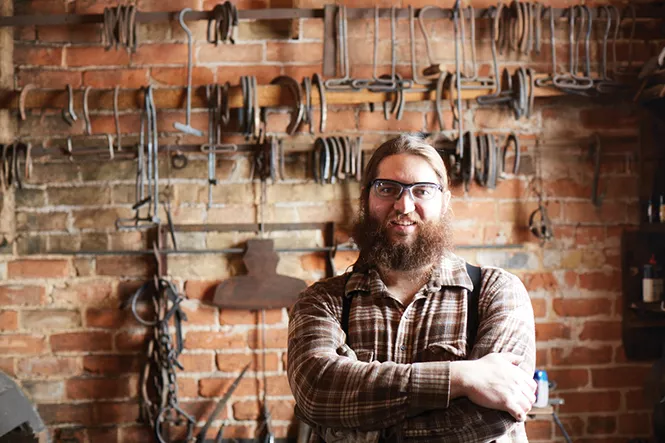 Courtesy Aaron Richardson
SATURDAY 9/23
Norse Fest
Nordic music will ring in the halls of the Natural History Museum of Utah, where guests can experience traditional dance, feast like true Vikings and, along the way, learn a little history.
Despite evidence to the contrary, many still think of Vikings as dull slaying machines. An MLitt in Celtic and Viking Archaeology Kristina Stelter, who will present a lecture at the event, says they were actually a clean people who carried combs, wore wool and even donned fancy jewelry on occasion. "To modern standards," Stelter says in an email interview, "this is not 'scary' or 'barbaric,' and thus doesn't fit nicely into our pop narrative." Although killing innocent people was terrible, she adds, "They certainly were not leather-clad heathens who only appeared from the shadows to pillage and slaughter."
During NHMU's event, you can explore your own non-pillaging Viking roots with the LDS Family History Library researchers. According to Icelandic histories, Vikings might've even been the first Europeans to explore North America, further explaining their far-reaching genetic influence. "Their ships were flexible and had a shallow hull, allowing for open-sea and shallow-river navigation," Stelter says.
Aaron Richardson, a Norse Fest historic interpreter and smithy (pictured), says blacksmiths were largely to thank: "They were responsible for many of the tools used in shipbuilding and the tools of other craftsmen." Thankfully, the Norse Fest will represent many such different kinds of craftsmen, including a Scandinavian rug weaver, a tin box constructor and a fiddle maker. It'll host you, too—for the price of admission. (Rex Magana)
Norse Fest @ Natural History Museum of Utah, 301 Wakara Way, 801-581-4303, Sept. 23, 10 a.m.-5 p.m., included with regular museum admission, nhmu.utah.edu