THURSDAY 9/7
Salt Lake Acting Co.: Surely Goodness and Mercy
In a state as notoriously racially homogenous as Utah, it can be a challenge to present a play about racial minorities and not have it become a sweeping statement about The Way Things Are for members of that group. When Alicia Washington agreed to direct Salt Lake Acting Co.'s production of Surely Goodness and Mercy—New Jersey-based playwright Chisa Hutchinson's story of an African-American boy's friendship with a cranky school cafeteria lady—she recalls having a candid conversation with the company's management team.
"For the story to ring true for me," Washington says, "the characters need to come across as fleshed-out and relatable. "The last thing I wanted people to do was walk out feeling, 'Well, that was a show about African-Americans, and now I understand their culture better.'"
Instead, Washington wanted a focus on the story's small-scale, simple tale about kindness—something that Washington described as "what is to be there as a friend and an ally; like a Cosby Show episode, but a little more gritty." It was also a story that presented some unique challenges for a director, since it required casting younger, less-experienced actors in lead roles, and splitting the casting so the actors only performed alternate shows. "They take care of each other on stage," Washington says of her cast members. "I just wanted to create this arena where they felt encouragement every day." That's a fitting approach to a story Washington believes is about "a community of people taking care of their own, and how those stories sometimes go under the radar." (Scott Renshaw)
Surely Goodness and Mercy @ Salt Lake Acting Co., 168 W. 500 North, 801-363-7522, through Oct. 15; Wednesday-Saturday, 7:30 p.m.; Sundays, 1 & 6 p.m.; $24-$43, saltlakeactingcompany.org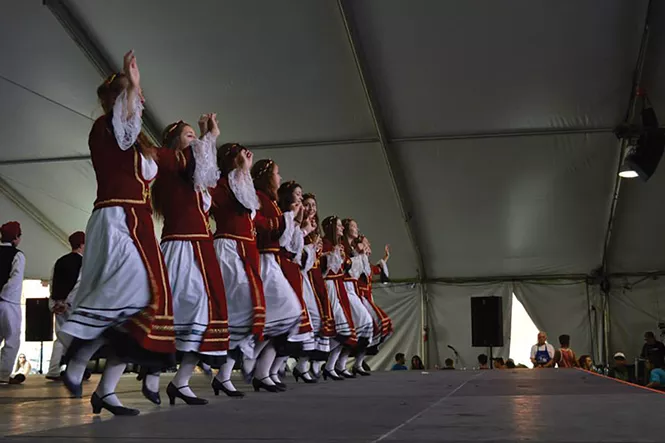 FRIDAY 9/8
Salt Lake Greek Festival
The popular clichés that typically accompany any mention of Greek heritage—from Zorba the Greek to My Big Fat Greek Wedding—offer an incomplete view of a particularly hallowed legacy. It's certainly not a surprise to most people that ancient Greece was the birthplace of democracy, and that its mythology became the basis of modern storytelling in many kindred forms.
Consequently, any celebration of Greek culture becomes bigger than an isolated event. It reflects both a timeless legacy and lessons learned that can easily be applied to modern society. Likewise, the invitation offered by the Greek Orthodox community of Greater Salt Lake City to share in its celebration of tradition, heritage and culture bears heeding. One of the city's largest annual ethnic festivals, it provides people of all ages the opportunity to dine on native delicacies like dolmathes, souvlaki and spanakopita, sample a rich array of arts and crafts and to get swept up in the rousing music and folk dance the Greeks are justifiably famous for providing.
"Become Hellenes for a weekend by sharing in our rich ethnic culture," says the church's new priest, the Very Reverend Archimandrite George Nikas. "Our community is delighted to share this beautiful cultural event with all Utahns, as we come together for a celebration of life, friendship and thanksgiving." Given the turmoil that's so prevalent in our country and our world, the timing couldn't be better. (Lee Zimmerman)
Salt Lake Greek Festival @ Holy Trinity Cathedral Courtyard, 279 S. 300 West; Friday & Saturday, Sept. 8-9, 11 a.m.-11 p.m.; Sunday, Sept. 10, 11 a.m.-8 p.m.; $3 (children 5 and under free), saltlakegreekfestival.com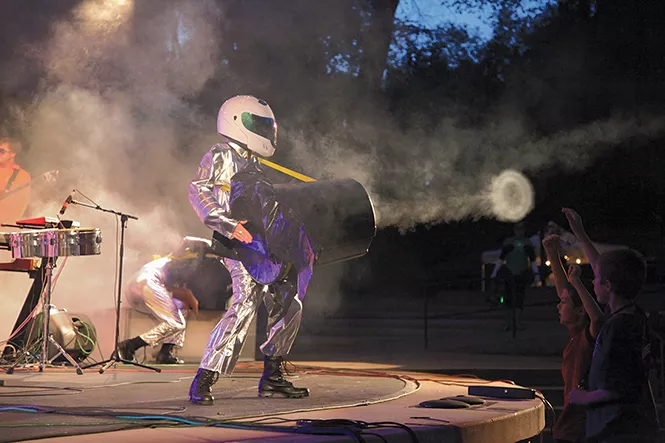 FRIDAY 9/8
Gangrene Short Comedy Film Festival
Back in June, ABC premiered The Gong Show, a revival of the hit talent show from the '70s and '80s. Now, the original gong has made its way to the 17th annual Gangrene Comedy Film Festival for an evening of family-friendly talent acts, short films and live music.
One reason the festival has continued for so long is its wide variety of entertainment. "We actually have lots of fans who come for the live parts of the show more so than for the films," founding member Craig Nybo says. Performances have included a motorcycle daredevil, luchador wrestlers and a mime—accompanied, of course, by Stephen Hawking (sort of) singing David Bowie's "Space Oddity."
The festival's music choices are well-known for their eccentricity—a steampunk rock opera performed by the band Rustmonster, or the hairy Wasasquatch Bigfoot band covering such classics as Spice Girls' "Wannabe." This year's show promises the return of Sparkling Planet, a smaller-sized big band that'll play authentic Gong Show music.
The festival is not a large one, but thanks to an active and open community, has already gathered a cult following more feverish than the Brontë sisters. One reason for this is its simple premise. "The festival originated," Nybo says, "as a large backyard party where films were shown on a bedsheet stretched between two volleyball posts." Although the posts and sheet have seen their time come and go, the films have continued to get better, and the Gangrene adage "funny wins" still rings just as true. (Rex Magana)
Gangrene Short Comedy Film Festival @ Ed Kenley Amphitheater, 403 N. Wasatch Road, Layton, Sept. 8, 7 p.m. & 9:30 p.m., $10/$40 family pass, gangreneproductions.com
SATURDAY 9/9
Colin Mochrie & Brad Sherwood: Scared Scriptless
Longtime fans of the TV series Whose Line Is It Anyway?—whether in its British or American versions—might think they have a sense for what to expect from an evening of improvisational comedy from two of the show's regular cast members, Colin Mochrie and Brad Sherwood. But while many of the fundamentals might be the same, it's a bit of a different ball game when it's a two-man show, compared to a larger troupe with a moderator.
"We had to figure out ways to adapt games to either be self-run by us while we're playing, or give that power to the audience," Sherwood says. "But you also have to make it fairly fool-proof. An audience member pulled up out of the crowd doesn't necessarily have the comic timing. You have to make it turnkey for them."
Even the kind of venue—an amphitheater rather than a small comedy club or a studio audience—changes the dynamic of audience-generated improvisational comedy. "When you ask a theater of 150 people [for a suggestion]," Mochrie says, "it's different from 2,000 people yelling 'gynecologist' at you."
Despite the challenges, Mochrie and Sherwood have mastered the art, after more than 25 years working together, of making a show that's different every night run like a well-oiled machine. "Improv seems very casual and informal," Sherwood says, "but we've turned it into a big comedy show. We're doing scenes and goofiness, so it has this element of danger. It's like a play that keeps messing up, and we turn it into something that's still working and funny." (SR)
Colin Mochrie & Brad Sherwood: Scared Scriptless @ Sandy Amphitheater, 1245 E. 9400 South, 801-568-2787, Sept. 9, 8 p.m., $18-$35, sandyamp.com