VISUAL ARTS
By Jamie Gadette
Those familiar with Salt Lake City's art scene recognize local curator/entrepreneur KENNY RICHES as one hell of an altruistic guy. This perspective is only partly accurate. There are a few things to keep in mind when viewing SIX SINKING SHIPS & I'M GONE, his first and final exhibit at Kayo before he turns his gallery over to Shilo Jackson and departs for new glories in New York City.
Riches launched both the Avenues Frame Shop and Kayo Gallery to support emerging artists and draw attention to local talent, but he also kept busy simply to save his sanity. In 2004, Riches' mother suffered a severe stroke. She recovered, but the experience inspired Riches to start doing something meaningful. He opened the businesses, started the short-lived ArtSpeak 'zine, partnered in a short-lived all-ages venue, moved Kayo down the block, partnered with Frosty Darling, partnered with Redemption Department …
All this work and no time for painting, which was always Riches' primary passion. "While my enthusiasm and obsession with Broadway and our art community was great, the neglect of my own artwork was only sinking deeper," he says. When the proverbial quarter-life crisis hit hard, he kept busy to save himself but also to reach out to repair broken bridges. He discovered that "the more closure I find, the more art I produce. … Now I find myself with a huge wall I had built crumbling down, only to acknowledge the relationships that matter most. Hopefully, that will bring a new insight when viewing my paintings."
And, by viewing his paintings, you might leave with the impression of Riches as not just an altruistic business owner, but as an artist—and one hell of a guy.

Kenny Riches: Six Sinking Ships & I'm Gone … @ Kayo Gallery, 177 E. 300 South, 450-5408, through Dec. 31.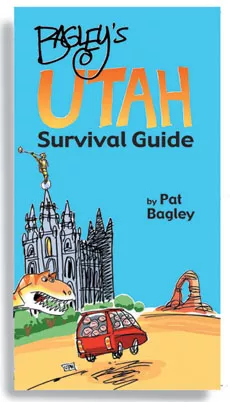 BOOKS
By Jamie Gadette
Six years ago, while the rest of the nation grappled with the consequences of terrorist attacks on the World Trade Center and the Pentagon, Utah government officials bunkered down at the capitol to resolve an entirely different crisis: the decline of Jell-O as the Beehive State's official snack food.

The ensuing Senate resolution can now be viewed in its entirety thanks to editorial cartoonist PAT BAGLEY, who includes the lengthy text in his new Bagley's Utah Survival Guide, a handy book that arrives just in time for the holidays. Now, when your uncle or mother-in-law asks, "Are all polygamists as sexy as [Big Love's] Chloë Sevigny and Bill Paxton?" or "What's with all this 3.2 nonsense?" simply hand them this slim, attractive state primer full of helpful facts and obscure trivia including notorious Utahns (Osmonds, Ken Jennings, Reed Smoot), common words/phrases (fark, crick, ignernt, presheeyatchya) and, of course, the ins and outs of tippling (3.2 or otherwise).

Bagley brings to his work a refreshing objectivity, poking fun at Utah's quirks without ridiculing the people or institutions that inspire them. Even his Clueless George series—depicting President Bush as a childlike monkey—applies equal opportunity satire to both conservative and liberal policymakers and pundits. In Survival Guide, he even chuckles at himself. In the 2001 gelatin resolution, the Senate supported its case by noting, among other items, "Whereas in 1997, Salt Lake Tribune columnist Pat Bagley drew a week-long series of political cartoons showcasing Jell-O." It doesn't get more authentic than that.


Pat Bagley @ Sam Weller's Bookstore, 254 S. Main, 328-0703, Thursday, Dec. 13, 11 a.m.-1 p.m.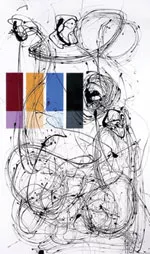 VISUAL ARTS
By Brian Staker
Consumer culture has served as a fertile field of artistic subject matter, going back to pop artists like Andy Warhol and beyond. Coming out of civil unrest in late-1960s Mexico, RODOLFO JUAREZ added a more political component to his art. Migrating to America, he observed the other side of inequality as he experienced the stress of living in a First World country. It's not ironic at all that the epiphany that gave him the brainstorm for his paintings came when gazing at the bar code on a bottle of Zoloft. The catharsis that came about—represented in his new exhibit THE ART OF CONSUMPTION—turned art into his own personal medication.
Painting the familiar zebra stripes on large canvases displays a minimalist serenity, as well as an eerie beauty. Brushed in tar, these works also embody the omnipresence of oil and industrial machinery in modern life. "As a society, we have allowed human beings to be reduced to nothing more than a bar code, an impersonal generic label for the purpose of economic calculation," Juarez says, and the works in this collection are his reaction. In Juarez's reflections to the ubiquitous panels on a panoply of products, he somehow manages a rendering that detaches us just enough to remind us that our humanity can't be contained by those oppressive bars.

The Art of Consumption: Rodolfo Juarez @ The Pickle Company, 741 S. 400 West, 450-8977, Dec. 7-Jan. 19.

HERE & NOW Other New Happenings This Week
ALCHEMY See cover feature. Rose Wagner Center, 138 W. 300 South, Dec. 13-15, 355-ARTS. RirieWoodbury.com
IT'S A WONDERFUL LIFE Odyssey Dance Theatre presents the third annual production of its dance interpretation of the holiday classic. Kingsbury Hall, 1395 E. Presidents Circle, 581-7100, Dec. 13-22. OdysseyDance.com
DEBBIE STOLLER The needleworking author of Stitch 'n' Bitch presents her new book, Son of Stitch 'N Bitch, see Five Spot, p. 14. City Library Auditorium, 210 E. 400 South, Thursday, Dec. 13, 7 p.m.
CAIN LOPEZ Latino comedy? In Utah? ¡Qué loco! Wiseguys Comedy Café, 3500 S. 2200 West, West Valley, 463-2909, Dec. 13-16. WiseguysComedy.com
UTAH SYMPHONY Andrew Litton conducts Vaughan Williams' Dona Nobis Pacem, accompanied by the Utah Symphony Chorus. Abravanel Hall, 123 W. South Temple, 533-NOTE, Dec. 14-15, 8 p.m. UtahSymphonyOpera.org
SCOTT GUSTAFSON The artist and illustrator makes two local appearances. Repartee Gallery, 575 University Parkway, Orem, Friday, Dec. 14, 6-9 p.m.; Repartee Gallery, 175 N. 500 West, Bountiful, Saturday, Dec. 15, 1-4 p.m. ReparteeGallery.com
SALT LAKE CHORAL ARTISTS Holiday concert including classic carols and Bach's "Magnificat." Libby Gardner Concert Hall, 1395 E. Presidents Circle, 581-7100, Dec. 14-15, 7:30 p.m. SaltLakeChoralArtists.org
A BARBERSHOP CHRISTMAS The Beehive Statesmen harmonize the holiday hits. Utah Cultural Celebration Center, 1355 W. 3100 South, 965-5100, Monday, Dec. 17, 7 p.m.
LOS HERMANOS DE LOS ANDES Special "Christmas in the Andes" concert featuring traditional pipes and drums. Utah Cultural Celebration Center, 1355 W. 3100 South, 965-5100, Tuesday, Dec. 18, 7 p.m.
THE OUTLAW JOSEY WALES Utah Museum of Fine Arts associate curator Donna Poulton leads a post-screening discussion in conjunction with the gallery's ongoing "Picturing the West" exhibit. Utah Museum of Fine Arts, 410 Campus Center Dr., 581-7332, Wednesday, Dec. 19, 3 p.m.