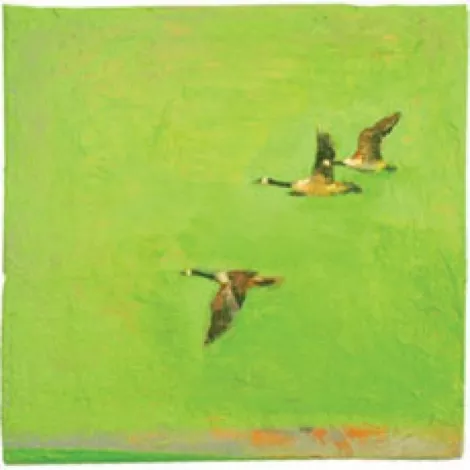 Visual Art
By Dallas Robbins
During the monthly Gallery Stroll in Park City, the Phoenix Gallery will hold its winter kickoff event, SMALL: THE 2nd ANNUAL MINIATURE PAINTING EXHIBIT featuring contemporary paintings that are … well, small. But paintings are just part of the experience at this gallery during the "Sax and Sushi" opening reception. In honor of the theme of small, there will also be funky music performed by the Artsounds Jazz Trio, along with bite-size sushi for hungry patrons provided by Done to Your Taste.
Among the featured artists is Holly Mae Pendergast, voted Best Utah Painter by City Weekly readers in the 2007 Artys balloting. Known for her figurative portraits and natural landscapes, Pendergast uses fragile lines expressing a subtle technique that offers the eye an ethereal expression of people and places.
Other artists who will discuss their work include Curtis Olsen and Carole Wade, along with Greg Ragland, whose color-field paintings incorporate bold background colors interrupted with the flight of birds ("Three Geese in Green" is pictured). Olsen, known for his mixed media, uses metal, photos, wood, paint, paper and plaster to explore the Western landscape and skies, offering a provocative and colorful view without being pretentious. Artist Susan Schwartz will also be on hand to sign her new book Natural Revelations featuring her landscape work.
With so much to offer at one show—music, food, artists and their work—don't miss such an opportunity to experience the art scene in Park City.

Small: The 2nd Annual Miniature Painting Exhibit, "Sax & Sushi" Reception @ The Phoenix Gallery, 508 Main Street, Park City, 435-649-1006. Friday, Nov 30, 6 p.m.-9pm.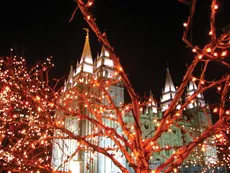 Outings
By Geoff Griffin
What makes Christmas in Utah unique is that the choicest piece of real estate in the state turns into a winter wonderland of lights every year between the day after Thanksgiving and New Year's Day. Regardless of your religious persuasion, or the grievances you've built up against the local dominant religion and/or adherents who bug the hell out of you during the other 11 months of the year, this is the time to admit that (like it or not) you live in the Beehive State, and just enjoy the most amazing display of luminosity to be found in one Utah place—which just happens to be Temple Square. Whatever your views on the Holy Trinity, revealed scripture or Mitt Romney, the lights and life-size Nativity are a holiday tradition that anyone who celebrates Christmas can enjoy.
For those who don't Mo', don't be worried about missionaries being on the prowl. Yes, they are there on the Square, but the crowds are too big and the cold too menacing to let them zero in on you. The crowds and cold merely add to the fun and feeling of the holiday season as you wander around soaking in the night brightness during the darkest days of the year.
A variety of concerts are also available nightly at eight different locations in and around Temple Square, including "El Regalo de Navidad," a celebration of carols from Spain and Latin America running Dec. 6-8, and the King's Singers appearing with the Mo-Tab Choir Dec. 13-16.
Christmas lights @ Temple Square, sunset-10 p.m., Nov. 23-Jan. 1. LDS.org/events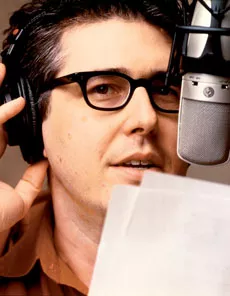 Talks
By Tawnya Cazier
People want to have his babies. Some even consider IRA GLASS—the guy with the big Buddy Holly spectacles—a God.

Glass is the host and producer of National Public Radio's weekly This American Life, which shares the amazing true stories of real people. Some are funny, some are sad, and all are surprising.

And it's visual. This American Life isn't political commentary or a call-in show. It's unlike anything else on radio, unlike anything previously on radio: "stories that are like movies for radio," explains the show's Website.

That's primarily because of Glass, a master storyteller. He employs the oldest narrative structure in the world: main character goes through a series of dramatic events leading to a climax and resolution. But, unlike typical storytelling, Glass uses his observations to create added reflection. Suddenly, the words draw pictures in your mind, and the stories become powerful.

Of course, Glass' distinctive voice, easy laughter and nonjudgmental style don't hurt. He takes great pleasure in his stories: a Hasidic Jew discovers rock music and becomes an underground rock star; a gun-hating woman returns home to reconnect with her gunsmith father. "Poultry Slam," a show dedicated entirely to chickens, turkey and other fowl, airs around Thanksgiving.

Ira Glass has found a niche. His stories connect people on an intimate, human level. With everything from a Peabody to an International Documentary Association award under his belt, it's no wonder nearly 1.7 million people tune in every week. Time magazine's "Best Radio Host in America" is the ultimate raconteur and the hippest thing on the radio.


Ira Glass: Radio Stories and Other Stories @ Kingsbury Hall, 581-7100, Sunday, Dec. 2, 2 p.m. KingTix.com.


Here & Now Other New Happenings This Week

U.S. JUNIOR NATIONALS FIGURE SKATING CHAMPIONSHIPS The Olympians of tomorrow, today! Salt Lake City Sports Complex, 645 S. Guardsman Way, Nov. 28–Dec. 1, 8 a.m.–9 p.m. 467-TIXX

EXITING Seven University of Utah Modern Dance department graduate students show off their thesis projects. University of Utah Marriott Center for Dance, 330 S. 1500 East, 581-7327, Nov. 29–Dec. 1, 7:30 p.m. Dance.Utah.edu

BLITHE SPIRIT Pinnacle Acting Company presents the Noel Coward comedy about a haunted country house. Midvale Performing Arts Center, 695 W. Center St., Nov. 29–Dec. 8, 674-7956. PinnacleActingCompany.com

JENNA BUSH The First Daughter discusses her book Ana's Story, inspired by her recent UNICEF internship in Central America and the Caribbean. City Library Auditorium, 210 E. 400 South, Friday, Nov. 30, 7 p.m. Tickets available at Sam Weller's Bookstore, 254 S. Main

PATRICIA SCHULTZ The New York Times bestselling travel writer visits Salt Lake City to let us know about 1,000 Places to See in the USA and Canada Before You Die. The King's English Bookshop, 1511 S. 1500 East, 484-9100, Friday, Nov. 30, 7 p.m.

SLIPPERY KITTENS Salt Lake City's burlesque queens present an evening of globe-hopping exotic costumes—from German beer hall to the pyramids of Egypt—in Around the World in Eighty Minutes. Bar Deluxe, 666 S. State, 521-5255, Saturday, Dec. 1, 10 p.m.

A CHRISTMAS CAROL Would the holiday season be complete without hearing Tiny Tim say "God bless us, every one" at least once? Hale Centre Theatre, 3333 S. Decker Lake Dr., 984-9000, Dec. 3–22. HaleCentreTheatre.org

FREE HOLIDAY HANDBELL CONCERT The Utah Valley Handbell ringers ring in the season—ha!—with "Sleigh Ride," the "Hallelujah Chorus" and other Christmas favorites. Cathedral of the Madeleine, 331 E. South Temple, 360-0307, Tuesday, Dec. 4, 8 p.m. UtahBells.com