BOOKS
By Scott Renshaw
The title THE MORMON QUEST FOR THE PRESIDENCY might be a touch misleading. After all, of the 10 individuals profiled who ran for president of the United States—either for a major-party nomination, or as "protest" candidates—only six were actually active members of the LDS church at the time they ran. There's also a hint of the ominously monolithic in the phrasing that downplays the wide range of political philosophies represented here.
Nevertheless, authors NEWELL G. BRINGHURST & CRAIG L. FOSTER fill their volume with fascinating historical tidbits. While Mitt Romney's failed recent bid for the Republican nomination provides the jumping-off point, the authors provide intriguing snapshots of both the individual candidates, and the public perception of Mormons in America over the past 150 years. The church's awkward history with blacks is well known, but what about the fact that Joseph Smith's own protest candidacy in 1844 found him courting the abolitionist vote? Or the notion that Mo Udall's run against Jimmy Carter for the 1976 Democratic nomination brought him more controversy for being an ex-Mormon than for being a self-professed agnostic? And a detailed study of George Romney's run in 1968 provides a compelling context for the successes and failures of his son's attempt 40 years later. Anchored by the stories of its subjects, the volume becomes a comprehensive portrait of politicized Mormon faith on the national level.
The Mormon Quest for the Presidency, John Whitmer Books, 2008. Authors Newell G. Bringhurst & Craig L. Foster @ Sam Weller's Bookstore, 254 S. Main, 328-2586, Thursday, Aug. 14, 7 p.m. SamWellers.com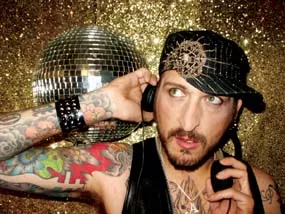 CLUBS
By Princess Kennedy
Once again, mix master and promoter extraordinaire DJ/DC goes above and beyond to bring modern celebrity to the Salt Lake City club scene. His multi-faceted night "Dance Evolution" has brought the cream o' the crop of the national underground, and this week is no exception: electro sensation and fashion impresario MR. ANTHONY takes over the patio.
Based in San Francisco, Tony Lymon has ruled the Northwestern coastal clubs for more than 15 years, beginning with the controversial Club Jesus in the dark industrial days of the early '90s, then the equally trashy spin-offs Sodom, Hellbound and Ritual (a fetish club). He later joined forces with live acts Lords of Acid, My Life With the Thrill Kill Cult and Crash Worship. This rich history—combined with his more recent collaborations including The B-52s, Peaches, Avenue D and Ana Matronic of the Scissor Sisters—has led him to a new post-apocalyptic, electro-bastard pop sound, with live performance thrown in. His new party ventures—Unisexy, Guilty and Disco Hospital—are among the most revered and successful happenings in California.
"Electro Pop is the star of the party, and everyone is flocking to it," says Lymon. "There's nothing cooler than playing music that you love and getting people to stand up and dance to it. … I hope you like my sound as much as I like playing it for you." Surrounded by underground art freaks, tranny muses and fashion designers, summer slumming with Mr. Anthony will be, at the very least, Ferocitas Electro Dominus.
Mr. Anthony @ Trapp Door, 615 W. 100 South, 533-0173, Thursday, Aug. 14, 9 p.m. TrappDoor.com
VISUAL ART
By Jacob Stringer
The whole endeavor begins with 25 hours of face-to-face time between two participants—one mentor, one apprentice—and it ends with a world-class gallery exhibition by 18 artists. It can also lead to changed lives, altered perspectives and innovative artwork.
The 14TH ANNUAL PARTNERS EXHIBIT—brought to you by Art Access and Very Special Arts of Utah—is a unique collaboration between nine emerging adult artists working as apprentices with nine experienced professionals ("partners" Trent Alvey, left, and Nicholas Johnson are pictured). Participating apprentices are culled from a pool of artists who have life circumstances—including many with disabilities—that may inhibit them from fully experiencing the benefits offered by the mainstream art community. Started in 1994, the series had high hopes of better integrating Salt Lake City's art communities and has become a perfect example of how Art Access incorporates the VSA's main objectives of visioning an inclusive society, garnering strength through shared resources and encouraging an artistic expression that unites us all.
The key to achieving these goals resides in making critical connections, ultimately opening once-closed doors for
emerging artists—like the aforementioned 25 hours of time, during which the duos interact within the creative artistic environments of the mentor's studio, working on such things as technique and aesthetic development. This month, the results of such unique interactions are exhibited for community-wide appreciation.
14th annual Partners Exhibit @ Art Access Gallery, 230 S. 500 West #125, 328-0703, Aug. 15-Sept. 12. Opening reception Friday, Aug. 15, 6-9 p.m. AccessArt.org
Here&Now: Other New Happenings This Week
BRIAN REGAN The popular, award-winning comedian brings his stand-up to Utah County. Thanksgiving Point Waterfall Amphitheatre, 3003 Thanksgiving Way, Lehi, 888-672-6040, Aug. 13-15, 8 p.m. ThanksgivingPoint.com
FOOTLOOSE Egyptian Theatre Company's YouTheatre presents a musical stage version of the 1980s Kevin Bacon classic. Egyptian Theatre, 328 Main St., Park City, 435-649-9371, Aug. 14–23, EgyptianTheatreCompany.org
MARILYN MOORE Join the Utah-native fiber artist for an Art Talk—in conjunction with the ongoing exhibit Interweave—about her work. Salt Lake Art Center, 20 S. West Temple, 328-4201, Friday, Aug. 15, 6:30 p.m. SLArtCenter.org
MORMON TABERNACLE CHOIR The MoTabs raise their voices in conjunction with the Utah Symphony in the glorious Utah mountains. Deer Valley Resort, Park City, 533-NOTE, Friday, Aug. 15, 7:30 p.m. UtahSymphony.org
FERRAGOSTO The annual street-fair celebration of Italian-ness in Utah, with games, entertainment and plenty of food. 300 South and 400 West, 979-1997, Saturday, Aug. 16, 10 a.m.–10 p.m. ItalianInUtah.com/Ferragosto
CIVIL WAR DAY Re-enactors bring the War Between the States to life. This Is the Place State Park, 2601 E. Sunnyside Ave., 582-1847, Saturday, Aug. 16, 9 a.m.–5 p.m. ThisIsThePlace.org
TOP OF UTAH COMEDY JAM The state's finest improv groups and stand-up comics present a marathon of mirth. Salt Rock Coffee, 184 20th St., Ogden, Saturday, Aug. 16, 4 p.m.
THE GLASS MENAGERIE Around the Globe Theatre Company delivers its production of Tennessee Williams' classic play about family dysfunction. Rose Wagner Center, 138 W. 300 South, 355-2787, Aug. 18–23, 7:30 p.m. AroundTheGlobeTC.com
A PRAIRIE HOME COMPANION Garrison Keillor brings "The Rhubarb Tour" and the news from Lake Wobegon to town, with musical guest Suzy Bogguss. Red Butte Garden Amphitheatre, 300 Wakara Way, 581-4747, Tuesday, Aug. 19, 7 p.m. RedButteGarden.org