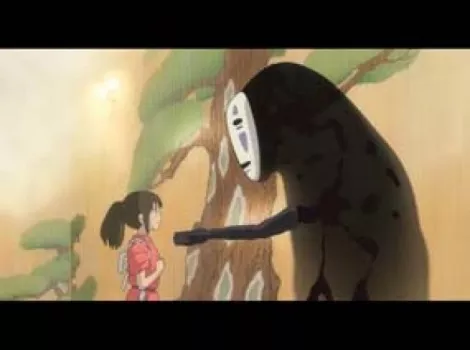 FILM
By Tawnya Cazier
In college, we used to set up a projector and play movies on strung up white sheets. Even the most familiar movies took on a new feeling, like we'd never seen them before. Huddled under blankets, heads propped on pillows, we watched as images flashed across our makeshift screen, the film's soundtrack floating out and away into the night.
The same experience can be had this summer at two outdoor film festivals. The mayor's office and Salt Lake Film Center are sponsoring the PIONEER PARK PICTURE SHOW. Every Friday night during August, the film center will screen various international films at Pioneer Park. This week, look for Spirited Away (pictured), directed by the celebrated Hayao Miyazaki. When a little girl descends into another world, she must battle monsters to save her family.
If Friday nights don't fit into your plans, the SUNDANCE INSTITUTE OUTDOOR FILM FESTIVAL shows films at Gallivan Center on Monday nights through August. Up next is Moulin Rouge directed by Baz Luhrmann. The tragically romantic musical stars Ewan McGregor as a poet who falls in love with courtesan Nicole Kidman.
If you've never been to an outdoor film screening, this is the time to do it. No matter the movie, be prepared to be fully engrossed as each film takes on a richer feel that will engage the entire audience.
Pioneer Park Picture Show @ Pioneer Park, 300 W. 300 South, Fridays in August, dusk. SLCFilmcenter.org; Sundance Outdoor Film Festival @ Gallivan Center, 239 S. Main, Monday nights through August, dusk. Sundance.org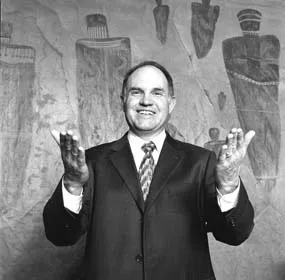 CONCERT
By Christy Karras
INTERMEZZO doesn't set out to be sexy. It just turns out that way.The musicians are generally young and attractive—and, this being summer, women tend to wear spaghetti straps and men forgo ties. But series co-founder David Gray Porter believes the sexiest thing about Intermezzo is the music itself—even though it's classical chamber music, decidedly unsexy to those who know little about it.

Intermezzo aims to change that perception. Its summer concerts combine the new and familiar, incorporating anywhere from one to a handful of musicians. This year's series opened with the world premiere of a new piece by Anthony DiLorenzo, a Salt Lake City resident known around the world for his compositions. Monday's concert, Stay Liven with Livengood (all the shows are cleverly titled), will showcase Utah Symphony clarinetist Lee Livengood (pictured).

"Being a good orchestra musician means your personal voice has to become secondary to the orchestra's voice," says Porter, who also plays with the Utah Symphony (as do most Intermezzo musicians). In a chamber trio or quartet or even as one of 10 musicians onstage, individual players and their instruments can shine.

And since they do everything from fundraising to writing programs themselves, Intermezzo's musicians can be creative. That includes sneaking in "guerrilla programming"—surprise pieces not listed on the program, usually short and avant-garde. It's interesting to see how people respond, Porter says, to something they haven't had time to decide in advance they won't like.


Intermezzo: Stay Liven with Livengood @ Westminster College Gore Concert Hall, 1840 S. 1300 East, 230-2817, Monday, Aug. 11, 7:30 p.m. IntermezzoConcerts.org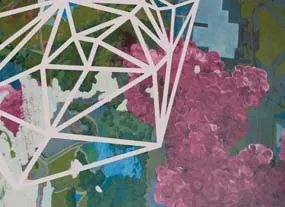 VISUAL ART
By Cara Despain
Just in case you aren't getting your fill of art-related activities in the Salt Lake City area, there's a new space just 30 minutes south that's certainly worth the travel. The recently opened SEGO ART CENTER has a mission similar to that of other Utah art centers: to show progressive contemporary art; to offer artists a venue free of restrictions as well as affordable studio space; and to involve and engage the community, creating an ongoing dialogue about contemporary art. It's a nice hybrid of a smaller independent space and a nonprofit organization capable of bringing national and international artists in addition to locals. For Utah Valley especially, this marks a new and exciting development.

What can you expect from Sego Art Center? In addition to openings for exhibitions—which change monthly—the featured artist(s) will lead a discussion. The ongoing "Evening with the Artist" lecture and discussion series covers a variety of topics, and has so far been a success.

This month, Jared Latimer's show Still Conflict will hang—Latimer's "Mason Ohio" is pictured—and he'll host a discussion on Aug. 28. Over the next few months, Sego will host exciting exhibitions with artists from all over: Amy Wilson and Magdalena Murphy (both New York City-based artists); Adam Bateman and Pam Bowman (guest-curated by Jeff Lambson of the BYU MOA); a juried international show in November; and a new-media group show next January with artists from across Europe and the United States, guest-curated by Salt Lake City artist Chris Coy.


Still Conflict @ Sego Art Center, 169 N. University Ave., Provo, 801-599-0680, through Aug. 30. SegoArts.org


here & now other new happenings this week
RONALD WALKER, RICHARD TURLEY & GLEN LEONARD The co-authors present their new nonfiction book Massacre at Mountain Meadows. Ken Sanders Rare Books, 268 S. 200 East, 521-3819, Friday, Aug. 8, 7 p.m. KenSandersBooks.com

MOVE-IT STUDENT SHOWCASE Participants in the Ririe-Woodbury Dance Company summer program perform in a free showcase of original choreography. Rose Wagner Black Box Theatre, 138 W. 300 South, 297-4241, Friday, Aug. 8, 7:30 p.m. RirieWoodbury.com

HIGHLIGHTS OF GILBERT & SULLIVAN Utah Opera presents great moments from H.M.S. Pinafore, The Mikado, Pirates of Penzance and more. Deer Valley Amphitheater, 533-NOTE, Friday, Aug. 8, 7:30 p.m. UtahSymphonyOpera.org

QUILT TRUNK SHOWS Meet the local artists behind the work at the 35th annual quilt show. Springville Museum of Art, 126 E. 400 South, Springville, 801-489-2727, Aug. 8-9, 11 a.m.–2 p.m. SMOFA.org

RAILROADERS' FESTIVAL Enjoy steam demonstrations, re-enactments of the driving of the "last spike," games and more. Golden Spike National Historic Site, off Highway 83 northwest of Brigham City, 435-471-2209 Saturday, Aug. 9, 9 a.m.–5 p.m. NPS.gov/GOSP

TEDDY BEAR PICNIC Hogle Zoo invites kids of all ages to bring their stuffed friends for a morning of ursine fun. Hogle Zoo, 2600 E. Sunnyside Ave., 584-1729, Saturday, Aug. 9, 10 a.m.–3 p.m. HogleZoo.org

BAZEEN/UTAH 'KO TRISKALARIAK Free performance of traditional Middle Eastern and North African music, plus Basque folk dancing. Chase Home Museum, Liberty Park, 236-7555, Monday, Aug. 11, 7 p.m. Arts.Utah.gov

JO ANN FREED CHAVRÉ Salt Lake City resident reads from and signs her new novel Blessings from Bombay. The King's English Bookshop, 1511 S. 1500 East, 484-9100, Tuesday, Aug. 12, 7 p.m. KingsEnglish.Booksense.com


SHAWN KOMPARENS Wyoming author reads from and signs his novel Jessica Z. Sam Weller's Bookstore, 254 S. Main, 328-2586, Tuesday, Aug. 12, 7 p.m. SamWellers.com