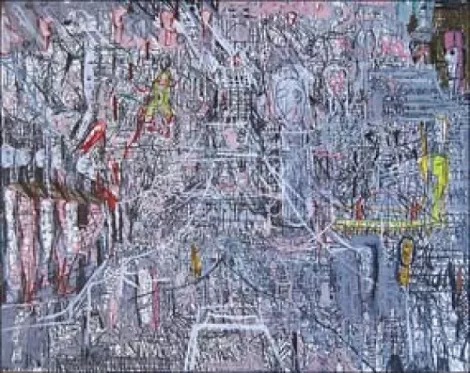 VISUAL ARTS
By Cara Despain
Exhibitions entirely comprised of drawings are a rare delight in Salt Lake City's galleries. It's nice to see a show every now and again that is focused on drawing, so you can dig in and soak up the lines—not just view a sketch that is only a precursor to a painting. MICHAEL HALL's drawings at Phillips Gallery this month are especially packed full of surprises. Hall's works on paper are edge-to-edge masses of pencil and oil-pastel drawing truly laden with line, and amazingly flat and pristine nonetheless ("805 Name" is pictured). Heavily layered and dense, it's fun that they cover so much paper, as in the diptych "The Field" and "Plain."Within the frenzied network of line are little doodle-like characters, giving the work an outsider-artist-meets-academia quality. They appear both childlike and neurotically woven—and the materials used make for a nice and clearly informed finish. Soft graphite on heavy paper—with oil pastel here and there for an ethereal, milky veil or thick blast of color—leave finished pieces with a professional quality. And yet they are delicately tacked to the wall, bare and accessible. You can get your face up nice and close with the materials and see how the pieces are made. That's what's exciting about drawing shows. They are honest and allow a different entrance to the work not always available in other media. Get it while you can. Michael Hall: Drawings (2005-2007) @ Phillips Gallery, 444 E. 200 South, 364-8284, through March 14. Phillips-Gallery.com


SPORTS
By Geoff Griffin
For most people, Feb. 3-Aug. 30 is a beautiful time of year: Valentine's Day, Easter, the return of spring, the lazy days of summer, etc. For hardcore football fans, that span is a 208-day pigskinless death march marking the impossibly slow passage of time between the Giants winning Super Bowl XLII and Utah and BYU kicking off their 2008 seasons. (NFL fans have to wait five days beyond that to Sept. 4.) Spring and summer no longer need be filled with prolonged suffering thanks to the Arena Football League and the invention of off-season football, proving once again that America is the greatest country on earth. The arena version of the game offers enough similarity to regular season football to make it appealing and enough difference to make it interesting. Instead of catching pneumonia at the frozen tundra of Lambeau Field, you get a constant 70 degrees indoors. Instead of three-yards-and-a-cloud-of-dust offenses, you get passing on nearly every down and teams scoring 50 points on a slow night. To make the smaller field less cluttered, they got rid of three guys (mostly the fattest guys) on each side of the ball.Football season starts up again in Salt Lake City on Saturday, March 1, when the UTAH BLAZE open their third season at home against the Arizona Rattlers in the first of eight regular season home games. Suddenly, Aug. 30 doesn't seem so far away. Utah Blaze vs. Arizona Rattlers @ EnergySolutions Arena, 301 W. South Temple, 257-3111, Saturday, March 1, 7 p.m. Tickets $10-$75. UtahBlaze.com


PHOTOGRAPHY
By Kris Heitkamp
Pleading eyes look out from behind the plastic-layered glass of the gas mask. She urgently sucks for untainted air, for a new perspective and for her liberation. Her toxic environment is her prison; the camera lens is her podium. "I Am Human" is stamped across her chest; a reminder that behind the filter cartridge, transparent eye lenses, straps and bands is a human being with a mind, heart and beauty. CAT PALMER was voted Best Photographer in City Weekly's 2007 Artys. Her focal point: women. Through her black and white portraits, she captures the repressed spirit that lingers in a woman's world, observing them in their perseverance and silent vulnerability. Often in stark white dress, her subjects' skins are covered with political grafitti. Etched in black Sharpie, women's arms become words that their gas mask-covered mouths can't speak: start a revolution, I believe in me, peace, I am not Republican, death and regression to ignorance.Although her images promote female strength and empowerment, Palmer doesn't neglect the beauty of the feminine. Within the crisp lines of the black and white print, she finds the soft curves, tender touches and sanctity of a woman's spirit. Using different angles, her perspective is poignant. At the University of Utah's annual Woman's Week Celebration, Palmer is a featured artist who will be exhibiting her work (detail from "Evolution" is shown below). This year's celebration is titled Political Is Personal: Activism Embodied. Palmer's intense portrait of women will inspire intrigue. Cat Palmer @ University of Utah Bailey Exhibition Hall, College of Architecture, 375 S. 1530 East, March 3-14, 8 a.m.-5 p.m.

Here & Now: Other New Happenings This Week
ROB ADAMSON/JENNIFER MARIE SUFLITA/SHALEE COOPER Group exhibit featuring large-scale painting, prints and photography. Finch Lane Gallery, 54 Finch Lane, 596-5000, Feb. 29–April 11. Opening reception Friday, Feb. 29, 6-8 p.m.

UTAH SYMPHONY BRAVO BROADWAY Vocalists Melissa Errico, Marc Kudisch and Debbie Gravitte perform tunes from West Side Story, The Little Mermaid and more. Abravanel Hall, 123 W. South Temple, 533-NOTE, Feb. 29-March 1, 8 p.m. UtahSymphony.org

STRINGS ATTACHED: THE ART OF PUPPETRY Performances and workshops celebrating manual manipulation for fun and profit. Main Library, 210 E. 400 South, 524-8200, March 1-2, SLCPL.org

MILKSHAKE Indie musicians Lisa Mathews and Mikel Gehl serve up a kid-friendly rock & roll show without a Wiggle in sight. Eccles Center, 1750 Kearns Blvd., Park City, 435-655-3114, Saturday, March 1, 2 p.m. & 6 p.m. EcclesCenter.org

THE MIRACLE WORKER Phoenix Theatre Company presents the story of Helen Keller and her determined teacher Annie Sullivan. Academy of Performing Arts, 3188 S. 400 East, 486-2728, March 1-22, AcademyOfPA.org

SENIOR SHOWCASE Soon-to-be graduates of the University of Utah Actor Training Program present performances they'll take on the road to New York later this month. Salt Lake Acting Company Chapel Theatre, 168 W. 500 North, 581-5404, Sunday, March 2, 2 p.m. Free admission on a space-available basis.

PHILIP FRADKIN The author and historian reads from his new biography, Wallace Stegner and the American West. Wallace Stegner Center, 332 S. 1400 East, Monday, March 3, 7 p.m.

PEACE WITH NATURE U of U College of Humanities presents a benefit program featuring primatologist Jane Goodall. Abravanel Hall, 123 W. South Temple, 355-ARTS, Tuesday, March 4, 7 p.m.

FREEDOM TO PARENT Film screening/discussion on parental rights for GLBT couples, sponsored by ACLU of Utah. Main Library Auditorium, 210 E. 400 South, 524-8200, Tuesday, March 4, 7 p.m. ACLUUtah.org.