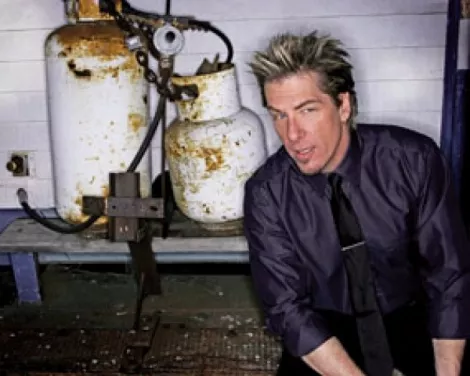 COMEDY
By Scott Renshaw
The catch phrase is both the joy and bane of the entertainer's existence. It is that which both guarantees a steady income, and guarantees that at the age of 80, Jimmy Walker will be rolling through his retirement community to constant shouts of "Dy-no-mite!"

GREG BEHRENDT is more than "He's just not that into you." Sure, he parlayed his Sex and the City-validated dating tip into a book deal, Oprah appearances and his own short-lived talk show, and he's not going to throw the money back at anyone in a fit of righteous artistic purity. Every one of Dana Carvey's "Well, isn't that specials" is funding his retirement, and every one of Behrendt's "He's just not that into you's" will be racking up interest for a few decades.
But here's the thing: Dude is funny. Just catch his most recent DVD-available performance Uncool and watch him riff on the perils of playing Pictionary (or as he believes it should be called, "Here's what I would have drawn …") with one's spouse. Or the etiquette of trick-or-treating. Or the logistical advantages of an Adult Rock Show for the 40-something live-music aficionado. It's observational comedy with a Dane Cook level of stage-prowling energy, only without the rock-star self-importance. Journey to Ogden, and you may end up just a little bit more into him.

Greg Behrendt @ Wiseguys Comedy Café, 269 25th Street, Ogden, 801-622-5588, Jan. 18-19, 8 p.m & 10 p.m. WiseguysComedy.com
FILM
By Scott Renshaw
There are people who make it a point to avoid Park City every year during the SUNDANCE FILM FESTIVAL. I get that. The crush of humanity, the miasma of pretension. It can all get a bit stifling.

There is also nothing remotely like it in this state. If you care anything about movies, it's a matchless opportunity to catch great talent as it emerges. Steven Soderbergh, the Coen brothers, Michael Moore, Richard Linklater, Quentin Tarantino—name an American filmmaker of any significance who got started over the last 20 years, and chances are good they got started at Sundance. And on every shuttle bus, you're surrounded by people as excited as you are to be part of that discovery.

Maybe you'd also like to do a little people-watching—famous or otherwise—and that's cool, too. This is a people event as much as it is a movie event, and there's something slightly intoxicating about walking up Main Street and wondering who might pass you in a designer parka, no matter how jaded you might claim to be.

The features in our cover section are just a start. Make your own festival experience. If it's your first, you won't soon forget it.


Sundance Film Festival @ various Utah venues, Jan. 17-27, Sundance.org/Festival

FILM
By MaryAnn Johanson
When a movie like THERE WILL BE BLOOD comes along, it is deep-down thrilling in a way that's both visceral and intellectual. It feels like it has re-invented cinema. It feels like nothing you've ever seen before. Read full feature review.


There Will Be Blood @ theaters valleywide, opens Jan. 18.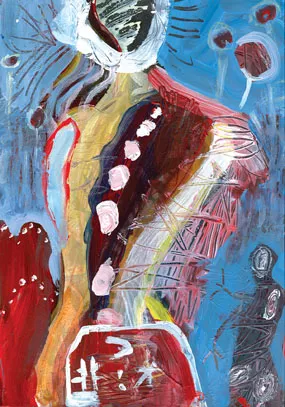 VISUAL ARTS
By Brian Staker
It takes enough inspiration, energy and hard work to put together one art exhibit, but JOE JACOBY has cobbled together an assembly of images that is really three art shows in one ("Statue Carving" left). The Idea Book opens the book on his artistic process with pages from his sketchbook: the machinery of thought in miniature, a drawing or description on one side and an illustration on the other, like the two hemispheres of the brain laid open for view.

A series of larger narrative paintings uses rough, primitivist creatures and shapes to "capture the fluidity of dreams," he explains. "All these pieces relinquish control to the subconscious." In the Gravity Series, the left side of the brain guides the brush, setting up artistic experiments more like a geological event, like different types of paints and other art materials reacting on the canvas and drawn downward, seemingly striving to seek a base at the Earth's core.

It's the primordial, emotional force and the intellectual intensity pushing against each other like tectonic plates that make this work so compelling, so it comes as little surprise to discover Jacoby is an architect. A Visiting Assistant Professor at the University of Utah as well as project architect at Jacoby Architects, his artistic impulses are left for the nighttime, where pieces like "Instant Gesture Machine" and "Chinese Block Development" map out the movements of forces as epic as geography, history and human migrations.


Joe Jacoby: Paintings @ Finch Lane Gallery, 1325 E. 100 South, 596-5000. Through February 22.


Here & Now: Other New Happenings This Week
NIKOS LINARDAKIS Bring your insomnia issues as the "Natural Sleep Doctor" discusses his new book Ten Natural Ways to a Good Night's Sleep. The King's English Bookshop, 1511 S. 1500 East, 484-9100, Thursday, Jan. 17, 7 p.m. KingsEnglish.Booksense.com


WHAT THE BUTLER SAW A psychiatrist attempts to seduce his prospective secretary, and farcical wackiness ensues in Wasatch Theatre Company's production. Rose Wagner Center Black Box Theatre, 138 W. 300 South, 355-ARTS, Jan. 17 – Feb. 2. WasatchTheatre.com


DAN CHRISTOFFERSON: PICA The Kaysville-based artist brings his "pop surrealism" to town. Palmers Gallery, 378 W. 300 South, 359-4632, Jan. 17 – Feb. 11. Opening reception Friday, Jan. 18, 6 p.m.-10 p.m.


THE BOB & TOM COMEDY ALL-STARS The syndicated morning radio personalities host a lineup featuring Tim Bedore, John Caponera, Bob Zany and more. Kingsbury Hall, 1395 Presidents Circle, 581-7100, Saturday, Jan. 19, 7:30 p.m. KingsburyHall.com


THE ORANGUTAN PROJECT Photojournalist George Frandsen brings an exhibit showcasing the ape in one of its last remaining habitats. The Gallery at Library Square, Main Library, 210 E. 400 South, 524-8200, Jan. 19 – March 1. Reception Jan. 19, 4 p.m.


TOSCA , performed by Utah Opera (Read feature). Capitol Theatre, 50 W. 200 South, 355-ARTS, Jan. 19-27. UtahSymphonyOpera.org


A MUSICAL MENAGERIE Salt Lake Symphony's annual family concert includes Saint-Saens' Carnival of the Animals, John Williams' Jurassic Park and more. Libby Gardner Hall, 1395 Presidents Circle, 581-7100, Saturday, Jan. 19, 2 p.m.OUT/EX The monthly funky local film series counters Sundance with a collection of experimental films from the free Form Film Festival. Nobrow Coffee and Tea, 315 E. 300 South, 364-3448, Saturday, Jan. 19, 7 p.m. FreeFormFilm.org


UNIVERSITY OF UTAH OFFICE OF DIVERSITY MULTICULTURAL ARTS PERFORMANCES Celebrate MLK Day with a free lineup including Ballet Folklorico, Salt Lake Capoeira and traditional Japanese and Hawaiian dance. Kingsbury Hall, 1395 Presidents Circle, 581-7100, Monday, Jan. 21, 7 p.m. Kingsbury Hall.com