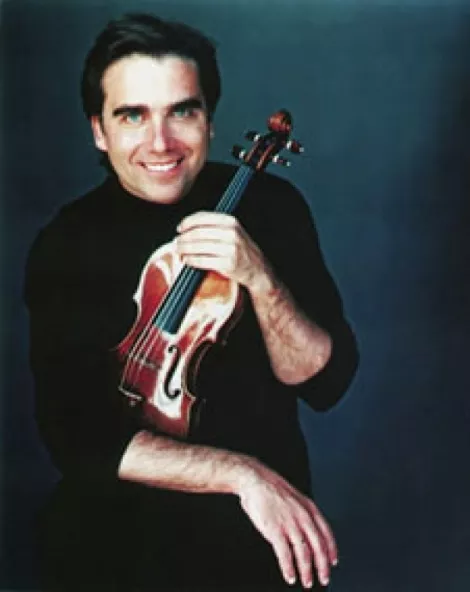 MUSIC
By Geoff Griffin
This weekend's performances by the Utah Symphony offer something for those who like their artists successful—and long-suffering. The first half of the program features works by Erich Wolfgang Korngold and Miklos Rozsa, both of whom started with the traditional classical music upbringing—born in Europe, wrote sonatas before hitting puberty. But since the two composers also lived in the 20th century, they had the opportunity to leave the concert hall behind and head for the bright lights and big bucks of Hollywood. Korngold won two Academy Awards for his film scores while Rozsa wrote the scores for The Jungle Book, Ben-Hur and The Lost Weekend. Sellouts? Or a couple of guys who simply recognized where the future was heading? You decide by listening to their pre-Tinsel Town classical compositions. Rozsa's violin concerto will be played by Robert McDuffie, who besides being talented and photogenic is also blessed with a mind for business. He formed a corporation with 15 other investors to scrape $3.5 million together to buy a Guarneri del Gesu violin made in 1735, which he gets to play until he's 65.If the exploits of Korngold, Rozsa and McDuffie smack of too much commercial success to constitute true artistry, then the second half of the program balances things out with plenty of misery and affliction. Beethoven wrote his Seventh Symphony while still in the process of going deaf and premiered the work at a benefit for wounded soldiers in front of a Vienna crowd still suffering through the Napoleonic Wars. That enough street cred for ya?Utah Symphony plays Beethoven's Seventh Symphony along with compositions by Korngold and Rozsa, featuring violin soloist Robert McDuffie, @ Abravanel Hall, 123 W. South Temple, Friday, Feb. 1, and Saturday, Feb. 2, 8 p.m. Tickets: $12-$48.
FILM
By Tawnya Cazier

Who hasn't seen the yard signs reading, "Support the warrior, not the war"? They're everywhere. But the documentary Reserved to Fight calls that statement into question.Reserved to Fight follows four Utah marines as they struggle to assimilate back into daily life. The Marines, who return home after being the first reservist unit deployed, are almost immediately enveloped with feelings of alienation. One Marine feels completely alone though surrounded by family. Another Marine questions the intense interest in such trite television as American Idol when people are dying daily overseas. Soon relationships, family, and even religion are filled with uncertainty. The Marines begin to re-evaluate the reasons they went to Iraq and what they have sacrificed for their country. Perhaps more difficult, accepting that the war has forever changed them emotionally. Each Marine fights these inner demons in his own way: Mark confronts Michael Moore during his infamous visit to Utah Valley State College; Earl tries to serve a Mormon mission, only to return when his depression overwhelms him; Christopher abandons Utah for Seattle, trying to lose himself in anonymity; Matthew returns to college but finds greater comfort in the mountains than in human relationships. Situations like these call for a focus on each Marine's personal journey, rather than the politics surrounding the war. It easily, honestly puts a face on the warrior.Reserved to Fight work-in-progress screening @ Post Theater, 110 S. Fort Douglas Blvd. U of U, Tuesday, Feb. 5, 7 p.m. Free and open to the public.

ART
By Cara Despain

When you first walk through Dan Christofferson's show at Palmers Gallery, you see the strange, graphic, and precious paintings for what they appear to be: well-executed, interesting art. Excellent artist-crafted frames, lovely line quality … fun to peruse. But once you dig in and read Christofferson's statement, you find that these iconic paintings are also based on pica, an obscure disorder that compels a person to eat usually inedible and peculiar items including wool, metal and hair. This is not something you would pick up on without the supplemental materials. Christofferson himself apparently witnessed tricophagia (the eating of hair) live and was immediately inspired to document it in some fashion. Once aware of the artist's almost neurotic interest in the disorder, the metaphors and correlations become more clear. The four altar-like portraits of the anxious, goofy school kids—the disorder often affects young children—reveal the awkward discomfort of suppressing or acting upon their odd urges. Titled accordingly, "Punctuality," "Attendance," "Citizenship" and "Homework," the stained, street-pop portraits are intended to reflect the glorified student-of-the-month bulletins. Beak-nosed and multi-armed, they strain to contain their nervous cravings. Although rather bizarre but intriguing, the premise and intent of the show make for a very cohesive exhibition. Once you have the key to navigate with you find all sorts of cryptic symbols. Magpies, the chemical symbol for iron, teeth and trinkets … go to the show, do your homework, and it will all make sense. Christofferson himself must've had a hankering for some research. Dan Christofferson @ Palmers Gallery, 378 W. Broadway, 359-4632, through Feb. 11

HERE & NOW: Other new happenings this week
EVER AGAIN Rabbi Aron Hier will speak following a screening of this film exploring the extreme resurgence of anti-Semitism in major European cities. Vieve Gore Concert Hall, Westminster College, 1840 S. 1300 East, 832-2682, Thursday, Jan. 31, 7 p.m. SLCFilmCenter.org

JANA RICHMAN Utah-based author reads and signs her new novel The Last Cowgirl. Sam Weller's Zion Bookstore, 254 S. Main, 328-2586, Thursday, Jan. 31, 7 p.m. SamWellers.com

THE PEKING ACROBATS The world-traveling Chinese troupe redefines acrobats in a show featuring treacherous wire-walking and incredible displays of contortion. Kingsbury Hall, 1395 E. Presidents Circle, University of Utah, Feb. 1-2, 7:30 p.m.

THE CRYSTAL AND THE SPHERE Ririe-Woodbury Dance Company presents the regional premiere of late renowned choreographer Alwin Nikolais' work including the magical dance favorites Waddle Birds and Outer Space Clowns. Capitol Theatre, 50 S. 200 West, Feb. 1-2, 7 p.m. RirieWoodbury.com, ArtTix.org

SKIN IN FLAMES In the award-winning play by Guillem Clua a famous photojournalist is confronted by loose ends in his past while interviewed about his famous iconic image. Salt Lake Acting Company, 168 W. 500 North, 363-SLAC, Feb. 1-24. SaltLakeActingCompany.org

VIETNAMESE NEW YEAR CELEBRATION Celebrate the Year of the Rat with entertainment and live performances. Utah Cultural Celebration Center, 1355 W. 3100 South, 965-5108, Saturday, Feb. 2, 10 a.m.-4 p.m. CulturalCelebration.org

RED ROCK HOT CLUB The jazz quintet performs "gypsy style," infectious jazz sounds as part of the Excellence in the Community Concert series. Utah Museum of Fine Arts, 410 Campus Center Drive, Saturday, Feb. 2, 7:30 p.m.

BRAVO: TORTILLA PAINTINGS BY JOE BRAVO Using tortillas as his unlikely canvas, Bravo features Chicano imagery and popular Latino icons like Che Guevara. Kimball Art Center, 638 Park Avenue, Park City, Feb. 2-March 30. Kimball-Art.org

MARDI GRAS MASK AUCTION In celebration of Fat Tuesday, the inaugural Design for a Cause auction features uniquely designed masks for sale to benefit the annual MS Walk. Utah Arts Alliance Gallery, 127 S. Main, Tuesday, Feb. 5, 6-8 p.m.