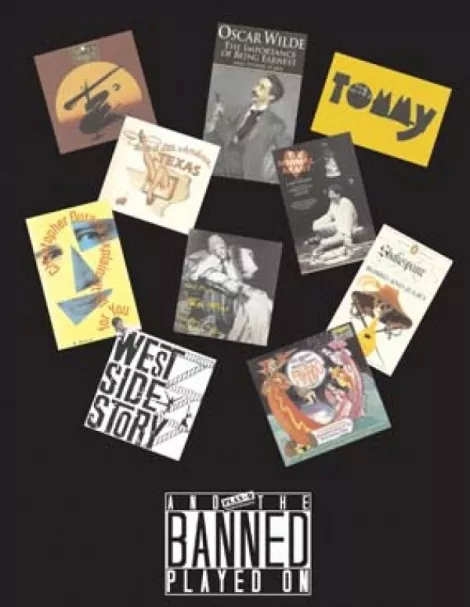 THEATER
By Scott Renshaw
Plan-B Theatre Company is, you know, a theater company. So why did it take until the sixth installment of the annual AND THE BANNED PLAYED ON fund-raiser—a one-night-only evening of performances and history drawing attention to banned artistic works—to focus on plays and musicals? "We wanted to do it for a long time," says Plan-B's artistic director, Jerry Rapier. "It just took figuring out the mechanics of how to make it work."

Those "mechanics" include negotiating the schedules of dozens of volunteer participants, including co-hosts Bill Allred and Doug Fabrizio, all five of Salt Lake City's five most recent mayors, and media personalities including our own editor Holly Mullen introducing the context for 10 banned stage productions. Actors and singers follow those introductions with performances of scenes (including a 10-minute youth-performed distillation of Romeo and Juliet) and songs (from West Side Story, Miss Saigon and more) from the works themselves.

Six years on—and in no danger of running out of banned material—Banned still offers not merely entertainment, but food for thought about what we consider "acceptable" and why. Was it any less acceptable for a world's fair to pull a planned West Side Story because it painted a less-than-perfect portrait of American life than for schools to ban West Side Story productions because it might be a stereotypical portrayal of Puerto Rican immigrants? Figuring out upon which side of an argument you fall provides its own uniquely interesting mechanics.

And the Banned Played On @ Rose Wagner Center, 138 W. 300 South, 355-2787, Monday, July 21, 7 p.m. PlanBTheatre.org/Banned
CONCERT
By Geoff Griffin
This is the time of year for Major League Baseball's All-Star Game and rock tours with all-star rosters. In either case, it's tough to fill out a lineup card. Who should bat cleanup? Do you prefer the brief but blinding Sandy Koufax-like brilliance of THE POLICE, or the long-term, Hank Aaron-style career achievements of ELVIS COSTELLO?

The Police released five albums from 1978 to 1983, loaded with hits like "Roxanne" and "Every Breath You Take" that have become pop-music classics. Costello never reached the same neighborhood of popularity, but the breadth and volume of his discography is astounding. Since 1977, he's put out some 34 LPs (not counting reissues and greatest-hits compilations) covering every genre from country to classical with partnerships from Burt Bacharach to Anne Sofie Von Otter, while playing everything from guitar to glockenspiel.

So who gets the nod as the headliner? In this case it's the Sting-Summers-Copeland trio based on the simple law of supply and demand. After their Usana concert, The Police will have just 12 concerts and 18 days left as a band before playing what they swear is their final concert. As for the guy who was born Declan McManus, he's a mere 53-years-old, and probably has at least 15 albums and three more genres in him.
So send Elvis up to the plate first—but only if he's guaranteed 90 minutes, and the headliners promise not to play anything from Sting's solo career.

The Police with Elvis Costello & the Imposters @ Usana Amphitheatre, 467-TIXX, Saturday, July 19, 7:30 p.m. SmithsTix.com
VISUAL ARTS
By Jacob Stringer
After a seven-year stint working as a full-time artist in sunny Los Angeles—which included a showing at the amazing J. Paul Getty Museum—JOHN SPROUL returned to Salt Lake City to be able to work in "a city with a lot of potential, with a lot to offer for growth in the art community and in cultural diversity."

Fair enough. Luckily, regardless of geographical location, Sproul continues to churn out acrylics that may best be described as nonportrait portraiture ("FLA" is pictured). He speaks of using his chosen medium to find and lose the subject figure, "layer upon layer until the sincerity of the work is found … My choice in subjects is instinctual, but in retrospect they seem to be images of people that do not exhibit one or two emotions strongly but a complexity and deep-seated set of emotions. It is also about body language, which has a semi-large part in my work—the body as an archetype. Aesthetically, I tend to work with subjects that are neutral to sexuality, gender, age and time. I am really working towards the universality of the individual."

Sproul's treatment of the individual—even in his sketches that are backed by the same thick colored layers of paint, often seemingly glazed over with a hauntingly ghostly film—in which he purposefully blurs any distinctive lines of personality and trait, achieves exactly that, morphing individual portraiture into portrayals of a common humanity.


John Sproul @ Palmers Gallery, 378 W. Broadway, 359-4632, July 19-Aug. 9; opening reception July 18, 6-9 p.m. PalmersGallery.com


Here & Now: Other new happenings this week
TOM CLARK See the veteran comic—who believes that "the only thing we have to fear is fear itself … and spiders. Yikes!" Wiseguys Comedy Café, 3500 S. 2200 West, 463-2909, July 17-20. WiseguysComedy.com

WASATCH WILDFLOWER FESTIVAL A three-day celebration of vibrant mountain flora. Solitude, Alta and Snowbird Resorts, July 18-20, WasatchWildflowerFestival.org for detailed schedules.

SHARON MANEY LOMANTO: LOGICAL CONSEQUENCES Steel work in two-dimensional panels, combining "painting" with minimalist sculpture. Kimball Art Center, 638 Park Ave., Park City, 435-649-8882, July 18-Sept. 2. Kimball-Art.org

101 THINGS TO DO WITH GELATIN Coauthors Jennifer Adams and Melissa Barlow discuss and sign their book of recipes and other creative gelatinous notions. The King's English Bookshop, 1511 S. 1500 East, 484-9100, July 19, 2 p.m. KingsEnglish.Booksense.com

INVERSION Theatre Arts Conservatory presents a youth-friendly new work by Utah playwright Eric Samuelson, about seven people trapped by weather in a mountain house. Rose Wagner Center, 138 W. 300 South, 355-2787, July 18-19, 7 p.m. ArtTix.org

SLUG MAGAZINE GHETTOLYMPICS Judges rate your skate in events including hippie high jump, longest powerslide and polejam pentathlon. Big Deluxe parking lot, 730 S. State, 521-3686, July 19, 3 p.m. SummerOfDeath.com

LLAMA FEST Obstacle courses, costume contest, and other llama-riffic activities, plus food, music and crafts. Utah Valley Llama Farm, 8628 S. Main, Spanish Fork, 801-798-3559, July 19, 4 p.m. UtahValleyLlamas.com

OUT/EX Take the whole family to the bizarre 1989 kid-flick Creating Rem Lezar, plus music by Your Little Pony. NoBrow Coffee & Tea, 315 E. 300 South, 364-3448. July 19, 8 p.m. LostMedia.Blogspot.com

LIFE IS A CHANCE TO DANCE Dancers' Theatre Company presents the conclusion of a three-part all-ages music/dance/art multimedia event. Rose Wagner Center, 210 E. 400 South, 355-2787. July 23, 7 p.m. ArtTix.org