VISUAL ARTS
By Brian Staker
Surveillance is becoming part of the landscape. The post-911 world features all kinds of technological devices put in place by "Big Brother" in government, and also by corporate interests. A group of socially conscious artists is pointing its lens at the effects.
But OPERATION SALT, the brains behind the installation SURVEILLANCE, isn't just a collaboration; it's a support group. The collective, founded in 2006, seeks to engage in a discussion about art in the multimedia environment and support one another's artistic as well as career objectives, according to founding member Shasta Fletcher. Appropriately, they have taken moments where surveillance has intersected their personal lives as points of departure.
Photographer Amanda Moore microwaved her credit card to destroy the internal RFID chip. David Baddley, head of the art department at Westminster College, passed photographic film through the X-ray specs of airport security. Lifestyles fall under a critical eye in Eugene Tachinni's look at a recent letter sent out by LDS hierarchy about homosexuality. Laina Thomas' video art includes actual store security footage. Graphic designer Winston Inoway looks at the way "Fresh Values" and other marketing strategies gather information about shoppers. Fletcher examines her religious background with an installation looking through a veil into a "reflective womb world." Other members include Erin Esplin, Paul Stout and Grace Ashby.
It's one of the most diverse artists' groups—and exhibits—of the year. Just because you're paranoid doesn't mean they aren't after you.
Operation Salt: Surveillance, Salt Lake City Main Library, 210 E. 400 South, 524-8200, through Sept. 13.
MUSIC
By Scott Renshaw
It's hot in the city; the gray haze and baking temperatures have long since begun to wear on you. You've got the summertime blues—and there's no better cure than an escape into the hills.

You'll find a dose of the blues there, as well—but of a different, more satisfying kind. The SNOWBIRD ROCK & BLUES FESTIVAL brings a two-day blast of bayou funkiness to Little Cottonwood Canyon, with New Orleans truly representin'. On Friday, the bilingual party-rock of the Big Easy's own Iguanas leads into the soaring gospel-tinged harmonies and down-home sounds of the Subdudes (pictured). On Saturday, the evening closes with the legendary Creole rave-ups of Buckwheat Zydeco and the Louisiana-by-way-of-Los Angeles stylings of the Keb' Mo' Band. And for those keen on checking out the work of bluesmen based closer to the Delta Airlines hub than the Mississippi Delta, local teen guitar sensation Andrew Goldring, the Legendary Porch Pounders and Junior Giant help fill out the bill.

For those with kids, you can still find your escape—and a cheap one, at that. On both Friday night and Saturday afternoon, the festival lineup kicks off with a free performance on the Plaza Deck by the Hipwaders, whose smart, sly and hook-filled family-friendly tunes grace the XM Kids satellite network from their most recent CD Educated Kid. Breathe the fresh, cool mountain air, and find your blissful groove, whatever your age.


Snowbird Rock & Blues Festival @ Snowbird Resort, Little Cottonwood Canyon, 801-933-2200, Aug. 1-2. SnowbirdRC.org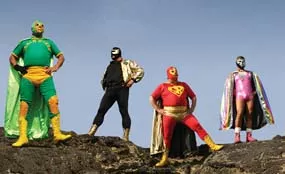 FILM
By Tawnya Cazier
It's the summer of superheroes. Iron Man, Hancock and The Dark Knight have exploded at the box office. But among this summer's big hits, you won't find a more interesting group of superheroes than the SUPER AMIGOS.


Super Amigos follows the adventures of five fighters against injustice in Mexico City. Maintaining the superhero mystique through capes, masks and secret identities, these men not only are a powerful force for good, but excellent subjects for this unlikely, intriguing Slamdance 2008 documentary.

Often appearing in the film with arms akimbo overlooking Mexico City, these superheroes are not superhuman; they are the passionate "everyman" seeking to change the world. Super Animal challenges animal cruelty, particularly bullfighting. In the world's most polluted city, Ecologista fights for the environment. Super Barrio champions the poor against slumlords. Just like Nacho Libre, Fray Tormenta works at an orphanage. But perhaps the most fascinating is Super Gay, who—after his boyfriend's brutal murder—dedicated himself to teaching tolerance, specifically through counseling relatives of gay individuals.

Despite the gravity of the issues these heroes face, the film maintains a fun, exciting mood. A funky Batman-inspired soundtrack provides the backdrop for comic book-style animations that introduce each character, while phrases such as, "Is there any hope?" flash across screen. It's all a little campy and a bit outrageous, but it's also just what it ought to be: a real-life superhero movie.


Super Amigos @ Salt Lake City Main Library Auditorium, 210 E. 400 South, Monday, Aug. 4, 7 p.m. Free to the public. SLCFilmCenter.org

here&now other new happenings this week
SALT LAKE SHAKESPEARE Alumni and students of the University of Utah Actor Training Program perform Twelfth Night. Babcock Theatre, 300 S. 1400 East, 581-7100, July 30-Aug. 3 & Aug. 6-9, KingTix.com

HECTOR AHUMADA & JOEL LONG The local poets read from and sign their work. Ken Sanders Rare Books, 268 S. 200 East, 521-3819, Thursday, July 31, 7 p.m. KenSandersBooks.com

THE GOLDEN AGE OF WIRELESS Utah Theatre Artists Company presents a three week series of vintage radio programs, with new episodes each week. Midvale Amphitheater, 455 W. 7500 South, 842-7483, July 31-Aug. 3, Aug. 14-15 and Aug. 21-23, 7:30 p.m.

UTAH ROCKET CLUB HELLFIRE LAUNCH Model rocket enthusiasts from throughout the Intermountain West gather to hit 20,000 foot heights. Bonneville Salt Flats near Wendover, July 31-Aug. 3, 9 a.m. (weather permitting) UROC.org

PARK CITY KIMBALL ARTS FESTIVAL The 39th annual art-, music- and food-filled celebration on historic Main Street. Upper Main, Park City, 435-649-8882, Aug. 2-3, beginning 9 a.m. Kimball-Art.org

TOM HARTVIGSEN, JIM SULLIVAN & CHIP LARKIN Five sculptural works by Hartvigsen, paintings by Sullivan and clay/concrete sculpture by Larkin. Finch Lane Gallery, 54 Finch Lane, 596-5000, Aug. 1-Sept. 12, reception Aug. 1, 6-8 p.m.

A MIDSUMMER NIGHT'S DREAM Spend your midsummer night with Shakespeare outdoors at Sundance Resort's spectacular amphitheater. Eccles Stage, Sundance Resort, 866-551-4485, Aug. 2-23, 7:30 p.m. SundanceResort.com

SUSAN SESSIONS RUGH BYU associate professor of history introduces her new book Are We There Yet? The Golden Age of American Family Vacations. The King's English Bookshop, 1511 S. 1500 East, 484-9100, Wednesday, Aug. 6, 7 p.m. KingsEnglish.Booksense.com


SUSANNA SONNENBERG The author and essayist reads from her memoir Her Last Death. Sam Weller's Bookstore, 254 S. Main, 328-2586, Wednesday, Aug. 6, 7 p.m. SamWellers.com tttt