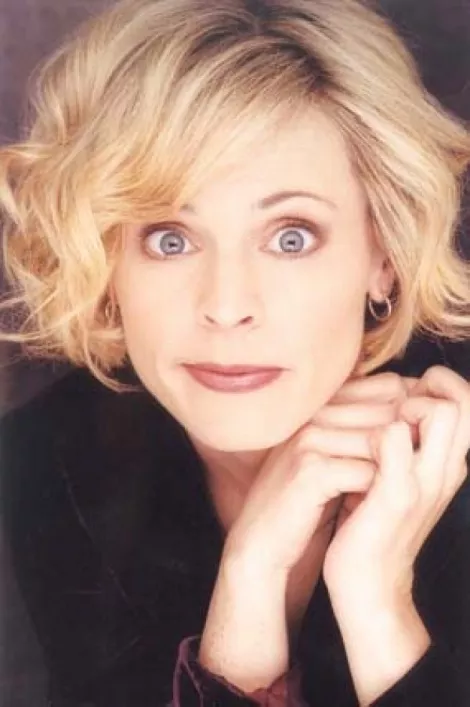 COMEDY
By Scott Renshaw
Periodically, throughout a stand-up comedy performance by
MARIA BAMFORD
, her nervous, breathy squeak of a voice will give way to something else—but don't call her an impressionist. Maybe she'll be channeling the generic female comic she might become to make people feel more comfortable: "Ladies … we have a system when we're dating. We do, don't we? We do!" Or she'll inhabit a picky Los Angeles coffee shop patron ordering "a glass of boiling hot water with ice." Or she'll introduce you to feuding teens at a Christian camp: "Jesus loves me, but he only loves you because he feels sorry for you."Does Bamford suffer from multiple personality disorder? You might suspect that's the case, especially if you've ever caught her demented Web sitcom
The Maria Bamford Show
on SuperDeluxe.com, where she plays herself as a broken-down failed comic retreating home to Minnesota to live with her father, mother and sister (all of whom she portrays), in addition to several other characters and a pug named Blossom. But maybe the answer is simpler: She's one of the most innovatively hilarious comics in America, a whirlwind of off-kilter observations that come from so many places that a single voice can't contain them all. Or maybe, as she analyzes it, she does other voices because "my own voice does not command the attention and respect I feel I deserve." Unless one appreciates comedic awesomeness, that is.
Maria Bamford @ Wiseguys Comedy Café, 269 25th St., Ogden, 801-622-5588, Thursday, June 12, 7 p.m. WiseguysComedy.com
MUSIC

By Christy Karras
During the first SALTY CRICKET COMPOSERS COLLECTIVE concert last February, Christian Asplund sat down at the piano to play from his composition "The Wind"—but when he hit one particular key, it made nothing more than a grating squeal. What to do? Asplund paused to jiggle the key, one his music called for often, but still it whined. And so, keeping a finger carefully lifted throughout seven short pieces, he played without it.It's the sort of thing that doesn't happen at a performance of, say, Utah Symphony. But those moments give us unusually intimate glimpses into musicians' minds—something Salty Cricket will offer again in its second concert, THE STRIDULATION CONCERT. Local composers founded the group last year to give themselves a chance to get their music heard publicly. Its members' work is generally classical but sometimes incorporates more avant-garde forms like video projection. "We felt like we needed a new-music scene in Utah," said co-founder Crystal Young-Otterstrom. "We have wonderful traditional classical music, but when it comes to living composers keeping the art form going, we really haven't seen it."Like the concert in February, which featured everything from voice and piano to electronic music and guitar, this show will offer a diverse slate of 10-to-15-minute pieces, this time focused around string quartets and piano trios. Some composers' work is rarely heard—for good reason. But sometimes it's a beautiful experience just waiting to find an audience. The Stridulation Concert: Salty Cricket Composers Collective @ Salt Lake Recital Hall, 320 E. 200 South, Saturday, June 14, 8 p.m. SaltyCricket.org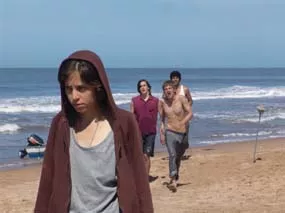 FILM
By Princess Kennedy
What do you get when you cross Woody Harrelson, Lily Tomlin, Lauren Bacall and Tori Spelling with a gay Mormon, a Marine, a transsexual and Japanese lesbian supermodels? Well DAMN THESE HEELS, it's the fifth annual Utah Gay and Lesbian Film Festival, presented by the SLC Film Center and Utah Pride. "Pride is something to celebrate in the streets," says Kathryn Toll of Salt Lake Film Center. "That's why we extend the [Pride] festival to the following week for better attendance."Eight films in three days at three venues begin with Friday night's opener The Walker. It's a delicious contemporary drama set in Washington, D.C., about Carter Page (Harrelson)—a well-heeled, gay socialite implicated in scandal, blackmail and murder. Semper Fi: One Marine's Journey, with special guest Jeff Key, tells the true story of Key as a Marine who served in Iraq while concealing his homosexuality, and is screened on Saturday at the Tower Theater. Saturday night at Brewvies, check out XXY (pictured), an Argentine drama about an intersex 15-year-old.Sunday at the Main Library auditorium, check out the panel "Big Love: Queer Theory and the Outsider in Television and Film—What's Queer About Polygamy?" Featured guest will be Dustin Lance Black, writer of many HBO Big Love episodes and the now-in-production feature-film biography of Harvey Milk. What are the similarities between these outsider groups, and how does freedom of religion intersect with sexual freedom in 21st-century America? Group participation is encouraged.Damn These Heels! Pride Film Festival @ Brewvies, Tower Theatre and Main Library Auditorium, June 13-15. For full schedule, visit SLCFilmCenter.org
Here & Now: Other New Happenings This Week

INDIANA BONES: A WHIP-CRACKIN' PARODY Everyone's favorite fedora-wearing archaeologist/adventurer gets his satirical comeuppance. Desert Star Theatre, 4861 S. State, Murray, 266-2600, June 12-Aug. 23. DesertStar.biz
RAGTIME IN CONCERT Soloists and chorus perform music from the Broadway musical based on the E.L. Doctorow novel. Sandy Amphitheater, 1245 E. 9400 South, 568-6068, June 13-21, 8 p.m. SandyArts.com
SCOTTISH FESTIVAL & HIGHLAND GAMES The 34th annual celebration of kilts, bagpipes and clans, with plenty of cultural flavor. Thanksgiving Point Electric Park, 3003 Thanksgiving Way, Lehi, 801-768-2300, June 13-14. UtahScots.org
UTAH ASIAN FESTIVAL A celebration of ethnic foods, performances and crafts, including the "Asian-American Idol" competition. South Towne Expo Center, 9575 S. State, 565-4490, Saturday, June 14, 10 a.m.-6 p.m. Free admission. UtahAsianFestival.com
CITY WEEKLY SUMMER REC FEST Music, Dutch oven cook-off, climbing wall, food and much more, free and courtesy of this very publication. Gallivan Center, 239 S. Main, Saturday, June 14, 12-6 p.m.
PUTTING DNA TO WORK High-tech National Academy of Sciences exhibit exploring the applications of DNA sequencing. Utah Museum of Natural History, 1390 E. Presidents Circle, 521-6927, June 14-Oct. 14, UMNH.Utah.edu
PAUL McGILL His fact-based novel Finding the Lost Weekend explores seniors locked away for a two-day "experiment" at Judge High School in 1969. The King's English Bookshop, 1511 S. 1500 East, 484-9100, Monday, June 16, 7 p.m. KingsEnglish.Booksense.com
1856: THE MUSICAL The all-singing, all-dancing re-creation of the Mormon handcart migration returns. Capitol Theatre, 50 W. 200 South, 355-2787, June 16-21. ArtTix.org
GINA BACHAUER JUNIOR PIANO COMPETITION Pianists ages 11-13 put their talents on display for your entertainment. Rose Wagner Center, 138 W. 300 South, 355-2787, June 17-21. ArtTix.org