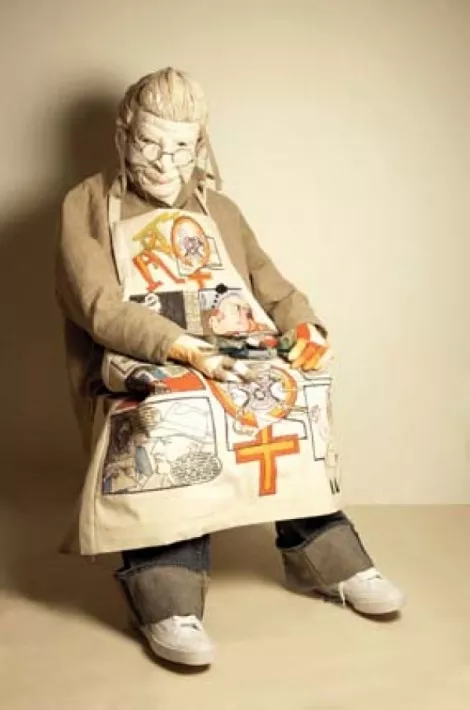 VISUAL ART
By Brian Staker
Pop art is a genre that seems perpetually on the verge of cliché or self-parody. JANN HAWORTH: POP PLASTIQUES at the downtown Main Library manages to say something new in the style—but then, Haworth had a hand in creating a pop icon, helping design along with then-husband Peter Blake the Beatles' Sgt. Pepper's Lonely Hearts Club Band album cover, and netting a Grammy award in the process. She also oversaw the creation of the "SLC Pepper" tribute mural here.This show is actually several shows in one, with the framed work on the library's fourth-floor gallery using a patchwork-quilt motif to study everything from Utah women to 20th-century art-history greats, in cloth donuts and cartoon panels on an apron. A number of these works evidence a Marcel Duchamp influence as well, lending them movement where patchwork might imply a static quality. Circling the room put together by the longtime art educator at Sundance is like chatting with someone who has absorbed the whole of modern art and used it to create her own whimsical take.Don't miss the life-size cloth "Granny" on a rocking chair (pictured) near the street-level entrance to the library. Five more of them will be placed in nearby locations around the library for a "scavenger hunt." Submit their locations by Saturday, June 28, and you'll be entered into a drawing to win one of them.Haworth will answer questions about the work during her residency here June 16-22.Jann Haworth: Pop Plastiques, Main Library, 210 E. 400 South, 524-8200, through July 26. Reception Thursday, June 26, 6-8 p.m.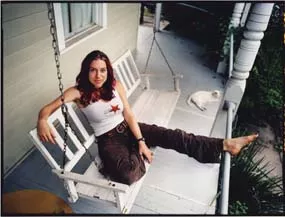 MUSIC
By Tawnya Cazier
To her many fans and admirers,
ANI DIFRANCO
is
the
feminist icon of independent music. But if you ask her, she's just a "little folksinger." "It's an attitude, it's an awareness of one's heritage, and it's a community," she has explained.Beyond creating a community through her folk designation, DiFranco has built a devoted fan base through her near-continuous touring. With her signature spoken lyrics and fast guitar plucking, DiFranco performs in a style all her own.It's only appropriate, then, that her exceptional lyrics would be taken directly from her own poetry. Combining imagery with passionate emotion, DiFranco explores topics ranging from love lost to an uncompassionate God. Consider, "And you won't see me surrender/ You won't hear me confess/ 'Cuz you've left me with nothing/ But I've worked with less." Such fierce expressions, personalized with unflinching lyrics, make for a passionate performance. It seems appropriate that such a performance would officially mark the beginning of summer—and an early kickoff (and benefit) for the Utah Arts Festival—and hopefully, fiery days ahead.
Ani DiFranco @ Library Square Amphitheater Stage, 300 E. 400 South, Saturday, June 21, 8 p.m. Tickets $35 for early entrance at 6 p.m.; $28 for regular entrance at 7 p.m. Tickets can be purchased in advance at Positively 4th Street Music (249 E. 400 South, 531-8181) or at UAF.org. With the purchase of each Ani DiFranco ticket, you receive a 2-for-1 voucher to attend the Utah Arts Festival, June 26-29.
THEATER
By Jerre Wroble
The fact that the UTAH SHAKESPEAREAN FESTIVAL kicks off June 19 with festival heartthrob Brian Vaughn and his wife Melinda Pfundstein performing in Cyrano de Bergerac could alone trigger a stampede to the box office. But this year, there are a lot more reasons to attend, especially if you like a little shakin' with your Shakespeare.Take, for instance, the bold twists of an updated Taming of the Shrew (pictured). In the play's more feminist approach, Petruchio and Kate are both "young and sexy," says Utah Shakespearean Festival's Amanda Caraway. "And the director doesn't look at it as simply trying to train the woman to be what the husband wants her to be. She looks at it as a coming together of two people in love, and they train each other, or rather, they tame each other."Caraway's also big on Moliere's The School for Wives: "It's hilarious. The leading male character is so terrified of being made a cuckold … that he basically locks [his wife] away from the world. Her ignorance—which he creates—turns out to be the perfect breeding ground for her to fall in love with this young stud."Be prepared to be shaken and stirred by Othello. "The tragedy unfolds with amazing speed," Caraway says. "[Your] heart is just pounding toward the end." Talk it all out during morning literary seminars led by perennial crowd pleasers Ace Pilkington and Nancy Melich.Utah Shakespearean Festival presents The Two Gentlemen of Verona, Cyrano de Bergerac, Othello, The Taming of the Shrew, Fiddler on the Roof & The School for Wives, Cedar City, June 19-Aug. 30, 1-800-PLAYTIX, Bard.org
here&now: Other New Happenings This Week

KATHARINE COLES Utah's state poet laureate reads from her new collection, Fault. The King's English Bookshop, 1511 S. 1500 East, 484-9100, Thursday, June 19, 7 p.m. KingsEnglish.Booksense.com
SUMMER MISCELANY RECEPTION Exhibit of prints and photographs by local artists including Leia Bell, Trent Call, Scott Carrier and more, plus music by Gentry Densley. Ken Sanders Rare Books, 268 S. 200 East, 521-3819, Friday, June 20, 6-9 p.m. KenSandersBooks.com
MARK KNUDSEN/MALEN PIERSON Landscapes by Knudsenand metal sculpture by Pierson for Gallery Stroll and beyond. Phillips Gallery, 444 E. 200 South, 364-8284, June 20-July 11, reception Friday, June 20, 6-9 p.m. Phillips-Gallery.com
YOU'RE A GOOD MAN, CHARLIE BROWN StageRight Theatre Company presents the musical celebration of the Peanuts gang. The Circuit, 7711 Main St., Midvale, 272-3445, June 20-21 & 28. StageRight.org
OUT/EX The monthly showcase of experimental film and video presents more innovative new works. NoBrow Coffee and Tea, 315 E. 300 South, 364-3448, Saturday, June 21, 8 p.m. Loaf-I.com
SALT LAKE MEN'S CHOIR "Hooray for Hollywood" joins 50 voices in a 25th-anniversary performance of big-screen classics. Libby Gardner Hall, 1395 E. Presidents Circle, 581-7100, Saturday, June 21, 7:30 p.m. SaltLakeMensChoir.com
HOW TO EAT LIKE A CHILD Theatre Arts Conservatory presents a family-friendly musical-comedy celebration of inappropriate kid behavior, based on the Delia Ephron book. Rose Wagner Center, 138 W. 300 South, 355-2787, June 21-22, 7 p.m.
MONET TO PICASSO That includes Renoir, Degas, Matisse, Cézanne and other European masters covering 100 years of modernist movements. Utah Museum of Fine Arts, 410 Campus Center Dr., 581-7332, June 23-Sept. 21. UMFA.Utah.edu
THE DROWSY CHAPERONE Touring company of the 2006 Tony Award-winner about a man's love for a 1920s-set musical comedy. Capitol Theatre, 50 W. 200 South, 355-2787, June 25-29. BroadwayAcrossAmerica.com